photos | Turismo de Asturias
Spain's verdant Asturias region, midway along its northern coast, is very special both as an amazing destination and as a symbol and lynchpin in our country's history – for it's here that in 718's Battle of Covadonga the Muslims who'd swept into the Iberian Peninsula seven years earlier were dealt a significant defeat for the first time, thus commencing the nearly 800-year struggle to win it back (and in the process, forging modern Spain). And 2018 is a very special indeed year for Asturias, marking as it does not one but three major historic anniversaries. 
The biggest anniversary, of course, marks a whopping 1,300 years since the local Visigoths under King Pelagius (Pelayo) struck their momentous blow against the Islamic invaders. Nestled amid forested hills, the lovely Sanctuary of Covadonga (top, known as Cuadonga in the local Asturian dialect) is marked today by a 16th-century church; a 19th-century monastery; a basilica consecrated in 1901; a museum; and a "Holy Cave" in Mt. Ausevo which among other things contains the remains of Pelayo and his successor Alfonso I. It lies a bit over an hour's drive east of regional capital Oviedo and just 15 minutes from the charming town of Cangas de Onís, a centre of local adventure tourism.
It's in Cangas that each year in early September (this year, the weekend of the 8th-9th) the momentous occasion is marked by the festival Astures, Pelayo Our King (above), in which scores of locals in period costume recreate historical scenes and play period music, whilst food, games and other activities are also on hand for spectators.
Legend tells that the Virgin Mary appeared to King Pelayo in this cave and guided him to victory, and Our Lady of Covadonga, fondly known by Asturians as la Santina (the "Little Saint"), is not just the Catholic patronness of Asturias but venerated by believers throughout Spain. Her likeness, a polychromatic wooden statue dating back to the 16th century, now has pride of place in the cave, and is the focus of celebration on her feast day, 8 September, marked by masses, sacred-music concerts, and pilgrimages of the faithful. And this year is very special for la Santina, too, as it marks the century anniversary of the statue's canonical crowning.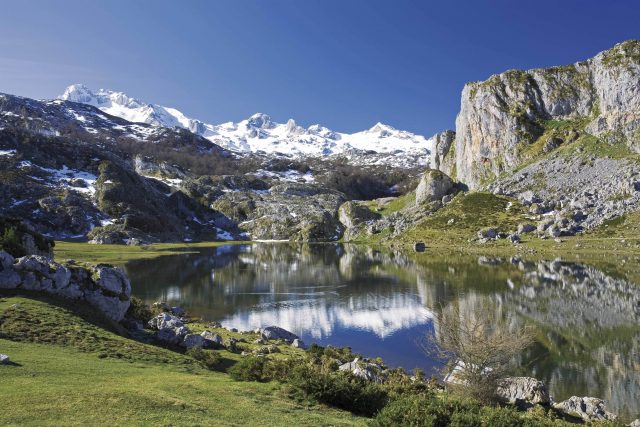 There's yet a third anniversary to mention, and that is July 22, the century mark since the creation of the Covadonga Mountain National Park, Spain's first, now known as the Picos de Europa National Park  (above). Mostly in Asturias but also shared with neighboring regions Cantabria and Castile-León, these 647 square kilometres (250 sq. miles) with a topography ranging from hilly to vertiginous, and major landmarks including Lakes Enol and Ercina (above) near Covadonga, as well as the dramatic Naranjo de Bulnes (known to Asturians as Pico Urriellu) and the spectacular Cares River gorge. In its forests, holm oaks and beeches are common, and protected species of fauna include bearded vultures, the ibex mountain antelope, the wood grouse, the Iberian wolf, and another symbol of the region, the Cantabrian brown bear.
A number of events have been planned for this summer to mark the park's anniversary, including symphonic concerts; screenings of movies with an environmental theme; special hiking outings; Cangas de Onis' 21st Mountain Week (March 9-16); art exhibitions themed around the Picos de Europa, such as the one in Oviedo being held 8 September to 8 November; and even a special competition centred around the traditional cheeses (such as the sheepsmilk blue cheese cabrales) for which Asturias is known.
In short, a very special year indeed to come experience a very special place indeed!
More info in English: AsturiasTurismo.com.
Best fares to Asturias from the UK, from the UK.