Jaén is likely the least known of the eight provinces in Andalusia, the south of Spain. But it's an agricultural and nature powerhouse in its own right – in addition to its elegant Renaissance capital, home to more than a relatively small population (just 50 inhabitants per square kilometre) along with 66 million olive trees, 300 olive mills, several wineries, and three nature reserves. One of those reserves is Spain's largest and the world's second largest – the Parque Natural de Cazorla, Segura y Las Villas (usually referred to as simply Cazorla).


A drive of a bit over two hours northeast of the capital, this 2,100-square-kilometre (810-sq.-mile) spread covers nearly a third of the province, with much of the rest covered with the regimental rows of olive trees which effectively comprises the world's largest man-made forest. People also live throughout the reserve – mostly in 24 quaint towns – and I'm one of them.
Rachel Webb
Here in Fuensanta de Martos, my neighbours are olive trees, my views are olive grove- covered hills, and my patio is quiet retreat except for the twittering of birds (bee-eaters, hoopoes, rock thrushes, herons, even the odd imperial eagle). The several huge walnut trees nearby create lots of shade against the blistering heat of summer – which frequently reaches 40º Celsius (104º Fahrenheit), while winter, though usually snowless in my vicinity brings a week or two of 0º C (32º F) which plays havoc with my potted plants.
But no matter – it all pales in comparison to the the beauty of the surrounding Cazorla, Segura and Las Villas Natural Park, including stunning, rocky ravines with tumbling bubbling streams and flat plains with very little higher than the mountain refuge huts – in winter covered with thick carpets of snow, and in spring and summer pasture for the indigenous oveja segureña sheep.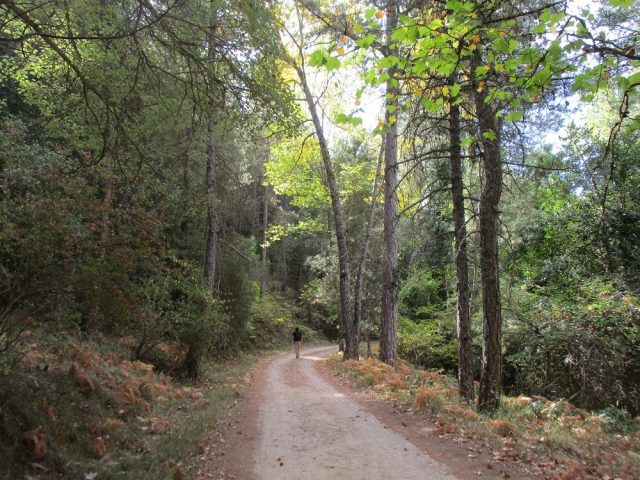 Rachel Webb

The three sierras (mountainous areas) here areas were joined into one reserve in 1986 to create an immense stretch of pure nature, a land of castles and watchtowers, and steep, winding mountain roads. The Iberian Peninsula's largest forest also flowing rivers, unique endemic plants and animals and gorgeous, rolling scenery wherever you look. It's a dream for hikers and mountain bikers, as well canoers, climbers, and even paintball aficionados.
On my last visit, hiking the Acebeas-Navalperal trail through Mediterranean forest reminded me a bit of being back in England, with flourishing holly and rhododendrons along with dappling sunlight barely reaching the path through the high, dense canopy. I also hired a driver to take me through some of this varied landscape by Land Rover four-by-four, along the way learning him so much about his land and his life as well as those of his forebears amid this astonishingly beautiful landscape.
As deer ambled across the narrow, winding roads and each bend brought some lovely new sight, my camera was in constant action (though I must admit I have to admit I wouldn't like to be navigating these mountain roads in winter, either as driver or passenger). More my scene was cruising on a solar-powered boat on the Tranco Reservoir (top) at dusk as the wildlife dropped down to drink – those wild sheep, along with wild boar, mountain goats, fallow deer, and red deer. An eerie silence fell as stars began to come out, broken only by the slight murmur of our vessel and the deer's late-September mating calls.
Rachel Webb

Strolling the river boardwalk along the rocky sides of Rio Borosa (above) to traversing deep forest tracks and paths across wild, bare flatlands –  it all gave me a true sense of wonder and respect for the natural wonders of this remarkable Andalusian wilderness.
This nature has provided for local generations, and been the source of many local dishes, such as wild boar, venison, trout, and lamb, which you'll find on menus across Cazorla. And the enormous olive groves add another of nature's gifts, the "liquid gold" which is olive oil. Olive varieties here are primarily Picual and to a lesser extent Real, which yield two superb-quality, D.O. olive oils (denominación de origen, like France's appellations) produced by Sierra de Segura and Sierra de Cazorla olive oil mills, exported to the rest of Spain and abroad.
Top towns to visit include whitewashed Cazorla (pop. 8,200) on the Cerezuelo River, with its enormous Plaza de Santa Maria, ruined Santa Maria Church, and mediaeval Moorish La Yedra Castle, (above), home to a museum of arts and customs. A few kilometres away, also white La Iruela is a picturesque warren of also white buildings and narrow, winding lanes, and boasts its own dramatically perched castle – a hundred steps above the town, with incredible views over the surrounding landscape from its watchtower. Another mediaeval time capsule, Segura de la Sierra (pop. around 2,000), is deep in the park and 1,240 metres (4,070 feet) up, its restored Moorish castle looming above the town and also home to a museum and visitor centre. An adjoining peak, El Yelmo, is popular with paragliders and in early June is the site of the annual XC Paragliding Competition, when they fill the local skies.
All part of an extraordinary Andalusian wilderness. Come experience it – and welcome to my world!

Rachel Webb has lived in Jaén province since moving from her native England with her husband and sons in 1996. When she's not drinking Earl Grey tea or Spanish wine on her patio, she can be found exploring Spain and writing about it on her blogs Andalucia Explorer and Luxury Spain Travel while visiting boutique hotels to add to her portfolio Only Spain Boutique Hotels.