Up north, above the land of flamenco and bullfights, lies green Spain, a land of rolling, forested hills and mountains, splendidly craggy ocean coasts, and a cuisine especially packed with the fruits of those oceans. Nowhere is this more true than its northwest region, Galicia, and its maritime queen, the city of A Coruña.
Tradicional galego (Galician) cookery is of course found in abundance throughout this city of 244,000 on a promontory at the mouth of one of the region's spectacular fjords, such as delicious empanada turnovers, caldo galego (white-bean soup), polbo á feira (boiled octopus annointed with olive oil and paprika), and mariscadas (shellfish platters), all accompanied by the region's fine wines including Albariños from the nearby Rías Baixas. But in recent years the city has also become a magnet for chefs experimenting with haute cuisine versions of the traditional, as well as fusion. Here are five of the most prominent: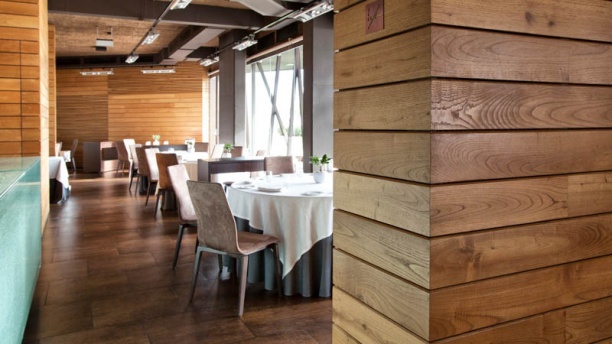 Right on the waterfront Paseo Marítimo with sweeping views over the Atlantic, this one-Michelin-star restaurant under chef Iván Domínguez is a crisp, contemporary space which serves creative and constantly changing tasting menus built with precision and impeccably fresh local ingredients.
Dominguez is also responsible for this innovative little spot on the major downtown square Praza María Pita, which opened in summer 2016 and where diners sit on stools at a long, sleek communal table, enjoying a fusion of Galician with world flavours from chef de cuisine Cristián Santiago.
"Veira's Tree" refers to chef Luis Veira, who opened A Coruña's first Michelin-starred on downtown's Rúa San Andrés with tasting menus featuring contemporary takes on Galicia's fresh, abundant seafood, such as ceviche of the tunalike fish bonito with avocado, lime, apple, and wasabi.
Another Michelin-starred star, helmed since autumn 2016 by Xoán Crujeiras in an elegant 1916 building on downtown's Rúa Marcial del Adalid, with tasty cutting-edge treats such as black tuna with raisined tomatoes and an emulsion of mussels and basil. The wine list is especially notable, and unusually, offers some of its best vintages by the glass.
Opened in 2014  on Rúa Riego de Agua across from downtown's Rosalía de Castro Theatre, Pablo Pizarro's "Black Mouth" features a casual vibe and the fantastic likes of apricot-glazed suckling pork, spicy bonito tartare, and a lovely piece of cod with delicately stewed cauliflower.