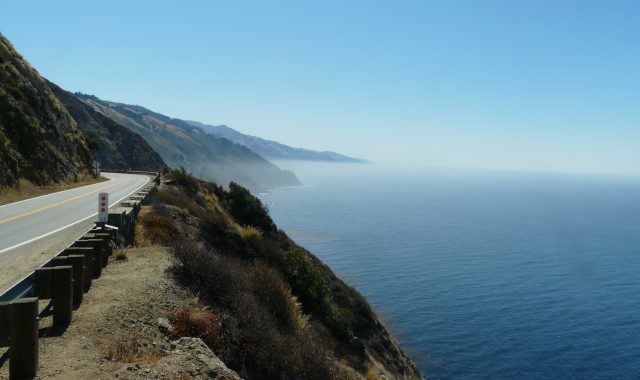 Ah, the open road in the USA – cruising top-down along the legendary Route 66, the Pacific Coast Highway… But I actually have my own favourite route – it's Highway 1, winding along the central California coast through the region called Big Sur, between Los Angeles and San Francisco. 
It's a route especially appealing to those who enjoy the journey as much as the destinations – sun shining down, sea breeze in your hair – past plummeting cliffs and solitary beaches. Running some 800 kilometres (497 miles) from Morro Bay, 320 km (200 mi.) north of L.A., to Monterey, 190 km (120 mi.) from San Fran, Highway 1 also offers plenty of fetching stops along the way.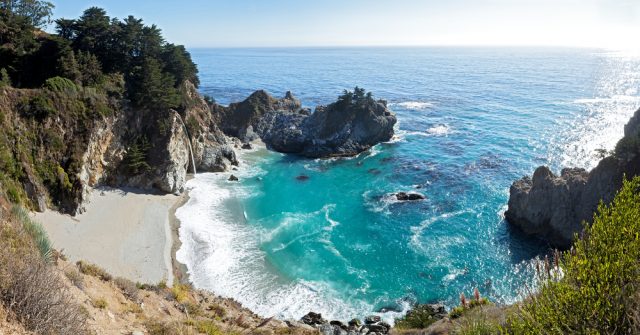 On the way out of Los Angeles, you'll want to stop off in Santa Barbara, mixing spectacular beaches with grand manses and a Spanish-colonial vibe. Then comes our Highway 1 starting point, Morro Bay, a charming fishing town where among other things you can experience a glorious sunset surrounded by adorable sea otters.
The winding coastal highway that begins here is speckled with viewpoints such as Piedras Blancas, Ragged Point and Big Creek, perfect for sweeping perspectives out over the Pacific Ocean and the coastline, as well as spotting colonies of elephant seals, flocks of pelicans, even pods of whales out in the distance.
Nature lovers will also want to stop for a spell at Julia Pfeiffer State Park, home to the McWay Falls, tumbling onto a cove beach (above) surrounded by impressive rock formations and nearby Bixby Bridge over a steep gorge (below).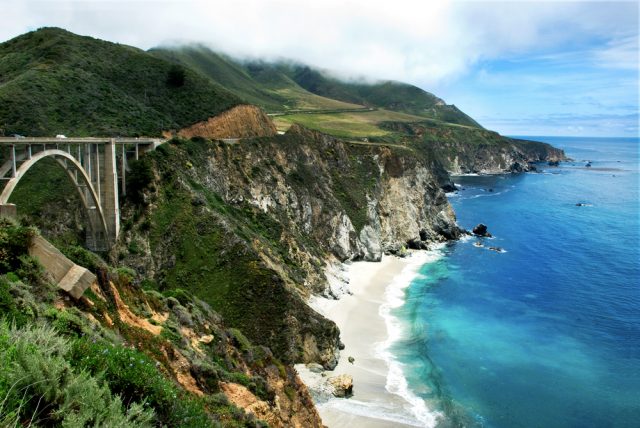 Other worthwhile stops farther north are a pair of nature reserves, Garrapata State Park and Point Lobos, both just south of Carmel-by-the-Sea. Garrapata runs from the beaches (some of them nude, BTW) through the hills into redwood forests – awesome for hiking and wildlife spotting. Point Lobos, which delivers some awesome coastal hiking, a whaling museum, and some amazing scuba diving in its marine reserve.
After the parks, Carmel is one of the Pacific Coast's loveliest towns, spread out along an enormous white-sand beach, full of luxurious fairytale mansions, and a pretty main street lined with art galleries and upscale shops.
Our end point, Monterey, a small, quaint city of some 28,000, famous for its Cannery Row, one-time center of the sardine-packing industry, immortalised by John Steinbeck in his novel of the same name. Today, it's a popular strip of gift shops, seafood restaurants and bars in converted factories. Monterey's also known for its amazing aquarium and marine reserve, where you can go whale watching year round.
All in all, a California dreamin' road trip that will make you feel like you're in a movie. Not a bad promise for a carefree holiday!