i Latina

Beyond tango, cafés, culture, exciting nightlife, and parrillada (classic barbecued beef), Argentina's capital has been sprouting an impressively diverse foodie scene, with fine dining running the gamut of world cuisines. But in this diverse dynamo of Latin America, the LatAm cuisine scene is naturally particularly well represented, and one of its stars of the moment is i Latina, whose chef-driven, pan-Latin menu just may currently just be the most creative in town. 
Said chef is bespectacled, 37-year-old, Bogotá-born Santiago Macías, who helms this tiny (seats 45 at a time), elegant, innovative eatery with his sister Laura, with their Barcelona-based brother Camilo consulting on service and beverages. Originally opened in the Patagonia ski resort city Bariloche in 2008, i Latina moved to Buenos Aires five years ago, occupying a little white jewel of an early-20th-century townhouse in the Villa Crespo neighbourhood, not far from the city's Museum of Natural Sciences and about a half-hour drive west of the heart of downtown B.A. Since then, it's racked up rave reviews not just in the local media but internationally, from the likes of Condé Nast Traveler, Travel + Leisure, the New York Times, CNN, and The Guardian.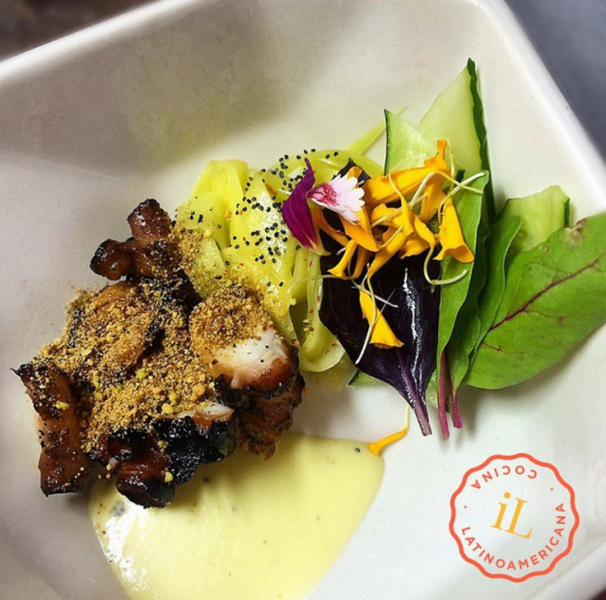 i Latina
Basically, the i Latina experience revolves around an seasonally rotating, eight-course tasting menu (1,600 pesos, at press time 78 euros/£72/93 USD) which is a contemporary take on a luscious Latin America culinary voyage from Mexico through Patagonia, including the Asian-accented Nikkei ceviche popular in Peru, with smoked shrimp, sole, and caramelised octopus; Oaxaca-style, achiote-marinated quail with mole sauce; and braised pork in Colombian coffee and sugarcane reduction. A pairing of each course with fine wines from across the Americas is also available.
Yet another tasty reason to visit this fabulous corner of South America…
Calle Murillo 725; open Tuesday through Saturday for dinner.