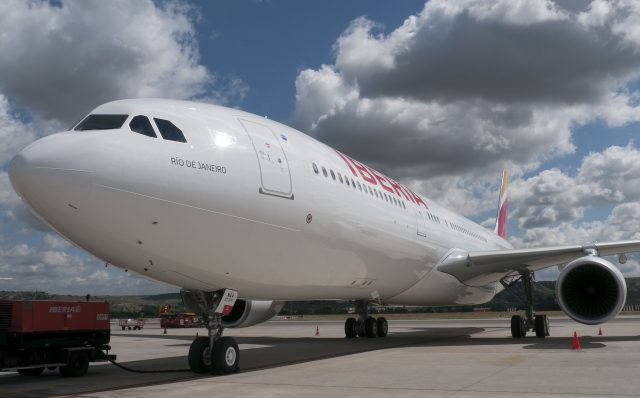 We at Iberia have followed humanity's fascination with flight, from Greek mythology's Icarusto the Wright Brothers to the latest, cutting-edge aviation technology. Along the way, we've racked up some pretty impressive history and statistics of our own. Following up on our first, second, third, and fourth installments, allow us to share 15 more fun facts with you, following our first and second posts of 90 cool facts for our 90th birthday.
61. Iberia has a 250-title digital library of world literature to which it offers free access to passengers on special dates such as Book Day, April 23.
62. Every day, the facilities at Catering de Madrid-Gate Gourmet prepare some 6,620 inflight meals – and during July-August high season that number can hit 8,000. Each month our kitchens go through 6 1/2 tonnes of meat and three of fish, along with 560,000 loaves of bread and 23,000 bottles of water.
63. Each of our aircraft is baptised with a different name, drawn from a variety of sources. The new Airbus 330s carry the names of our international destinations, such as Buenos Aires, Havana, Johannesburg, while the 320s focus on Spain's natural wonders: the Ontígola Sea, Taburiente Calderas, and Teide Volcano. And some of the 340s sport names of notable figures from Spanish culture, such as composer Joaquín Rodrigo and artist Salvador Dalí.
64. Do you know how much luggage is processed at Madrid Barajas airport every day? It varies, but during particularly busy times it can reach 5,000 pieces per hour!
65. The next aircraft model we are scheduled to add to our fleet, in 2018, is the Airbus A350, the first of which will be named in honour of Paco de Lucía, the late virtuoso flamenco guitarist.
66. Speaking of Paco de Lucía, in 2016 a documentary called The Guitar Flies was made about Maestro de Lucía last guitar as it travelled on Iberia flights to various cities of Latin America to be played by some of the region's greatest musical artists, including Alejandro Sanz, Carlinhos Brown, and Caetano Veloso. It's a moving a joyous work that tells some untold stories, and you can still see it as part of our inflight entertainment lineup.
Ambassador of Spanish Art and Culture
67. Iberia has been an ambassador and promoter of Spanish painting in particular for many years. For example, in 1981 we flew Pablo Picasso's searing master work of the Spanish Civil War, Guernica, from exile in New York City to its new home in Madrid (today it resides at the Reina Sofía Museum of modern art).
68. The DC-8s we flew in the 1960s were culturally focussed, bearing the names of Spanish Old Masters such as El Greco, Velázquez, Goya, Murillo, Sorolla, and Zurbarán.
69. The flamboyant, surrealist 20th-century painter Salvador Dalí painted two canvasses for  pintó para Iberia dos cuadros que volaron en nuestros DC8 y un A340/600 ha llevado su nombre –
70. We are also friends and supporters of Spain's national art museum, the Prado, as well as many other cultural institutions, including the Reina Sofía; the Thyssen-Bornemisza, also in Madrid; the Guggenheim Bilbao; and the Liceu concert hall in Barcelona.
71. Our VIP lounges at Madrid Barajas Airport are named Dalí and Velázquez.
72. The Nobel-prize-winning 20th-century writer Camilo José Cela published a book almost of all them on Iberia, with illustrations by Lorenzo Goñi.
And for Aviation Enthusiasts…
73. The shuttle buses which ferry passengers to and from some of our aircraft are called jardineras (window boxes), because the earliest models didn't have roofs, and the passengers riding them reminded wags of flowers in a window box.
74. The jet bridges which connect other aircraft directly to the terminals are called fingers (yes, in English), because of their resemblance to that body part.
75. Aircraft are always boarded on the left, because of a quirk of history. In centuries past, soldiers on horseback wore their swords on the left sides of their bodies or had them hanging from the right side of their horses. Either way, it was easier to mount the horse from the left, and since the first airline pilots came largely from the military, this custom carried over to the world of aviation.
Please stay tuned next week for the sixth and last installment of 90 cool Iberia facts!