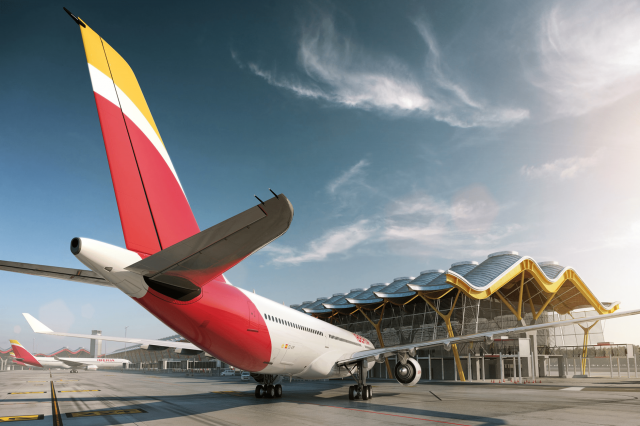 Last week we delivered you the first installment 15 out of of 90 fun facts for our 90th birthday. Here are 15 more!
16. In for the 2010 football World Cup in Johannesburg, South Africa – won by Spain for the first time ever – Iberia flew the winning team back to Madrid in a plane emblazoned with the message "Proud of Our Team".
17. Iberia has had 19 presidents over the course of our history.
18. The first of those presidents was Horacio Echebarrieta, and his name is on one of our fleet, and Airbus 319.
19. Also in the course of our history, five babies have been board on our flights – the latest, Antonino, in 2011 on a flight from Malabo, Equatorial Guinea, to Madrid.
20. Back in the 1970s, Iberia sponsored its own Formula 1 racing team. In 1977, pilot Emilio de Villota founded Iberia Airlines F1 to participate in the world motor racing championship.
21. Airlines were the first to serve fruit juices in containers, in 1939, even before they became available in supermarkets.  In the beginning the flavour was a bit off, but it was still among the most in-demand inflight products. These days, by the way, the most requested juice is tomato – even though it seems to be fairly uncommon in home refrigerators!
22. In October 2014 we achieved our first long-haul flight operated totally by women – a captain, two co-pilots, and nine flight attendants caring for 350 passengers on an Airbus A340-600.
23. Today we are the world's most punctual airline, according to a 2016 FlightStats report – up from number four in 2013, number three in 2014, and number two in 2015. It's all due to new procedures and technology put into effect by a very dedicated team.
24. Since 1927, Iberia has flown some 900 million passengers.
25. At present we fly to 123 destinations in 48 countries, plus 273 more destinations as codeshares with other airlines.
26. Since 2011, we have been part of International Airlines Group (IAG), which currently also includes British Airways, Aer Lingus, and Vueling.
27. Our fleet currently consists of 135 aircraft.
28. In addition to passenger travel, we also run extensive cargo and aircraft maintenance operations.
29. Regarding those maintenance operations, we handle those of another hundred aviation companies – not just routine maintenace but also reconfiguring cabins (for example, installing inflight WiFi or upgrading economy class to premium economy).
30. Iberia's maintenance operations are conducted at five hangars in Madrid's Barajas Airport and a sixth hangar at El Prat Airport in Barcelona.
Stay tuned next week for 15 more!