photos: José Balido
When I first started visiting Cuba nearly 20 years ago, most dogs mosdef did not have it good at all. Yes, on Old Havana's main street, Calle Obispo, there was already a dog grooming salon for an extremely élite few pampered pooches. But a few short blocks east, in its historic, iconic Plaza de Armas I witnessed the sad fate that befell many of the city's strays as they were hauled off by dogcatchers.
Furthermore, outside Havana in the smaller cities and towns, it was fairly common to keep watch dogs up on the traditional flat rooftops in the pitilessly baking sun in order to "protect" the houses from intruders. I even knew one, a desperately affection-starved mutt named Katia, whom I made a point of spending time with each time I visited my grandmother's house… and sneaking up the occasional treat. It was all so heartbreaking. But…
…fast forward to early 2017, my most recent visit after an absence of seven years, and things have most definitely changed. I no longer noticed the rooftop dogs out in the countryside, and in the central precincts of Havana, at least, many strays have become doted-upon mascots, with official (and adorable) ID badges and all, with their names and bearing the phrase, "Don't abuse me". So for me it went from heartbreaking to heartwarming – and though it was undoubtedly done for tourism PR purposes; has also been due to an upturn in the economy since the 1990s; and is by no means the norm outside the capital, nor even in Havana's outlying neighbourhoods – to me it still bespeaks a laudable sign of progress and civilisation.
On my recent visit, one of my photographic focuses was Havana street dogs, and so here I'd like to introduce you to ten of them, starting with happy-go-lucky Cortico ("Shorty", top), who is my sentimental favourite as he happens to be the spitting image of one of my own dearly departed pups, Kipper. We spotted him trotting happily along Calle Obispo, getting belly rubs at the Hotel Telégrafo, and sacking out in Plaza Vieja. ¡Qué vida!
Ready for a cavalcade of Cuban canid cuties? 🙂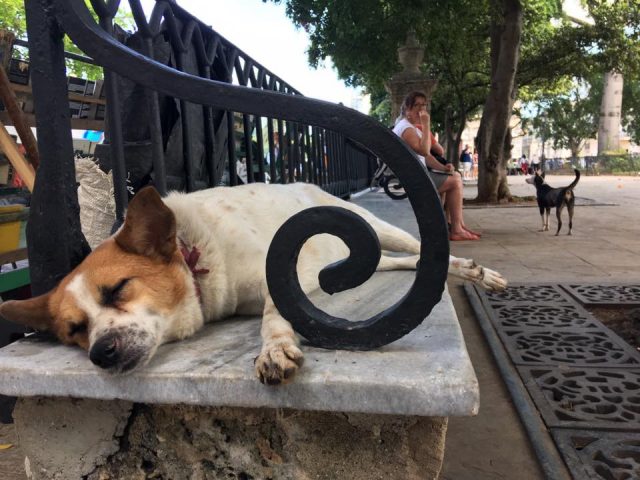 A middle-aged matron snoozing on a park bench in Old Havana's Plaza de Armas.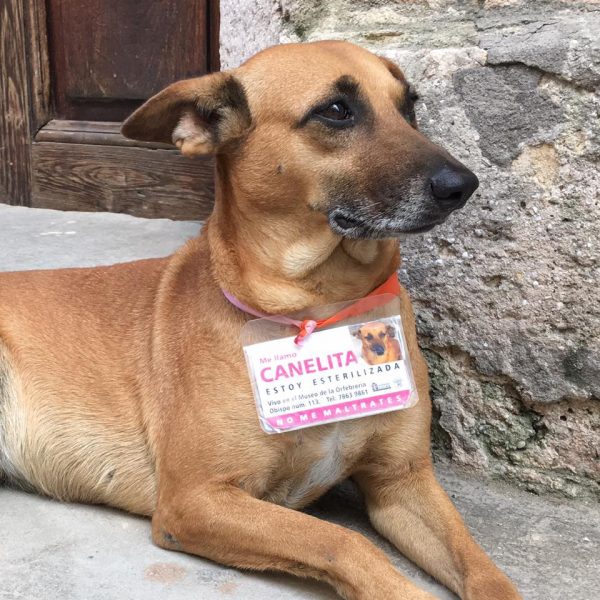 Canelita ("Little Cinnamon") strikes a dignified pose on Calle Obispo.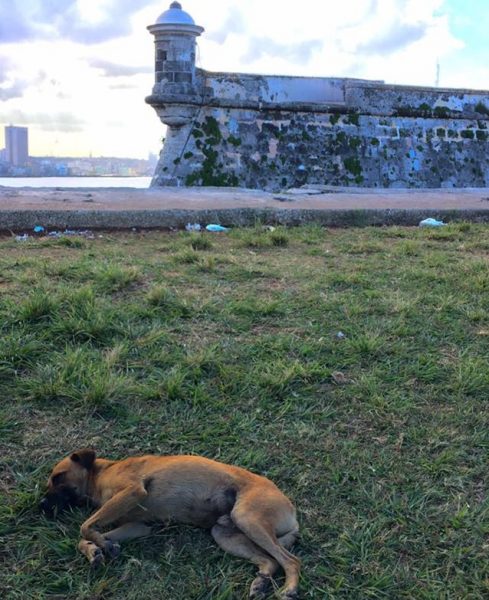 Having a snooze at one of Havana's iconic colonial fortresses, La Cabaña, just across the harbour from old town.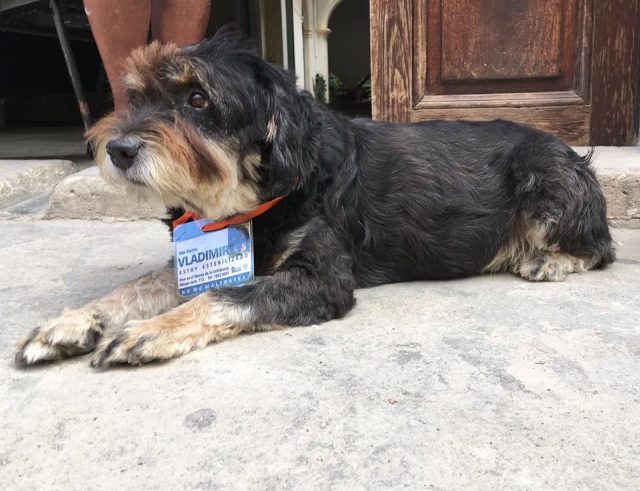 Say hola (or perhaps privyet?) to Vladimir! (Yes, Russian names understandably used to be somewhat popular in Cuba over this last half century, but to find one in 2017 was surprising.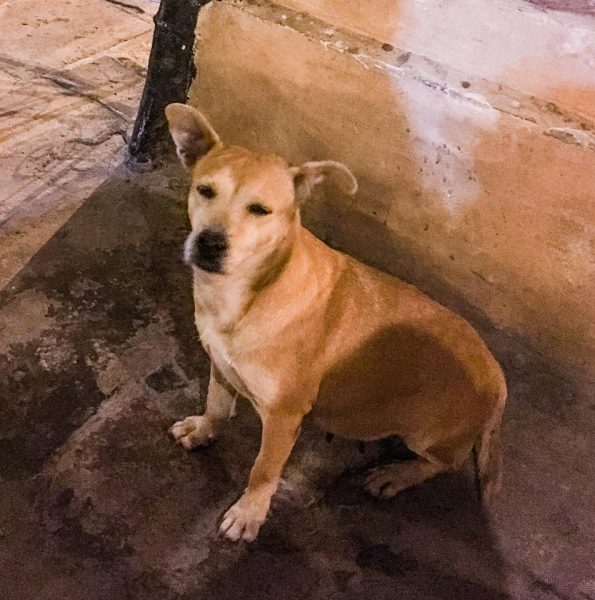 Begging for table scraps in Plaza de la Catedral (Cathedral Square). He succeeded.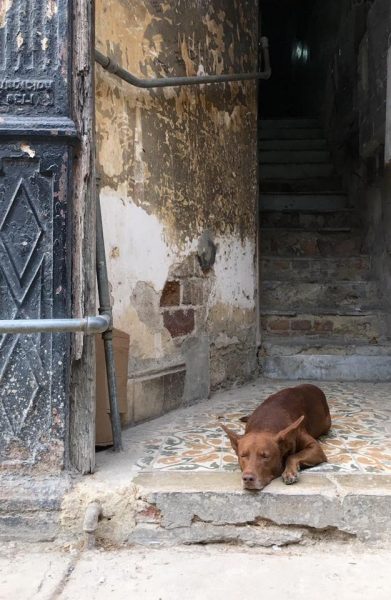 I dare you to walk into my building! Keeping watch on Old Havana's Calle de la Amargura.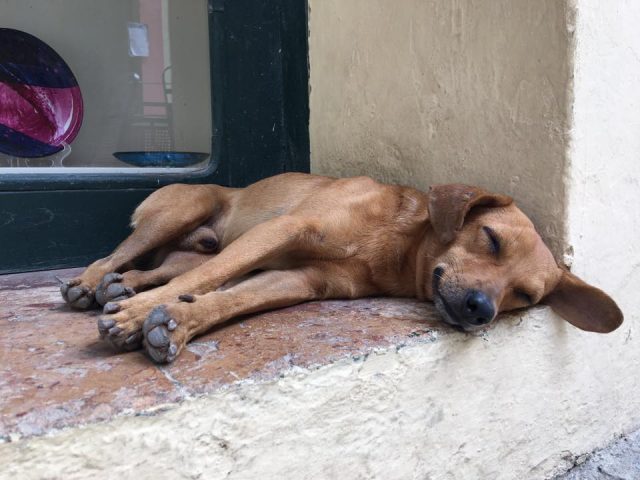 Hey, even an energetic cachorrito (puppy) needs to sleep sometime! 🙂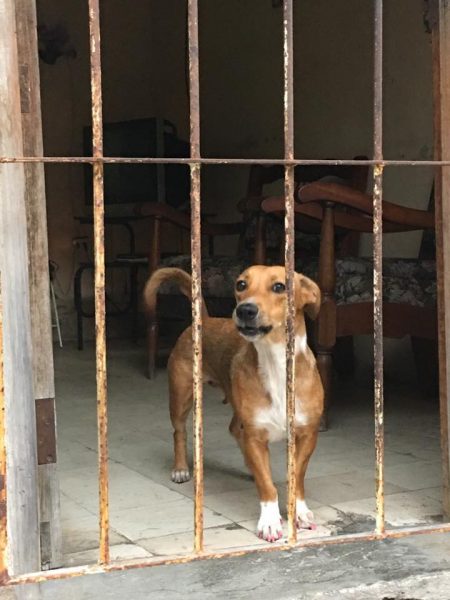 Just chillin' at home, folks!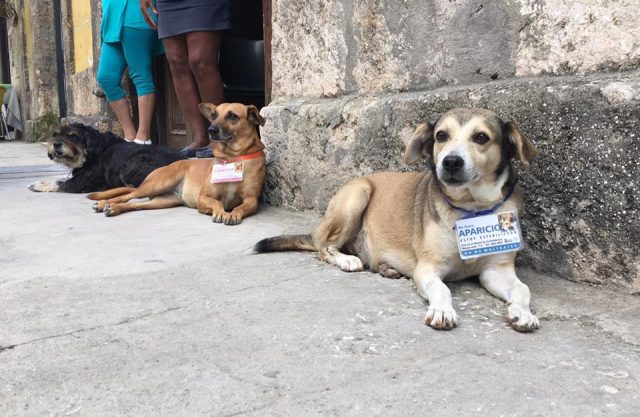 Farewell from Canelita, Vladimir, and their mate Aparicio – come visit us soon!!