Some of the world's most famous ruins can be found in this expansive, steamy lowland peninsula covering the southern Mexican states of Yucatán, Campeche, and Quintana Roo (as well as, many people don't realise, northern Belize and the Guatemalan state of Petén, home to Tikal). The "Big Three", Chichén Itzá, Tulum, and Uxmal, are celebrated for a reason.  But if you're particularly fascinated, as I am, with the Mundo Maya, you'll want to add several more days to your visit here, as there dozens more ravishing ruins – many of them within an hour or two of tourist destinations such as Yucatan capital Mérida, as well as holiday meccas Cancún and the Riviera Maya.
Chichén Itzá
One of the largest Mayan cities, just under 90 minutes from Mérida and just over two hours from Cancun and Playa del Carmen, Chichén has also become one of Mexico's most popular tourist sites. It was a going concern from around 600 to 1200 AD, with a diversity of styles and influences, including non-Mayan. Key structures, include El Castillo (the Castle, aka the Temple of Kukulkán, the "feathered serpent" god also known as Quetzalcoátl), the Caracol (Snail's Shell, thought to have been used as an observatory), the Casa de las Monjas (House of the Nuns, though it was actually a government building), and the ball court (below). Along a path away from the main complex are two cenotes (natural, water-filled sinkholes), which the locals used both as a water source and a place to throw sacrificial objects as well as human sacrifices.
Tulum
This is unique among Mayan ruins in that it perches on a bluff over the Gulf of Mexico – a truly lovely seaside setting, with a beach below you can frolic at after tromping through the site. With architecture similar to Chichén, Tulum was built late in the game (around 1200 AD) and abandoned by the end of the 16th century. With both smaller scale buildings and a smaller population (1,000 to 1,600), it was thought to have been founded to expand coastal trade routes.  Located near a charming beach resort town of the same name, it's just under an hour from Playa del Carmen, two hours from Cancún, and three hours from Mérida. Unfortunately, it's extremely popular with cruise shore excursions, so is often slammed with tourists, and unlike other ruins, many structures are roped off.
Uxmal
An important capital in the western, Uxmal has been dated back to 500 AD and reached its peak in from about 800 to 1000 (with a population estimated around 15,000), after which it declined (though was still apparently populated when the Spaniards conquered the peninsula in the mid-16th century. It's different in style from Chichén, especially with its rounded, smooth pyramids such as the Pirámide del Mago (Pyramid of the Magician), and in addition to being the best preserved of the archaeological sites, it's also widely considered the most elegant (they also stage a lovely "sound and light" show these days). Just over an hour from Mérida, some four hours from Cancún and Playa del Carmen.
Another nine sites are particularly worth a visit if you have more time, or on a return visit. Many have museums and/or visitors' centres attached to help explain the artifacts displayed and the history of the sites.
Becán
Considered one of the more impressive Mayan sites outside the Big Three (as well as the oldest), this site was occupied from around 600 BC through around 1200 AD. Outstanding features include a two-kilometre (1¼-mile) moat around the city, a unique part of Mexico's oldest known defensive fortifications. It is, however, one of the more secluded sites – in the jungles of Campeche state a 5½ -hour drive from Mérida, nearly five hours from Playa del Carmen, and 5¾ hours from Cancún (the nearest largish city is Chetumal, 90 minutes east).
Calakmul
Basically down the road from Becán, Calakmul was one of the two most important Mayan cities in the "Classic Period", when it had a population of up to 50,000 its rivalry with Tikal dominated the Mayan geopolitical landscape, something akin to a "superpower" rivalry. Monuments date here back to 5th century AD, and political authority had collapse by the beginning of the 10th. Calakmul's Great Pyramid is one of the tallest and most massive in the Mundo Maya, at 45 metres (148 feet) high, and the five-hectare (12-acre) excavated site also boasts a large number of carved stelae and another unusual structure called the Building of the Three Towers. It's located nearly six hours from Mérida; 5¾ hours from Cancún; 4¾ hours from Playa del Carmen.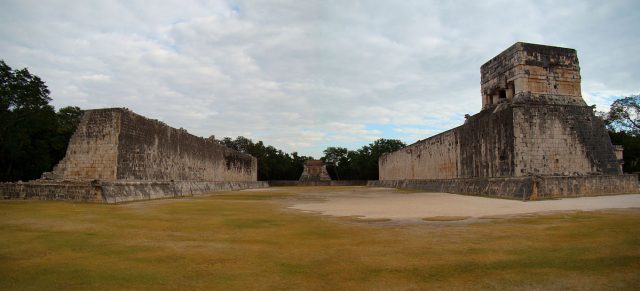 Cobá
One of my own favourite lesser known sites because of its jungly setting, which makes you feel a bit like Indiana Jones as you clamber around pyramids, temples, stelae, and ball courts half buried in the jungle. Its 70 sq. kilometres (27 sq. miles) amid five lakes were occupied by also as many as 50,000 inhabitants from 500 AD till at least the 14th century and possibly a bit beyond. What's particularly special here is that Cobá is also the nexus of the Mundo Maya's largest road network, some 16 causeways linking it to sites as far away as 100 km (62 mi). It's about a half hour inland from Tulum, two hours from Cancún, 90 minutes from Playa del Carmen, and 2½ from Mérida.
Chunchucmil
A good-size site (urban centre 2,500 hectares/9½ sq. mi., with suburbs and farmstead 6,400 ha./25 sq. mi.), rather than a seat of political power Chunchucmil was more of a commercial centre, channeling trade to/from the interior and apparently somewhat specialised in the salt trade along the coast, 27 km (17 mi.) away. Characterised by stone-lined pathways and a honeycomb of stone walls, with a dozen pyramids at its centre, it's located in a semi-arid scrub-forest area of present-day Campeche, the driest part of the Yucatan. Its heyday was during the 5th through the mid-7th centuries. Less than an hour away from the more important Mayan city Oxkintok (see below), it can be reached from Mérida just under 90 minutes from both Cancún and Playa del Carmen in 4½ hours.
Dzibilchaltún
The closest site to Mérida (16 km/10 mi.), this city was one of the earliest, occupied from around 300 BC to the time the Spanish invaders arrived, and eventually grew into some importance, a population up to 200,000 and some 8,400 structures (though it waned as the power of Chichén Itzá, now about 1½ hours away, waxed). Notable among those structures today is the Temple of the Seven Dolls; there's also the nearby Cenote Xlacah, which served as a water source then and a swimming hole for visitors and locals now. It's around 3½ hours from both Cancún and Playa del Carmen.
Ek' Balam
Just a half hour north of the charming colonial city of Valladolid, "Black Jaguar" was occupied for a millennium beginning around 100 BC, but had its peak heyday around 700 to 1100 AD, but like Dzibilchaltún also eventually was eclipsed by Chichén Itzá, now just an hour's drive away). It's still largely unexcavated, but you can see some 45 buildings including a massive pyramid, La Torre (home to some of the peninsula's most impressive remaining artwork), as well as several temples and a pair of palaces, all surrounded by two defensive walls.  It's reachable in just under two hours from all three main holiday spots: Mérida, Cancún, and Playa del Carmen.
Mayapán
About a half hour southeast of Mérida, the Yucatan's most important city from around 1200 (after the fall of Chichen Itzá, now some 90 minutes away) to the 1440s dates back to around 1000 AD. It grew into an major fortified urb with a densely populated central area, some 4,000 structures, and population estimated at 10,000 to 17,000. Pretty much the last major centre of civilisation by the time the Spaniards invaded, Mayapán includes a wealth of temples, shrines, platforms, observatories, dominated by a main pyramid modelled after El Castillo at Chichén Itzá. Just over three hours from Cancun and Playa del Carmen.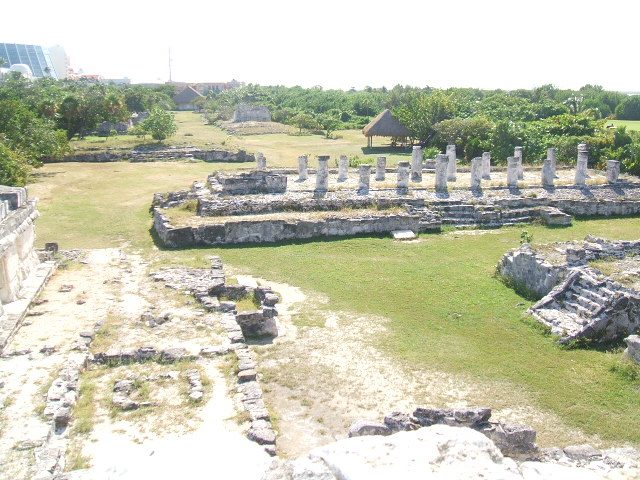 David Paul Appell
Oxkintok
Located near the Yucatan's northwestern coast just 45 minutes from Uxmal and less than an hour from Chunchucmil (above), this was one of the first Maya states to develop in the northern lowlands, and its unique features include a goodly number of stone monuments inscribed with particularly ancient hieroglyphs, as well as early buildings significantly different from other Mayan sites;  one of the most interesting is the Labyrinth, with three levels superimposed on each other. Just over an hour from Mérida and about four from Cancun and Playa del Carmen.
Ruinas del Rey
Finally, believe it or not, if you're staying in Cancún and are really lazy, on the road between the hotel zone and the airport. Dating to around 300 BC and now open daily during daylight hours, this little complex seems to have had a focus mixing fishing, coastal commerce, and astronomy, as well as served as a royal burial ground. There are two main avenues and two main plazas with 47 structures, and it's actually pretty cool – I see echoes of many other Mayan sites I've visited – except that instead of a heart-thumper of a workout by climbing a few stories up a pyramid in the Yucatan's sultry heat, there's pretty much nothing here that's higher than two stories. What's more, whenever I've visited the place has always been delightfully peaceful; you may very well find yourselves literally the only visitors.
More information: Campeche, Quintana Roo, Yucatan.