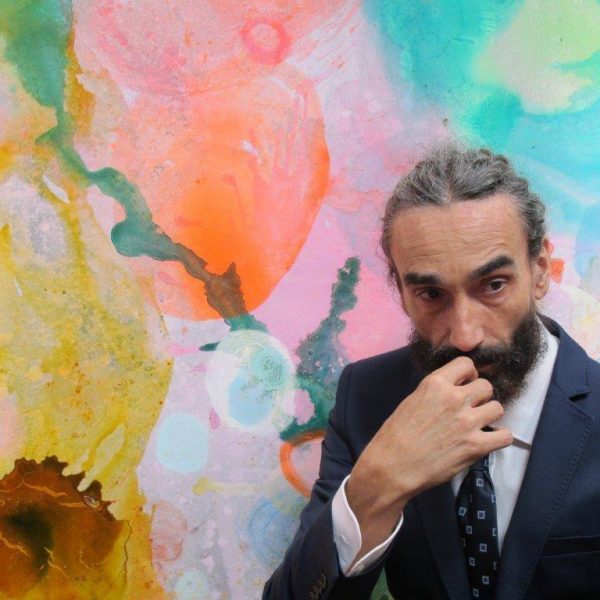 Alfredo Palmero
"Hola, hola! Is that you? I'm coming", a lanky, pony-tailed figure, leaning precariously out of an upstairs window, called down to us.
Moments later, the heavily carved front door opened, and we were admitted to the realm of Alfredo Palmero, reknowned painter as well as proud inhabitant of one of the oldest, best preserved and impressive masias (farmhouses) in all of Catalonia. It's not located out in the sticks, however, but much more conveniently in Vall d'Hebron, once a small country village that's now an outlying neighbourhood of greater Barcelona, reachable from downtown via Metro line L3.
You can't mistake Alfredo (known to his friends as Fredy) for anything than an artist. Flowing locks, paint-stained track suit, and fingers which the 51-year-old discreetly wiped on a cloth before shaking hands. Happily, no airs whatsoever – first-name basis straightaway.
'I like visitors,' he said,  'but only two or three at a time. They come here to know more about my art and I want to know about them, and you can't have that kind of conversation with a group." His English is not fluent, but his sister is nearby to assist if needed.
Alfredo Palmero
Palmero's artistic history is a fascinating as his masia. He's a third-generation painter who learned his art from his father and grandfather. Both became well known as painters of landscapes, horses and seascapes in a very realistic manner. Using their art as foundation, Fredy has developed his very own style, combining tradition with a modern interpretation. Colour, light, and life are what's important to him –  as are, he admits with a wink, the ladies.
So it doesn't come as a surprise that he has become most famous for his series of harlequins and especially meninas (royal ladies in waiting, above). His inspiration for the latter comes from Diego Velazquez' famous 1656 painting Las Meninas, which today hangs in Madrid's Prado Museum.
That canvas depicts the daughter of King Philip IV, Margaret Theresa, surrounded by her maids of honour, dogs, dwarfs and the maestro Velázquez himself as he paints them in the left-hand background. According to the fashion of the time and her ranks, the girls wear huge, stiff crinolines which didn't allow them to pass through a door straight on. Their hairdos are rather stiff too – in part straight with an odd little curl on the side.
What Alfredo saw was the potential to create a very different kind of women, in even bigger skirts yet much more at ease than the poor little princess and her companions. The result is an ever growing series of young women, literally rising up like flowers out of huge, colorful skirts with elaborate, incredible patterns, looking at you from the canvass with am impressions that seems to say: hey, come on, have fun. Their hairdos are exaggerated bunches of crinkly hair – something like Alfredo's very own version of an afro. The overall composition is indeed one of light, life and fun.
"It's an homage to women in all their facets", he told us. The effect of light is enhanced by a special finish he uses, a mixture or ground glass and charcoal, so the paintings actually glitter.
Alfredo Palmero
Palmero isn't the only modern painter who's been inspired by Velazquez' masterpiece; Pablo Picasso, for example, famously created 58 versions of meninas in 1957. Which brings us to his other theme, the harlequins.  Here, too, Alfredo said, "I was also inspired by Picasso. My artistic formation is based on the realism which characterises the work of my father and grandfather. I'm not an abstract painter like Picasso and would never try. The idea of the harlequin though, the mixture of seriousness – even sadness – with colour and joy made me create my own version. My harlequins are all female but, in a way, I see myself in them, too."
"Who are your models"?  I asked. "My daughter and her girlfriends", he replied. "They love the way they look in my paintings".
Although best known for the meninas and harlequins, Palmero continues to paint another favourite: horses. Standing in his huge downstairs showroom (above), hung with at least a couple dozen canvases, and with pride, he led my friend and me to an enormous canvas leaning against a wall, depicting a rearing, wild, white horse on a beach. Involuntarily, I took a step back because it felt as if the fiery animal might jump out of the canvass at any moment.
In addition to being displayed at the Galería Subex here in Barcelona, Palmero's work has been exhibited worldwide and is especially popular in the United States, from where he gets many commissions and sells via local agents such as Los-Angeles-based Saatchi Art.
Whilst we were talking art, we were also moving around the ground floor of the masia, and he segued into a tour and explanation of the building itself.
Alfredo Palmero

Masias are massive stone buildings (minimum two-storeys) typical of traditional rural Catalonia. They have their origin in Roman villas, but are often associated with farming or livestock. Whilst the thick walls are made from rough stone, the door and window frames are worked, and wooden beams supporting the structure are left exposed. Outside, the Gothic windows and the carved door attract attention.
This one dates from 1470, and when he and his family acquired it some 30 years ago, it was nearly in ruins – a treasure which had been all but swallowed up by the new surrounding high-rises. It's not for nothing that the exterior has been declared a monument of historic interest.
"I needed a place to work and live and also to store the huge art collection of my family. This masia was the ideal place for both and with a lot of hard work, friends and family chipping in, we managed to create this fabulous place which you see today."
The tour stared going down a step narrow stone staircase to the basement. The Palmero family were not only great painters but also collectors of fine wines, now stored in the masia's cellar. The main attraction, though, is a secret passage and tunnel which, according to legend, 17th-century robber Joan de Serrallonga used to escape when the law was on his heels. In the end, it only delayed the end, because he was finally caught and hanged in 1634.
Back in the main floor, we admired the carved stone staircase which leads to the upper floor where Alfredo has his studio, the massive chandelier and the countless paintings which cover every wall space, some by the Palmeros, some by other artists. Especially eye-catching is a huge mural of scenes from the Cervantes classic 16th-century novel Don Quixote, by Fredy's father (who has his own museum in the La Mancha town of Almodóvar del Campo).
Meanwhile, a bit of quirk is provided by an Art Deco jukebox combined with a bar – another example of how with its offbeat décor, collection of gorgeous furniture, ceramics, paintings, and a thousand other odds and ends, Palmero's masia resembles more a compact, eclectic castle than a humble farmhouse.
It was quite a visit; my friend and I spent more than two hours and never did our gracious host show any sign of being in a rush. Every visitor gets a signed poster as a goodbye gift. Alfredo's parting words: "Come back any time you want – just call!" What a guy.
If you are in Barcelona and love art and history, you shouldn't miss a visit to Alfredo Palmero. Tell him Inka from Germany sent you.
Carrer de Judea 2, Vall d' Hebron; tel. 932-126-551; silvia@alfredopalmero.es.
Best fares to Barcelona from the UK, from the USA.