MECA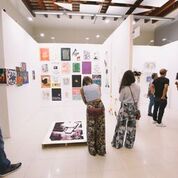 If you've ever visited San Juan, you've undoubtedly walked past or perhaps even browsed many of the Old San Juan art galleries, with offerings ranging from tourist kitsch to cutting-edge, avant-garde works. And in fact in recent years the serious, world-class art scene in Puerto Rico's capital has been growing apace especially in recent years. And now it will be showcased in the high-octane, Art-Basel-style affair (for now on a smaller scale, of course): the first annual MECA (short for Mercado Caribeño, Caribbean Marketplace), which aims to put this island and the larger Caribbean on the international modern-art map.
Launching today, MECA runs through June 4th at the exhibition space of the Puerto Rico Conservatory of Music, housed in a neoclassical, late-19th-century former Catholic School (below) along with additional modern buildings in the San Juan suburb of Santurce. If you think a music school is an odd choice for this kind of affair, it makes much more sense when you realise it offers the largest exhibition venue near a growing arts district, a cluster of galleries, exhibition spaces, and artists' workshops in the area of Calle Cerra and Avenida Manuel Fernández Juncos.
Organised by energetic gallery empresario Daniel Báez (Enterprise in New York City) and artist/gallery owner Tony Rodríguez (Espacio 20/20 here on Santurce's Calle Cerra), the fair consists of more than 30 exhibitors – in addition to local galleries (such as Agustina Ferreyra, below) and projects with special emphasis on younger/up-and-coming artists, another dozen from beyond the island, from the United States, Mexico, the Dominican Republic, and elsewhere. Báez and Rodríguez are trying to focus on what they call "the most aggressive risk takers" of today's art world, so the show should be exciting ideed.
Agustina Ferreyra Gallery
So if you're a modern-art maven looking for the next up-and-comers, do keep MECA firmly in mind for 2018, when it will be even bigger and better!
Best fares from the UK, from Spain.