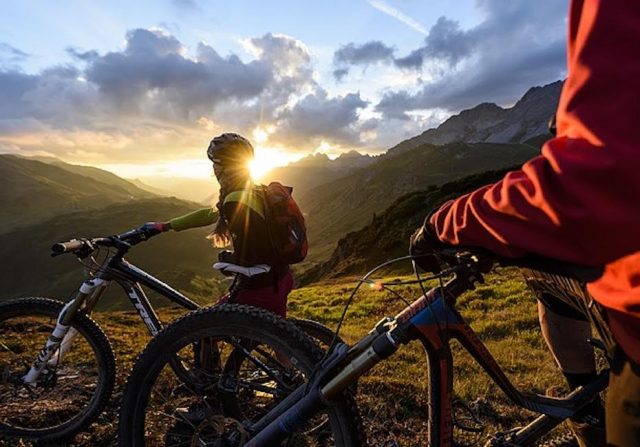 Austrian Tourist Office
Biking uphill from Austria's chocolate-box village of Westendorf at 780 metres (2,560 feet) to a tiny little mountain hut at 1,850 m (6,070 ft.) makes my heart pound – not because of the effort, but because although I am a passionate skier, I have to admit that the mountains are at their most gorgeous in summer.
Westendorf is part of the massive SkiWelt area, which has 284 kilometres (176 miles) of trails in winter. In winter the undulating terrain is suited to beginners and intermediates – but in summer it makes good mountain biking for people who are not looking to scare themselves silly.
And the first practical lesson you learn when mountain biking in the Alps is that gradient matters more than distance. Ten km (6½ mi.) doesn't sound all that much, does it? But when you're going uphill on a hairy path that climbs more than 1,000 vertical metres (3,280 ft.), it can be tough, even excruciating. And that's where e-biking can be a boon.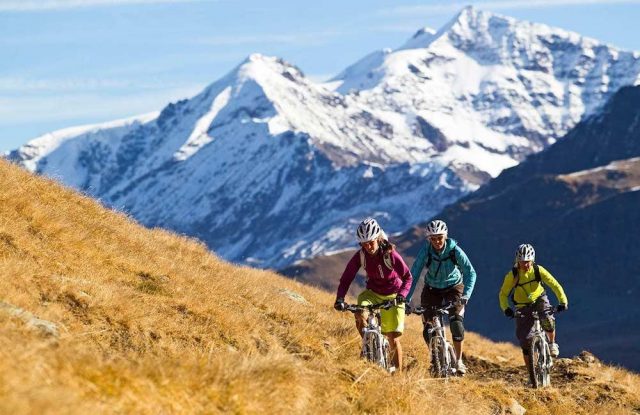 Austrian Tourist Office
E-Biking: What, How, & Where 
When I mention to friends that I have switched from road bikes to e-bikes, they laugh and say, "Isn't that cheating? You might as well take a moped or scooter up the mountain!"
Well, yes, you have a battery-powered motor, but you definitely still have to pedal; the (optional) powered assistance just makes the going a bit easier on the steeper gradients, allowing you to cycle that bit farther.
Just a few instructions from the hire shop is all you need in working the gears and knowing how to use the battery. Make sure the bike is lockable (e-bikes are more expensive than the average road or mountain bike, and therefore particularly attractive to thieves). They handle pretty much the same as standard bikes, although they're heavier.
You can rent them all over the Alps, but you'll have to choose between a road e-bike, a mountain e-bike, or a hybrid.  If you're planning to go off-road, on narrow mountain paths or along any dodgy roads, then choose the mountain bike, with fatter tyres for stability; it can go anywhere a mountain bike can go. And if you want to learn technique, it helps to take a short course. There are now mountain-bike schools all over the Alps, as well as guided rides.
Oh, and don't forget a helmet, padded cycling shorts, a waterproof jacket, cycling gloves, sunglasses and sunscreen, some old trainers, and a water bottle. Body armour (such as elbow and knee guards) is optional but recommended if you're going to be doing extreme riding.
Top Spots For E-Biking
Obviously, anywhere off-road is fair game, but my favourites are ski resorts which also operate in warm weather, with cable cars that let you take bikes up the mountain – making it a whole lot easier and accessible for people of all ages, including families with younger kids. (Just keep in mind that some of the longer, steeper slopes remain expert-only!)
In Austria in particular, you'll find charming little mountain huts that are open for breakfast and lunch in the summer, and there are also lakes to swim in with water so pristine you can drink it.
Spas and swimming-pools are also great places for recharging your own batteries after an active day's cycling, and the larger resorts tend to have several of them. My top choices: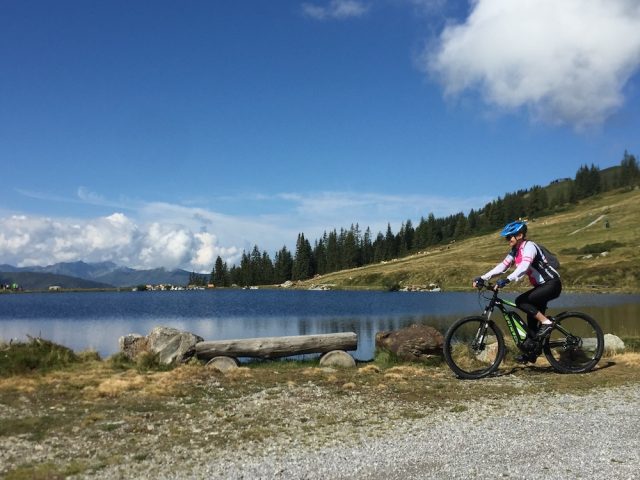 Felice Hardy
AUSTRIA
Westendorf
As I mentioned above, this little Tirolean village, an hour and a half from Salzburg, has some lovely road and mountain bike trails. You can take your bike inside all the gondolas, and the local tourist office organises free weekly bike tours. A dozen gondolas keep going throughout the summer and nearly all of the area's 77 restaurants are open year-round. Fly:  Munich is 1½ hours away.
Kitzbühel

A major hot spot for cyclists, Kitzbühel's diverse landscape offers something for all disciplines. There are no less than fourteen detailed routes, each with its own classification, and 1200 kilometres (almost 750 miles) to explore. Really ambitious? The road to the top of Kitzbühel Horn is the steepest in Austria!
Mayrhofen
The Zillertal valley is beautiful, with the main resort of Mayrhofen offering some 800 km (497 mi.) of cycling trails. The local tourist board has a list – complete with descriptions – of 21 mountain bike tours in the area, including one to Ginzling, an idyllic climbing and farming village. Fly: Munich is two hours away.
St. Anton

This area (top) is where to come for truly demanding terrain. Just as this is the crème de la crème of the 'steeps' during the ski season, so too is it in summer. A local station offers guided tours and is the starting point for trails suitable for those who want to take it easy or work up a sweat. These include taking the cable-car up 1,000 m (3,280 ft.) and then biking down on forest trails and single tracks. Helmets and armour are provided. Fly: Munich is 2½ hours away, Zurich two hours.
More Austria biking info: Austria.info.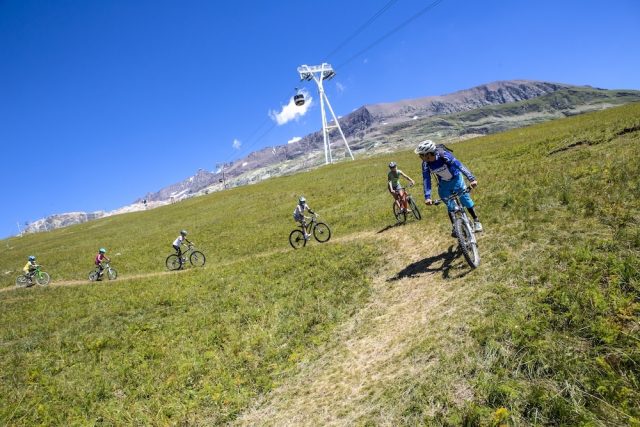 L. Salerno
FRANCE
Portes du Soleil

The Portes du Soleil area of France includes 12 villages and all the bike trails that link them in a spectacular setting between Montblanc in France and Lake Geneva in Switzerland. Local schools offer private guiding. Fly: Geneva and Lyon are about 90 minutes away.
Val d'Isère and Tignes

Val d'Isère has a bike park near the village and a new intermediate downhill trail. The 150 km (93 mi.) of trails are accessed by free lifts, including the Olympique gondola from the centre of Val d'Isère and the Borsat chair-lift, which also gives you access to the trails to Tignes, where there's another bike park. Tignes has its own mountain bike school offering group and private lessons and tours for adults and kids from nine years old. In July, Val d'Isère hosts the annual Electric Vehicle Show (http://salon-vehicule-electrique.com), showcasing everything from skate-boards to e-bikes, cars, and even piste-bashers under eco-power. Fly: Geneva and Lyon are about two hours 45 minutes away.
Alpe d'Huez

The lifts are open for summer from the start of July to the end of August. When you're not biking, the Sports Palace is well worth a visit with its indoor pool, climbing wall and ropes course, tennis and squash courts, ultra modern gym, archery, crossbow and yoga classes. Fly: Lyon is two hours away, Geneva around 2 ½ hours, Turin just over three hours.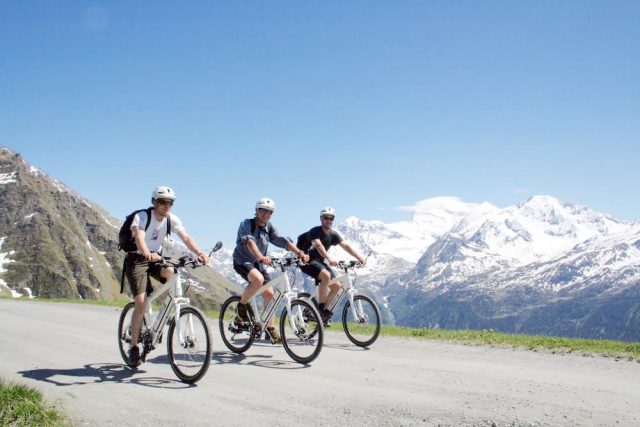 TK
SWITZERLAND
Verbier
The four-hour self-guided Parcours des Familles Verbier-La Tzoumaz itinerary is suitable for families and less fit bikers because you can do it using the lift network.  Book a bike guide through local companies, which also organise tours in the area (above). The main lifts are open from the end of May to end of October, with the bike park lifts running from the start of July through October (plus June weekends). Fly: Geneva is just under two hours away.
St. Moritz
For more hardcore bikers, there's the three-day Engadin Bike Giro, held in Silvaplana and St Moritz (this year's dates June 30 to July 2). The mountain bike stage race appeals to mountain bike pros and amateurs alike. More casual riders can try the trails in the Corviglia area, which stay open late every other Friday for those who want to bike in the evening. Fly: Zurich and Milan are just under three hours away.
ITALY
San Cassiano and Corvara

Local biking schools organise guided excursions from late May to early October for all skill levels. The terrain ranges from rolling pastureland to vertiginous peaks, so it helps to use the lift system. Those wanting to push themselves can try some extremely tricky routes. Fly: Venice is 2½ hours away.
Felice Hardy is co-editor of the ski information website WeLove2Ski.com, which during the summer months covers all the many other activities you can try in the Alps and Rockies.