Since the 1980s, Costa Rica has of course made a huge name for itself as not only a beach but also ecotourism and soft adventure destination.  And it's especially this last that has become a speciality of a region of Alajuela province in the country's Central Valley, about a couple of hours north of capital San José, called Arenal. For adrenaline and the great outdoors, it doesn't get much better.
The area takes its name from an active volcano and the lake beneath it. At 1,633 metres (5,358 feet) high, Volcán Arenal was dormant until 1968, then erupted and destroyed the nearby town of Tabacón. For decades afterward, its active lava flows became both a tourist attraction and a focus of scientific study (visible at night for kilometres around). Today there are a number of hiking trails as well as lodges such as the Arenal Observatory Lodge.
Below the volcano to the west is Lago Arenal, Costa Rica's largest lake (85 square kms/33 sq. miles), with excellent fishing, kayaking, and paddle boarding, but most especially windsurfing, kite surfing, and wakeboarding during the windier months of November through April. The area around the lake, meanwhile, has tons of hiking, biking, birdwatching, and horseback-riding opportunities.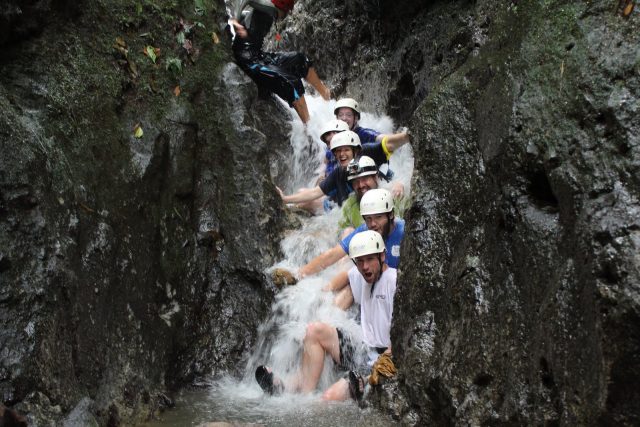 Caribe Shuttle
Downslope to the east of the volcano is the town where most of the visitors to the area base themselves. With a bit over 8,000 permanent residents, La Fortuna named "Fortune" for the fertile lands surrounding it, not because it was spared by the volcano, is a typically funky small Central American tourist town – not particularly beautiful per se but nonetheless with an appealing, somewhat backpacker-ish vibe and plenty of lodging, dining, and nightlife options.
It's also the hub of an eco and adventure travel industry that's big on whitewater rafting, mountain biking, ATV/dirt biking, horseback riding, and "canyoning" (which involves hiking, climbing, jumping, abseiling, and swimming).  Top local attractions include the Catarata de la Fortuna (a 70-m/230-ft. waterfall); the way cool Venado Caves (ten of them, about an hour outside town); the Butterfly Conservatory (off the southern shore of the lake); Místico Park Hanging Bridges (letting you walk through the rain forest canopy); several ziplines; and Arenal Bungee (off one of Central America's highest bungee bridges, over the Colorado River).
But one of my own favourite things to do here lies just out of town up the hill toward the volcano and lake, where several establishments have taken advantage of the geothermal hot springs spawned by the volcano to create resorts where visitors can splash around the warm waters. They each have a different feel to them. Baldi, for example, is a little more commercial-feeling, complete with bars, water slides, and party music, while those at The Springs Resort are lower key and more naturalistically landscaped. My favourite of these, however, are the pair of hot springs parks owned by the area's most sophisticated resort, Tabacón. Both gorgeously designed and landscaped, one is fairly simple while the other is quite elaborate, with all sorts of exotic nooks and crannies as well as restaurants and swim-up bars.
More information: Arenal.net, FortunaWelcome.com; best fares
https://youtu.be/k-bxCzUFP0g