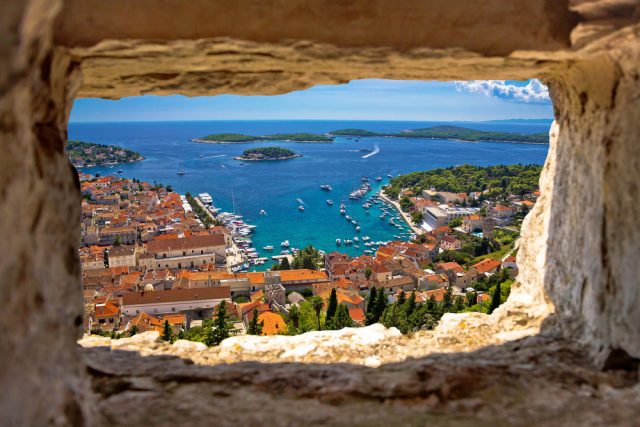 xbrchx
Most everyone knows that the UNESCO World Heritage Site that is the ancient walled city of Dubrovnik (read our past post here) is a real stunner, but so is much of the nearby coast and hinterland of Dalmatia, which covers pretty much all of southern Croatia, from the island of Rab nearly 500 kilometres (just over 300 miles) southward to the Montenegro border at the Bay of Kotor.  Along the way it includes some 80 islands and 500 islets of the Adriatic Sea and offers similar mediaeval (and throws in some ancient Roman) splendour, along with some of Europe's most spectacular beaches and fetching small towns.
It can take as little as seven hours to wend your way down the entirely of the Dalmatian coast in one fell swoop. But with all the amazing sights and stuff to do along the way, that could quite easily stretch into a week or three. Now that Iberia is restarting its summer service to Dubrovnik (June 3 through October), allow me to introduce you to an itinerary that will provide one of those memories of a lifetime. Here are a handful of major highlights of the coast, from north to south.
One of the Adriatic's greenest islands is a relatively laid-back mix of the charming ancient architecture and sights of Rab Town and seven other settlements with pine forests and lovely sandy beaches (including a good concentration of nude beaches, if you like that sort of thing).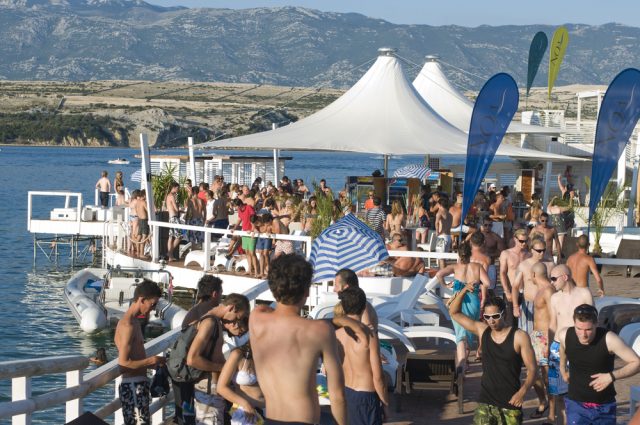 ToskanaINC
The Adriatic's second-longest island (63 km/37 mi.), connected to the mainland by bridge, has little vegetation but two main settlements, Pag Town and Novalja. The former, in the island's centre, is a quaint affair with various historic churches and other buildings from the 15th through 18th centuries, when Pag like most of the Dalmatian coast was ruled by the Venetian Republic; it's also known for its lacemaking. On the north coast, Novalja has some historic structures as well, but these days is best known for its rip-roaring summertime party scene at Zrće Beach (above).
This small seaside city (pop. 76,000) boasts an atmospheric walled mediaeval old quarter; the remains of an ancient Roman forum; famously lovely sunsets; and several modern landmarks including a solar-powered art installation and a "sea organ" which plays music as the waves hit it. Zadar makes an excellent base for nearby beaches; adventure tours; ecotourism at Plitvice Lakes and Krka national parks; and undeveloped islands such as Dugi Otok and the Kornati.
A bit smaller than Zadar at just over 50,000, it was founded by the Slavs around the 11th century and like Zadar its old quarter also boasts a fabulous mediaeval/Renaissance atmosphere – contributed to by its 16th-century Italianate loggia and several fine churches – but most especially its 13th-century St. Jakov Cathedral, considered Croatia's most important Renaissance structure and declared a UNESCO World Heritage Site.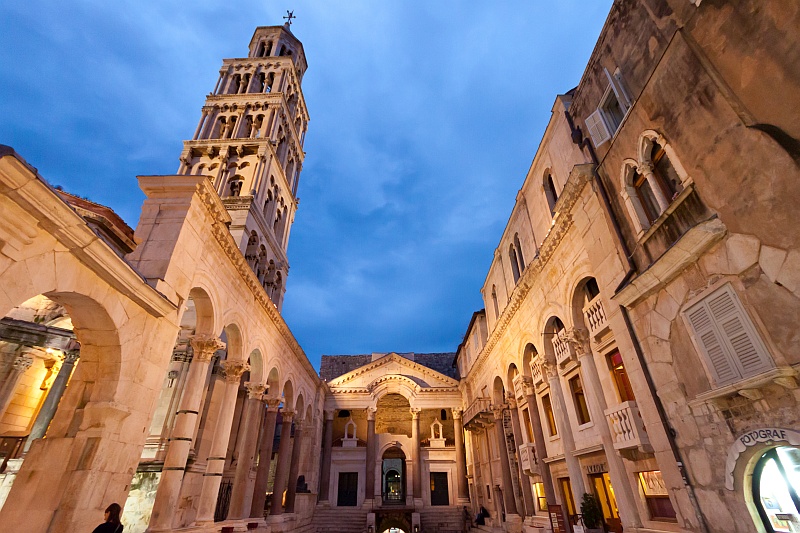 Ballota
Founded in the 6th century BC as a colony of ancient Greece, this gracious city of 178,000 is perhaps unique in all the world because seven hectares (three acres) of its old quarter, another UNESCO World Heritage Site, is actually the former Diocletian's Palace (above), built for the retirement of that locally born Roman Emperor in 305 AD and still home to thousands of splicani (locals). There are a number of other attractions, too, including Croatia's oldest archaeology museum, and wonderful local beaches include Bačvice and Ovčice.
Reachable by ferry, catamaran, and air, Dalmatia's largest island has 22 settlements and is the source of a radiant white stone used not only in Diocletian's Palace but the U.S. White House, Germany's Reichstag, and other buildings worldwide. Apart from charming towns like Bol and capital Supetar, with their galleries, shops, museums, and historic churches, Brac is home to perhaps Croatia's most famous beach, Zlatni Rat, a lovely little arrow-shaped sandbar of smooth white pebbles (fun fact: the westernmost end is clothing optional).
On the mainland across from Brač, at the foot of Mount Biokovo, the town of Makarska has another typically charming Dalmatian old quarter, including a 17th-century cathedral and 16th-century Franciscan monastery (also the site of a famous seashell museum!), and is the anchor of a 60-km (37-mi.) riviera which includes other resort towns such as Baska Voda, Brela, Gradac, Podgora, and Tucepi, as well as some of the country's best beaches (including sandy ones – not that common in Croatia).
Claimed by some cognoscenti to be one of the world's most idyllic islands, awash in lavender and herbs growing in summertime, and Hvar Town (top) and four other settlements are Italianate gems, with warrens of picturesque streets. Reachable via ferry and catamaran, Hvar's become a bit more upmarket than other spots along the coast, and even attracted A-list celebrities (for those who care, Beyoncé debuted her "baby bump" here, lol).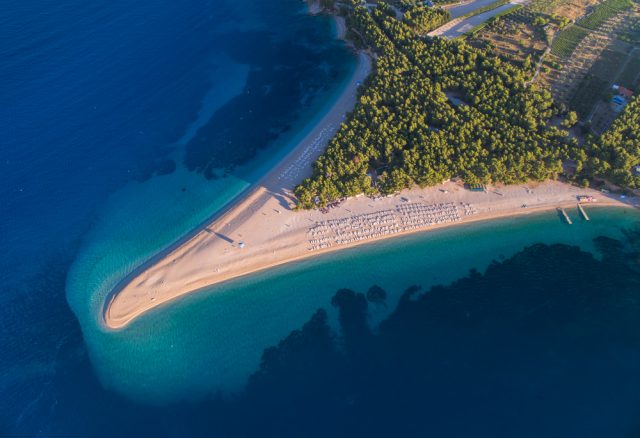 HrMiro
Narrow and forested, the claimed birthplace of Marco Polo is less crowded than many others in summertime because it's a bit less accessible in terms of distance and ferry schedules. Korčula Town has been dubbed Little Dubrovnik for is resemblance to that city, and its St. Mark's Cathedral contains a couple of Tintorettos. There is of course a Marco Polo museum along with another devoted to the island itself – and of course there are some 20 bodacious beaches to choose from.
The last resort town on this coast, about 45 minutes south of Dubrovnik and a similar distance from the Montenegro border, is a another historical gem with roots back to the ancient Greeks. It's a precursor to Dubrovnik, and built in a similar style. In addition to several interesting art collections in town (including one dedicated to one of Croatia's most famous painters, Vlaho Bukovac), there are lovely churches, a monastery, great diving, and sweet beaches.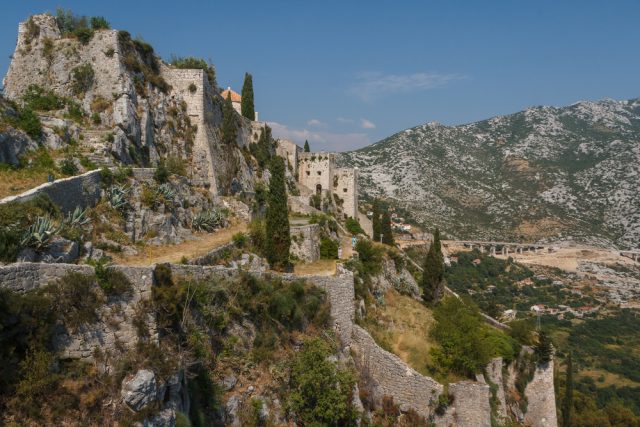 Lev Levin
Various spots along this coast were chosen locations for the famed TV fantasy series. Dubrovnik and Split have masqueraded as King's Landing; Šibenik served as one of the stand-ins Braavos; while Dubrovnik's offshore island Lokrum was where scenes are set from the great port city of Qarth. You might also recognise the waterfalls of Krka National Park near Split as landscapes of the west of Westeros.
Furthermore…
The fortress (anove) of the hill town of Klis near Split is used as a setting for Meereen.
Near Dubrovnik, the town of Ston was also used for King's Landing scenes, and the 15th-century arboretum of Trsteno. served as the palace gardens of the Westeros capital's Red Keep.
Just across the bay from Split, Kaštel Gomilica also appeared as Meereen.
Near Cavtat, sperm-shaped Mrkan Island (especially swell for kayaking and diving) was used for some season-three backdrop shots.
Season-five scenes were filmed in the inland town of Imotski, known for its nearby pair of dramatic sinkhole lakes, one of which has mediaeval 10th-century Topana Fortress perched on its edge.
For more details on GoT locations, click here.
More info in English: Visit-croatia.co.uk, Dalmacija.net; best fares from the USA, from Spain.

https://youtu.be/OPS87cQpuWQ