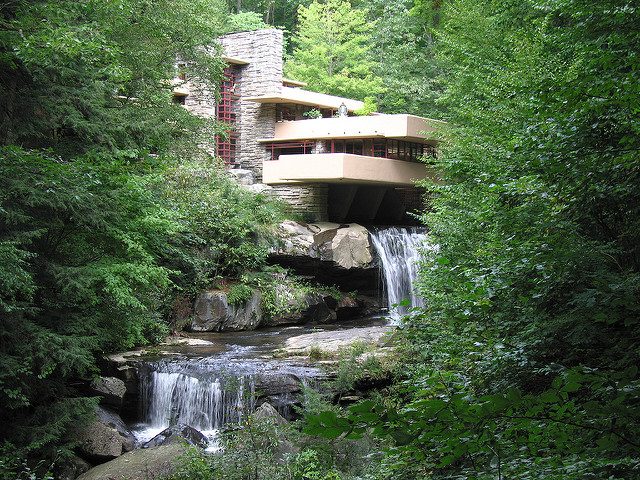 Pablo Sanchez
One of the 20th century's most iconic and influential architects, Wisconsin-born Frank Lloyd Wright (1867-1959) was one of the defining creators of modern architecture through more than 530 buildings, from iconic private residences like Pennsylvania's Fallingwater (top) to public buildings including Tokyo's Imperial Hotel and New York City's Guggenheim Museum.
Meanwhile, another NYC museum, the Museum of Modern Art (11 West 53rd Street), has made its reputation on being perhaps the world's most prestigious curator of contemporary art, architecture, and design. And so beginning today, marking the 150th anniversary of Wright's birth (June 8), MoMA is inaugurating a major retrospective: "Frank Lloyd Wright at 150: Unpacking the Archive".
Running through October 1, this multimedia exhibition includes some 450 works – not just architecture but also sketches, furniture, tableware, textiles, and other items of design that reflect the impact the prolific Wright had upon culture in the 20th century, in the United States and around the world. If you're an architecture buff and/or culture vulture, you'll definitely want to build this into your next visit to the Big Apple.
Best fares from from the UK, from Spain.