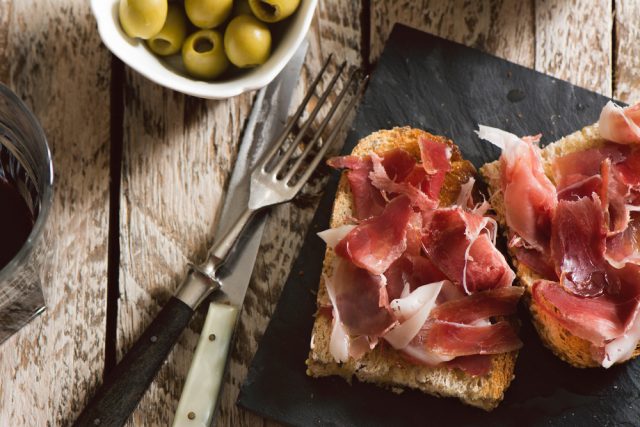 Culturally and politically, Spain is made up of 17 "autonomous communities", and the largest is Castilla y León, stretching north of Madrid nearly to the Bay of Biscay, westward to Portugal, and eastward to Aragón. With deep historic and traditional roots, its capital is Valladolid, and its additional major and illustrious cities include Burgos, León, Salamanca, and Segovia, among others.
It goes without saying, then, that such a richly endowed region boasts an extremely rich culture, and nowhere more so than in its cuisine. There's enough tasty material here to write volumes, but to give you an introduction, let's just start with nine of its most classic dishes – one for each province.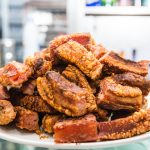 Soria: Pork Cracklings
Torreznos are made from thick strips of pork belly, sprinkled with salt and fried in olive oil until very crispy and crunchy. They're are perfect – hot or cold – with a nice cold beer or local wine. And they're also used in other dishes such migas (based on shredded bread, garlic, olive oil, and other ingredients) and patatas revolconas (a similar concoction based on potatoes).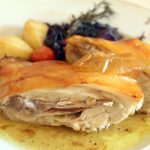 Segovia: Suckling Pig
Also one of the classic of Castilian cookery, roast cochinillo is a particular speciality of this province and city. Carefully slow-roasted for two hours in a traditional clay dish in a wood-burning oven with water and lard. The golden colour and crunchy texture of the skin are marks of a well-roasted cochinillo, as is the tenderness of the meat. So tender, in fact, that some restaurants cut it with a plate rather than a knife.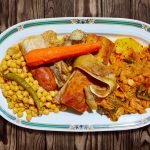 León: Maragato Chickpea Stew
A hearty chickpea stew fortified with a variety of meats including sausage, bacon, cured beef, ribs, and soupbones), eaten as a main course – served family-style in the centre of the table. Unlike most Spanish stews, it's eaten in a different order – first the meats, then the chickpeas, and finally the broth it's all simmered in.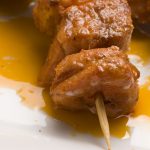 Zamora: Breaded Pork Skewers
Carne de cerdo adobada is an oh, so tasty tapa that's an inexpensive popular staple of the bars in the historic centre of this ancient city, but each place does its breading, spicing, and cooking a little differently (roasted or charcoal-grilled, for example, as well as more or less spicy).  A great starter to any lunch or dinner, or a snack to accompany a frosty draught beer!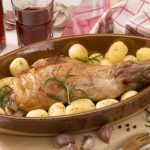 Valladolid: Suckling Lamb
Melt-in-your-mouth cordero lechal is the star dish of the region's capital, and similar in preparation to Segovia's suckling pig: roasted on a clay dish in a wood-burning over until it's crispy and golden on the outside and exquisitely tender on the inside. The gravy is served separately, and the legs and ribs are the most prized bits.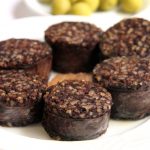 Burgos: Blood Sausage
Some find morcilla de arroz a bit off-putting, but others simply delicious. These black sausages are made with pig's blood, larde, arive, and various spices including oregano, pepper, salt, and of course zesty paprika. This, too, can be eaten solo or as a tapa (for example, on a skewer with roast peppers), as well as combined with other ingredients (such as in an egg scramble).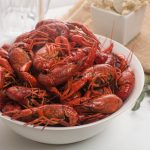 Palencia: Stewed River Crabs
Originating in the town of Herrera de Pisuerga, just under an hour's drive north of the provincial capital (and which even has a river crab museum and a March crab festival), these cangrejos del río are boiled, then dressed with olive oil, white wine, garlic, onions, and guindilla peppers. Peel and appreciate!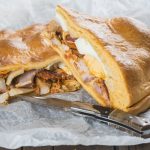 Salamanca: Baked Meat Pie
Among other things, culinarily this province is especially known for its pork, and one of its signature treats is hornazo, pastry stuffed with pork loin, savoury chorizo sausage, and hard-boiled egg. Generally they're made large and served cut into slices, and are tasty at room temperature but absolutely scrumptious right out of the oven.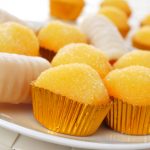 Ávila: St. Theresa's Egg Yolks
And now for a sweet finish. Yemas de Santa Teresa, named after the 16th-century Catholic saint most identified with Ávila, are simple but scrumptious: a bright-orange mix of egg yolks and sugar. St. Terry was known for her religious ecstasies – her sinful sweets just might provoke something similar on your tongue.

photos | SAQUIZETA; Blazar SLU; Ana del Castillo; holbox; Patty Orly; Angel Simon; dpeteshin; nito.