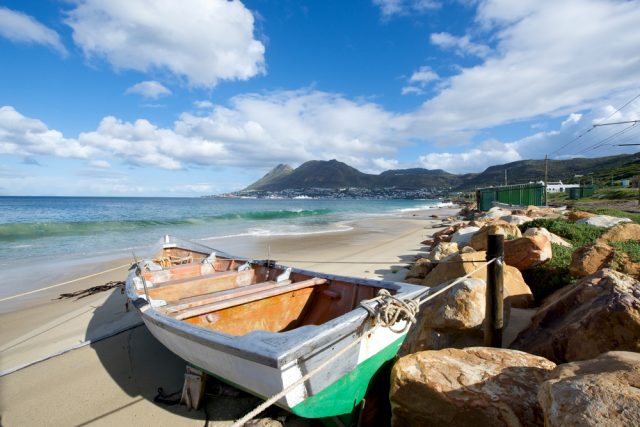 Neil Bradfield
If you're in the market for a bit of a "different" excursion out of Cape Town apart from the ever popular Cape Winelands, Robben Island, and the Cape of Good Hope, for scenery, beaches, a spot of history, and enjoying the great outdoors, give a thought to popping out 30 to 60 minutes south from the city (driving or via light rail toward Simon's Town) down Cape Point, essentially Africa's southwesternmost. Along here, False Bay is a long, lovely stretch some 30 kilometres (19 miles) across which ranges from rocky and hilly around its eastern and western edges, to a north shore dominated by wide, sandy beaches; it forms part of what's known as the Cape Point Route. Here are my three favourite highlights down here.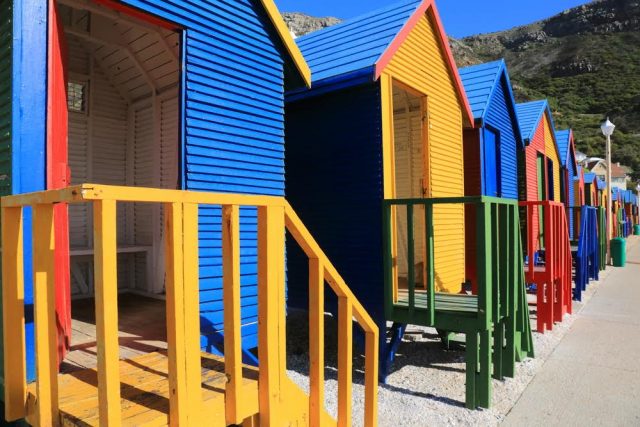 Your first stop, about a half hour down from Cape Town along the M5 motorway, would be Muizies, as locals fondly call it. This small beach city (pop. 37,000) is ideal for family water fun, because the ocean starts out fairly shallow; the sand is white and powdery; and the pitch-roofed little beach cabanas with their steep roofs where you can change and leave your belongings, are cheerful, painted in all colors of the rainbow. And if you've never surfed, Muizenberg is a great place to learn, with countless surfing schools are here to help you along.
Beyond water sports, history buffs will find several intriguing sites here, as well, since it's a fairly historic place, dating back to 1743; a decisive battle on the beach here in 1795 led to British wresting control of the Cape from the Dutch. Those sites include the nearby remnants of a fort from that battles, as well as whitewashed Het Posthuys, is one of the oldest buildings in all of southern Africa, built in 1745 as a toll station and after serving a variety of functions, now a museum of early Muizenberg history. And from the late 19th century, you can also visit the beach cottage of Cecil Rhodes, the imperialist politician and businessman who decisively shaped the history of southern Africa; Rhodes also died here, and the house is now a museum dedicated to his life.
Muizies isn't all that large, so you can easily make it around on foot. Start walking along the shore, then return via Main Road, the Village, and Palmer Road. Along the way, visit the market with its abundance of fruit and vegetables, as well as the arts-and-crafts shops on Palmer Road. You can also browse books at the Rattlesnake on York Road and take in dance, drama and jazz performances at the Masque Theatre neat the False Station.
Come meal time, take your fill of the biggest and freshest prawns at the Prawn Queen on York Road, where half the fun is people watching. With lots of Art Deco architecture, this is a distinctly bohemian community and you will encounter an abundance of extremely colourful folks, having fun in the streets and shops, some decked out in extravagant outfits. Never a dull moment in Muizenberg, either on the beach or in town.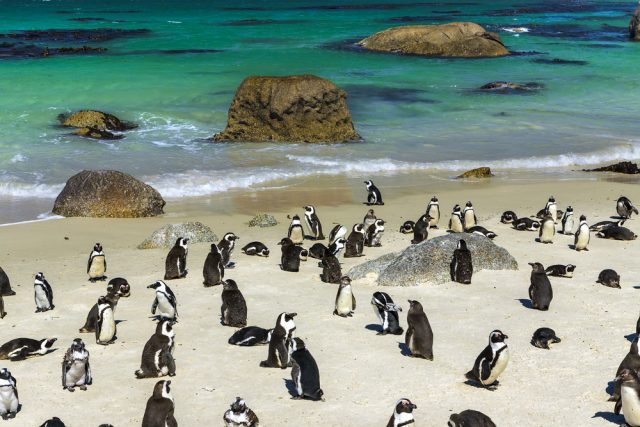 WitR
Just a half hour's drive down Main Road from Muizenberg, this also historic small town (pop. 7,000) has a distinctly naval atmosphere – no surprise as it is the base of South Africa's navy. Founded in 1680, it became a winter dock for the Cape Dutch Colony navy because of its protected natural harbour, around which the town grew; much of that history is related in the town museum on Court Road and the naval museum housed in the old dockyard storehouse. Much historic architecture dating back centuries was lost in the 1960s and 1970s as fallout from apartheid policies, but a good deal has remained, as well – and in fact you'll find more elegant Victorian houses in Simon's Town than in Muizenberg, many lining Long Street, which is also the epicentre of the town's music-dominated nightlife. Another notable site is Martello Tower, a round, low-slung military bastion built in 1796 and today housing another small museum.
But perhaps the town's two most beloved attractions are animal-related. First there's Just Nuisance, a Great Dane whose statue you'll see in the main square – in the early 1940s the first dog ever to become enlisted in the Royal Navy, with the title and all the rights of an able seaman (including wearing a cap). And sometimes following other sailors, sometimes on his own, Just Nuisance used to take the train and have himself jaunts as far afield as Cape Town. On his death at age seven, he was buried with full military honours.
And then, framed by granite boulders, there's Boulders Beach, with South Africa's biggest colony of African penguins, a now protected species whose number here has grown to over 3,000. Waddling along the beach or lounging on the rocks, these critters are adorable to watch and are used to humans. But they're also noisy and…well, they stink; do not get too close or try to feed them (they will try to bite, and their beaks are razor-sharp). Incidentally, the penguins also have a tendency to stray from their beach habitat, wander into local gardens, and gobble up fruit and vegetables, so you could say the relationship between the locals and the penguins is a bit ambivalent. You can also, by the way, have a swim at adjacent coves.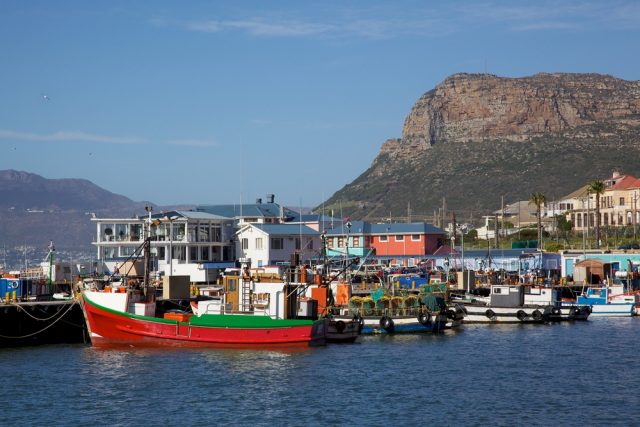 David Steele
Kalk Bay
My personal favourite of this trio is just a 15-minute hop down from Simon's Town. Kalk Bay is a now trendy fishing village of just 700, backed by steep hills which are famous for their more than 100 caves. There's plenty of beach fun to be had here, too – including a vigorous surfing scene off the local reef. And during whale-watching season (July and August), you'll have the pleasure of seeing southern right whales, which tend to come very close to the shore and the surface.
Apart from the life aquatic, you can hike up and explore extraordinary caverns like Oread Halls and Boomslang Cave (both are suitable for novices, but still, don't go without a local guide though, you could risk a nasty fall or getting lost).
But it's the village's books, food, art, shops, and theatre which is why I like Kalk Bay best. Housed in a quaint 19th-century building, for example, you'll find engaging Kalk Bay Books, where they make cartoons of you and give them away as bookmarks for every book you buy.
It's impossible to list all the cafes and eateries, so I'll mention my two favourites: Bob's Bagel Café, where you can get anything which can be made with a bagel, and Under the Cypress, next to the book shop, a café and restaurant on two levels which doubles as an art gallery.
Lastly, there's the Kalk Bay Theatre with its topflight music, musicals, comedy, and other fun entertainment. You can have dinner before the show and coffee afterwards, giving you the opportunity to mix not only with other spectators but also with the performers.
More information: CapePointRoute.co.za, CapeTown.travel; best fares from the USA, from Spain.

Inka Piegsa-Quischotte is an attorney turned travel writer/photographer, currently living in Alicante, Spain, whose work has appeared at GoNomad, GoWorldTravel, EuropeupClose, and BBC Travel. Her blog GlamourGrannyTravels.com is dedicated to female baby boomers who love to travel in style and comfort.