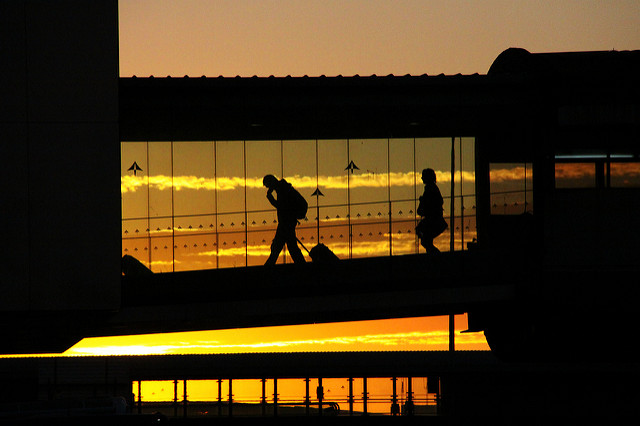 photo | Lali Masriera

Travellers flying into Barcelona, one of Spain's most popular destinations, will want to read this post – a rundown of information and tips about arriving at this city's El Prat Airport. So here goes!
* If you're travelling with Iberia – and by the way, did you know that it's one of the world's most punctual airlines? ? – you'll be landing at Terminal 1.
* If you're flying in from an airport in a country not a member of the open-border Schengen Zone,* you will need to pass through customs and immigration, on the second floor of that same terminal.
* If you have checked bags, go to the ground-floor and consult arrivals monitors for your flight's baggage carousel.
* Now you're ready to leave the airport. Here are the transportation options into the city of Barcelona: 
Metro  Line L9 Sud of the Barcelona's Underground links El Prat with various points throughout the city. You can pick up a Metro map at the airport's information desk as well as get advice on how best to reach your destination. The system begins daily operation at 5 am and runs up until midnight, except for Sundays, with continuous operation from Saturday night, and Fridays, when it closes at 2 am.
City Buses  There are quite a few routes connecting the airport and the rest of the city. You can check here which is the most convenient for reaching your destination.
Intercity Buses   If your destination is another city in Catalonia or elsewhere, there are a number of bus companies which  provide this service; check details here.
Commuter Rail   In addition to the Metro, Line R2 Norte of the "Rodalies" rail network serves stops within Barcelona as well as various cities and towns surrounding the city; check details here.
Taxis  To be delivered more precisely to your hotel, flat, or other destination, plenty of cabs are available, with travel times into centre city between 25 and 45 minutes, depending on traffic. Get a fare estimate from the taxi driver before entering the car, and keep an eye on the metre.
*Schengen countries are Austria, Belgium, Czech Republic, Denmark, Estonia, Finland, France, Germany, Greece, Hungary, Iceland, Italy, Latvia, Liechtenstein, Lithuania, Luxembourg, Malta, Netherlands, Norway, Poland, Portugal, Slovakia, Slovenia, Sweden, and Switzerland.