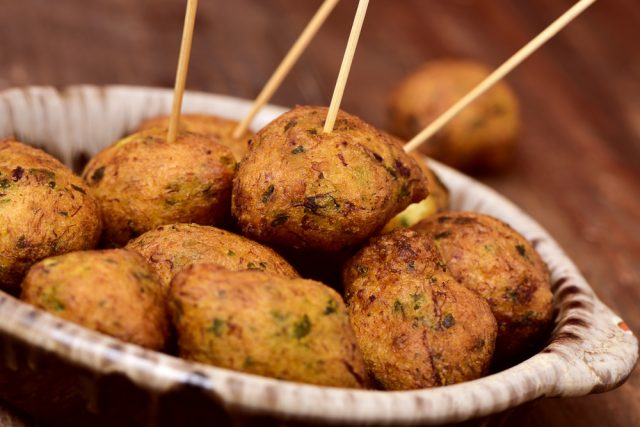 I admit it: I'm one of those Spaniards who's been looking forward to Semana Santa (Easter week) not just for the time off but also the chance to indulge in the treats, both savoury and sweet, associated with this time of year.
Most notably, the Roman Catholic tradition of abstaining from meat during the 40 days of Lent means seafood comes to the fore this time of year. Pork, lamb, and veal give way to anchovies, shellfish, and the whole panoply of finny creatures but most especially bacalao (cod). This somewhat oily Atlantic fish can be prepared in so many myriad ways, of course, but for Easter two are particularly popular.
Spain's best known Easter treat is buñuelos de bacalao (cod fritters, top), for most Spaniards truly a "comfort food" like their grannies used to make. The recipe is simple enough:  shredded cod, eggs, flour, parsely and lots of olive oil to fry it all in, yielding a crunchy, golden ball of goodness. Served at home in a big platter at the centre of the table, these buñuelos are nowadays not hard to find in most Spanish tapas bars year round. But at this time of year they take centre stage.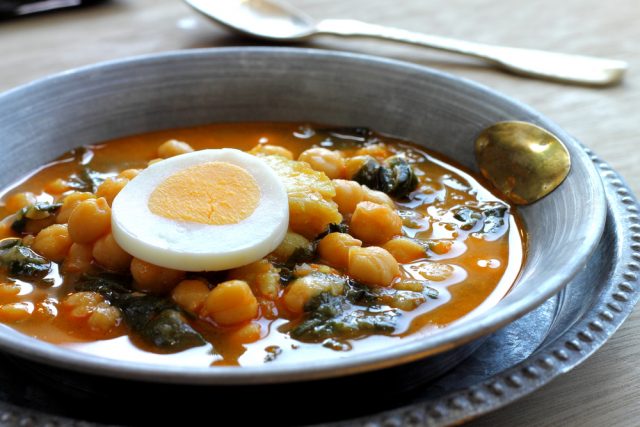 Another Semana Santa star is the thick, hearty potaje de vigilia ("day of abstinence stew", above), which in addition to codfish includes chickpeas, fresh spinach, a smattering of other vegetables, and hardboiled egg. A healthy classic, for sure!
Other popular cod dishes this time of year include patatas con bacalao (stewed with potatoes); cod bechamel croquettes; red piquillo peppers stuffed with cod; and atascaburras (its whimsical name means "donkey-blocker") from the Castile-La Mancha region, a thick purée also involving potatoes and olive oil, along with garlic and a garnish of walnuts.
As in La Mancha, other regions have their own regional Easter specialities. Over in Castile-León, garlic soups are the thing, made with stale bread, garlic, and peppers (sometimes also with a fried egg on top). In Seville, one of the star dishes is espinacas con garbanzos (spinach and chickpeas), a venerable stew which has been making a comeback in recent years.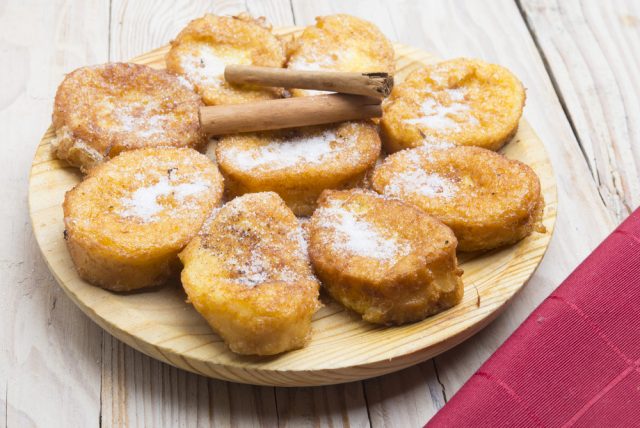 But apart from cod, what truly distinguishes Easter eats in Spain are the sweets, some of which are rare or unavailable at other times of year. Perhaps topping this list are torrijas (above), a central part of most family Easter celebrations. They're thick slices of bread (ideally stale) soaked in milk or wine, then battered with eggs, fried, and annointed with cinnamon and sugar or honey. 
Other treats include pestiños, fried dough bathed in honey (especially typical of Andalusia); leche frita (literally "fried milk", but think of it more as a flan fritter, fried squares of thickened/sweetened milk dusted with cinammon); flores extremeñas ("Extremadura flowers", crunchy, flower-shaped biscuits); and mona de Pascua ("Easter gift", a colourfully decorated cake traditionally topped with hardboiled eggs but more contemporary versions with chocolate eggs and other sweet trimmings), popular from Murcia up the coast to Catalonia as well as inland Aragón and Castile-La Macncha.