Portugal's capital may be far from Europe's largest, but it is allegedly the continent's sunniest – and in any case, this wonderfully cultured city is packed with enough marvelous sights, sounds, and experiences to keep you coming back time and again, in any season of the year. And on the sights front, one particularly charming aspect is its miradouros, the scenic overlooks scattered around the seven hills of Lisbon. 
The highest of these Lisbon overlooks is the Miradouro da Senhora do Monte (top), offering a panoramic view which is truly addictive at any time of day (top) but perhaps especially at sunset. Located next to a church in the historic but untouristy Graça neighbourhood north of the mediaeval Alfama and its crowning landmark, the Castelo de São Jorge (St. George's Castle), its panorama includes the castle, the 24 April Bridge, and the Tagus River. Get up here via taxi or line 28 of Lisbon's famous vintage yellow street trams.
The Graça and São Vicente area, by the way, is quiet, with narrow lanes and local shops restaurants such as the modest Ti Natércia (Rua Escolas Gerais 54), which serves very tasty bacalhau (cod), the fish Portugal is best known for, at very affordable prices.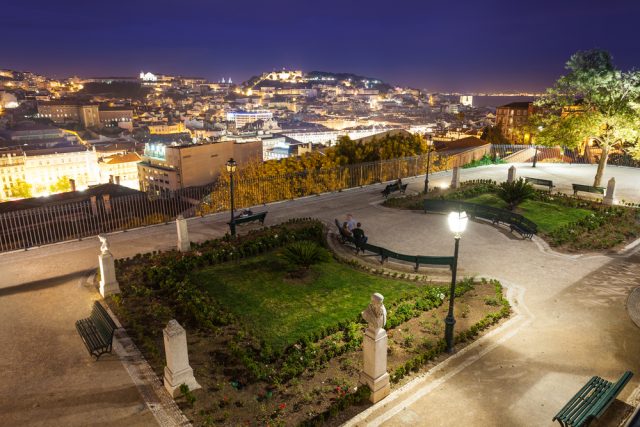 saiko3p
And it's also home to another overlook, a ten-minute walk south on Santo André Hill. The romantic Miradouro da Graça, with similar breaktaking views. And a pair of other overlooks elsewhere well worth a stop include the popular Miradouro de Santa Catarina, up on the border of the Bairro Alto and Santa Catarina neighbourhoods, which with a bohemian vibe and especially gorgeous vistas of the Tagus River and the April 25 Bridge (and by the way, while you're up here, check out the fascinating nearby Pharmacy Museum).
However, it's the Miradouro de São Pedro de Alcântara (above) that many feel is the city's most impressive overlook, reachable via the Gloria funicular; in addition to its spectacular views it's also home to a variety of cafés; also nearby is the lovely 18th-century Palácio Foz, used mostly for events but open to tours by appointment.