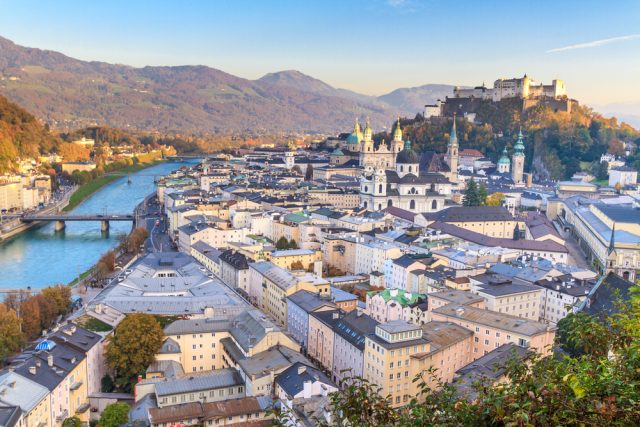 photo | Bertl123
As soon as you set foot in Austria's fourth largest city, near the German border three hours west of Vienna, music is in the air. Whether you arrive at the airport or the train station, Mozart tunes are piped in, which puts you in a happy mood.  Dating back to Celtic settlements of the 5th century BC, followed by Roman Juvavum, Salzburg today is Austria's city of castles, gardens, music, and sweet, tempting delicacies. 
The Altstadt (Old Town) here is also quite compact, as it happens, which means it's easy to explore on foot. Its most famous landmark is unmistakable, looming over all else. The Festung Hohensalzburg is a majestic castle which is reachable on foot if you're keen on exercise, but it's of course faster and more comfortable to take the cable car (the downtown station is on Festungsgasse, right in the middle of the Altstadt).
Dating from the 11th century, Hohensalzbug is one of Europe's oldest and largest mediaeval castle complexes. Serving many purposes – symbol of power, defense structure, and residence of the prince-archbishops, the most interesting part to visit are the recently renovated Fürstenzimmer, an impressive suite of rooms that's the most interesting part of the interior because it's decked out in period furnishings. Furthermore, beginning this month, it also includes a multimedia "magic theatre" which allows visitors a taste of the life and times of Archbishop Leonhard von Keutschach (1495-1519) who had the rooms built.
Back down in the Altstadt, be sure to have a look inside another important building: the Baroque, blue-domed Salzburg Cathedral (finished in 1628 on the site of a 12th-century predecessor); the square out front, the Domplatz, is the venue of Salzburg's most famous annual open-air play, the Jedermann, held as part of the reknowned Salzburger Festspiele, the monthlong festival of classical music and plays held since 1920 (this year July 31-August 30).
The Altstadt's small streets are named after the trades plied there historically; you'll find a street of the goldsmiths, butchers, corn traders, etc. This last, Getreidegasse, is especially distinguished by being home to the birth house and museum of Salzburg's most famous son, Wolfgang Amadeus Mozart (1756-1791).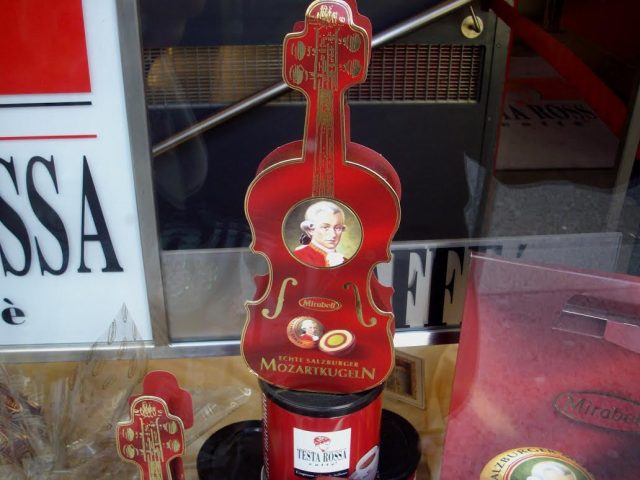 photo | Inka Piegsa-Quischotte
And right next door, you find the first of Salzburg's irresistible sweets, the Mozartkugeln of Café-Konditorei Fürst; these are dark-chocolate balls filled with marzipan, nougat, and pistachio, wrapped in blue and silver foil imprinted with an image of the composer. Munching a few will provide the energy to press onward to the Marktplatz, with its open-air market of produce and flowers; the Grosses Festspielhaus (opera house); and the Salzburg Museum of art, archaeology, and history. Along the way you can admire the façades of merchant houses and the many tiny squares adorned with fountains and a wrought-iron clock.
The River Salzach, which divides the city, is spanned by 13 bridges, seven of which are for pedestrians and cyclists only. Cross one into the new town to get to the birthplace of Salzburg's second sweet treat, the Sacher-Torte. The five-star Hotel Sacher (Schwarzstrasse 5-7),  a family enterprise for 150 years, was where in 1832 chef's apprentice Franz Sacher, came up with the creation of chocolate cake with apricot jam and dark-chocolate fronting which ever since has delighted lovers of fine sweets. The café's wall of fame, the waitresses in black dresses and white aprons, newpapers in clamps, and flower-decorated marble tables evoke times when the café was the meeting place of poets, writers, journalists, and politicians. Its terrace overlooks the river, but to enjoy my Sachertorte I prefer the more atmospheric interior; accompany your cake with a mélange (half coffee, half milk, whipped cream), and enjoy.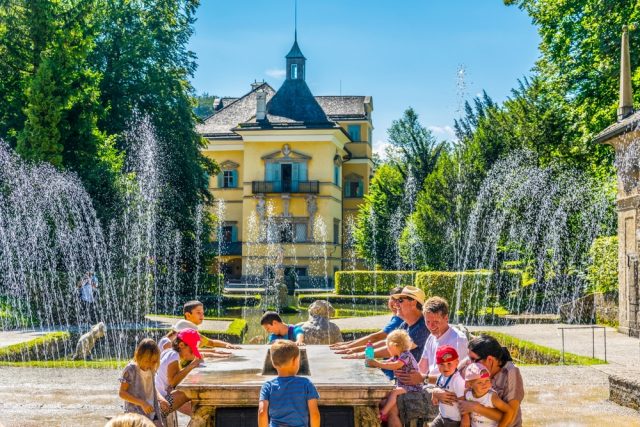 photo | trabantos
After that, make your way to the Schloss Mirabell, ordered built by archbishop Wolf Dietrich von Reichenau in 1606 for his secret lover Salomé Alt, this palace now houses the city government, but visitors can enjoy the surrounding gardens, an elaborate landscape including a central fountain with marble statues, the famous Pegasus fountain, rose garden, orangery, bird house, and a unique "dwarf garden" (so named for its nine statues of misshapen dwarfs). If this palace looks familiar, by the way, it might be because it was one of several local settings for the 1965 musical Sound of Music (in this case, Maria and the Von Trapp children warbling "Do-Re-Mi").
Schloss Hellbrunn, in the south of the city, is another must,  an Italianate pleasure palace built in the 17th century for archbishop Markus Sittikus. Most remarkable, though, are the gardens and a battery of funky "trick fountains" (above). Considered one of the world's best preserved examples of late-Renaissance garden architecture, the vast spread also includes the city zoo.
And when it comes to lunch or dinner, I'd recommend Europe's oldest restaurant, St. Peter Stiftskeller. Located within the walls of the St. Peter Archabbey, the restaurant was first mentioned in 809 and claims to have served Mozart (as well as Christopher Columbus!). Its many dining rooms each create a different atmosphere. Naturally, you want to try Salzburg's signature dishes. Nockensuppe is a hearty beef broth with dumplings, garnished with parsley and green peas. Follow with Bierbraten, pork shoulder baked with vegetables and served with a beer sauce, red cabbage and dumplings. Finish with Salzburger Nockerln, an eggwhite soufflé created by the notorious, aforementioned Salomé Alt with "little mountains" to resemble the snow-covered Salzburg peaks (sometimes served with raspberry sauce). "Sweet as love and tender as a kiss", it's described in a 1938 operetta. I quite agree!
The Von Trapps, Mozart…yes, everything truly is musical in Salzburg. Even the language, with the local dialect and intonation softer and more rounded than standard German, and rhetorical flourishes such as "küss die Hand" – which actually is more than a mere expression; they actually do it, especially older men (if you are a woman, learn to accept a hand kiss gracefully; if you're a man, don't try to imitate unless you are an expert – it's a fine art!).
Whether you visit Salzburg on a day trip from Munich (two hours away) or Vienna, or can stay longer, the memories of music, great culture, an upbeat, laid back atmosphere, and rich food will definitely become a few of your favourite things.
More information: Salzburg.info; best fares to Vienna from the USA, from Spain.
Inka Piegsa-Quischotte is an attorney turned travel writer/photographer, currently living in Alicante, Spain, whose work has appeared at GoNomad, GoWorldTravel, EuropeupClose, and BBC Travel. Her blog GlamourGrannyTravels.com is dedicated to female baby boomers who love to travel in style and comfort