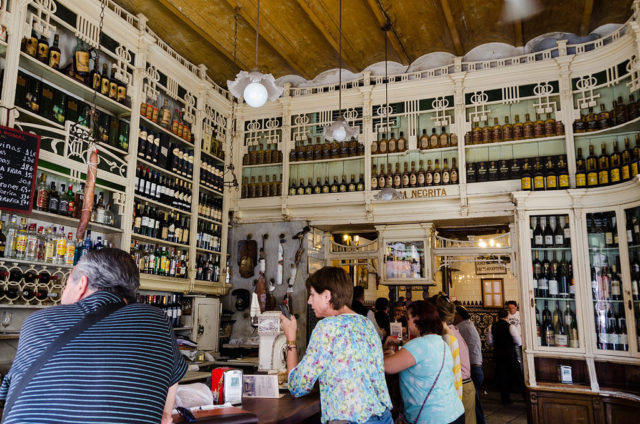 photo | Sandra Vallaure
The historic centre of Spain's third largest city has so many authentic bars which specialise in tasty tapas and frosty beer that one blog post isn't enough to do them justice. So it falls to me to make the selection, based on what I see as most representative of this historic city from a visitor's point of view – with an emphasis on tradition. 
What better place to start, then, than Spain's oldest bar, El Rinconcillo (top; Calle Gerona 40, very near the Las Dueñas Palace), which has been serving wine and victuals since 1670. Its ceramic-tiled walls have seen over those centuries the most select of Sevillan society, and its traditional character is still strong today, with ham hocks hanging from the ceiling, hundreds of bottles of wine and liquor lining the elegant wood shelves, and wine barrels serving as tables. The pavías de bacalao (fried cod fingers), carne en salsa (diced pork in savoury sauce), and espinacas con garbanzos (spinach and chickpeas) are just three of the stars of a formidable menu of Andalusian classics.
Two streets away (San Felipe 15) is El Tremendo, one of the Old Town's best known beer pubs, serving some of the city's best pulled cañas (pints). Accompany your brew with a dried-tuna tapa or typical fried pork chunks. And the ambiance is, of course, fantastic.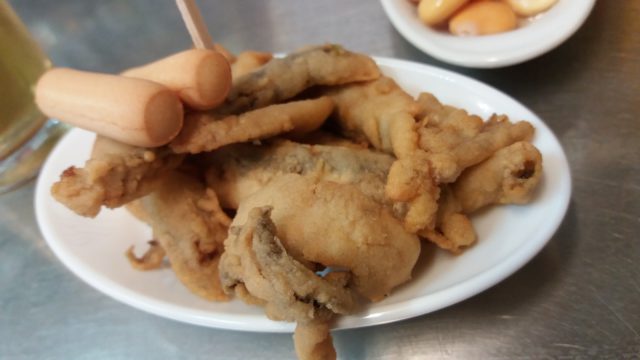 photo | Miguel Zimmerman
Over at Plaza del Cristo de Burgos 19, Taberna Los Coloniales is another classic which attracts both locals and visitors in equal measure (in fact, it's so popular that it tends to fill up quickly, and if there are no tables when you arrive, you'll be added to a chalkboard out front and wait to be called). On sunny days, its sidewalk tables are a joy. What to order? Try a tosta de salmorejo y jamón (toast topped with Serrano ham and a savoury tomato-based purée), berenjenas con miel (eggplant with honey), or their famous manjar blanco (blancmange).
Another short stroll takes us to Patio San Eloy (Calle San Eloy 9), famous for its steps decorated in pure Andalusian style and its glass cases full of montaditos (mini, canapé-style open-face sandwiches); call me chauvinist, but I won't deny my favourite is the montadito andaluz de pringá (with a buttery-soft mix of meats and sausage cooked together).
From here to Blanco Cerrillo it's just a five-minute stroll along Calle Tetuán, and you'll know when you're close by the tantalising aroma of its star dish, boquerones en adobo (breaded anchovies, above). It's even a bit of a celeb magnet; AC/DC frontman Axl Rose fueled up for a concert here last year.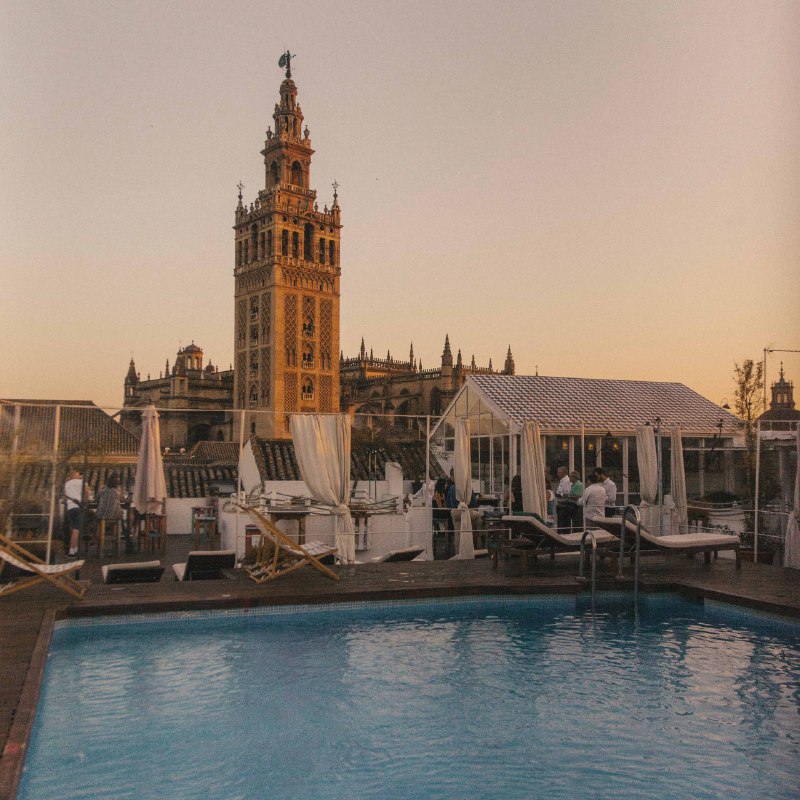 photo | Hotel Fontecruz Seises
Man and woman do not live on food alone, so let me throw in here a suggestion for a drink or coffee along the way. You can't go wrong at any of the little bars, pubs, and cafés along Calle Argote de Molina – better known to some as Cuesta del Bacalao thanks to por the iconic wooden codfish (bacalao) hanging at the corner of Calle Placentines. But today I'd like to tell you about the recently remodeled rooftop pool lounge of the Hotel Fontecruz Seises (above, Calle Segovias 6), which in addition to expertly mixed and poured libations offers breathtaking views over the Old Town – you feel like you could practically reach out and touch the Giralda statue atop the cathedral.
Come sunset, Plaza del Salvador just behind the city hall becomes the epicentre epicentro of Sevillanía, the "Seville scene" that especially on warm-weather weekends is the favoured meeting place of locals to grab a couple of pints and meaty seaoned olives before supper (or throughout the afternoon, for that matter). Along one side you'll find a pair of bodegas with long pedigree, La Antigua Bodeguita and Los Soportales.
And here in the Old Town, the Santa Cruz neighbourhood, La Fresquita (Calle Mateos Gago 29) is a particular lodestar. The top-quality libations as well as tapas like carne mechada (shredded beef in tomato sauce) are served amid a particularly cofrade décor.
A couple of doors down is La Goleta (Calle Mateos Gago 22),  a tavern under the proprietorship of Álvaro Peregil, known for his orange wine, his montaditos de pringá – and a sign asking patrons not to run in the hallway leading to the toilets (when you'll see it you'll understand). If from the abovementioned hotel terrace you saw the Giralda from above, here you can experience it looming above you (especially at night many people take selfies with the belltower dramatically illuminated in the background).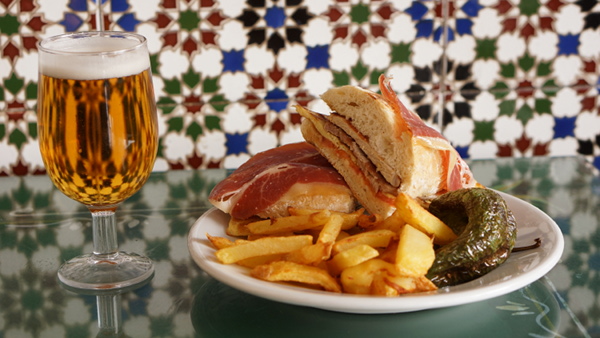 photo | Mesón el Serranito
Let's now head to the nearby Arenal district, making a stop at Casa Morales (Calle García de Vinuesa 11), another of Seville's venerable taverns, in business since 1850. The décor is what Spaniards call castizo, classically 19th-century, and the sight of its enormous clay wine jars is bound to impress.
One of the best options in town to sample my very favourite dish of all, the tasty Seville sandwich known as the Serranito (above, with chicken or pork loin, cured Serrano ham, fried green pepper, and sliced tomato) is in the place named for it, Mesón El Serranito (Calle Antonia Díaz 11). It may seem like a simple enough recipe, but the combination, artfully and lovingly prepared, plays like a symphony on the tongue (for added ecstasy, try it with slightly spicy, garlicky mojo picón sauce).
And to round out of day of eating and drinking, stop for a final drink at a charismatic Sevillan bar pderhaps unique in the world. Garlochí (Calle Boteros 26), with an ambiance so eclectic it almost defies description. You likely have never sipped a beer or sherry surrounded by a plethora of madonnas, guardian angels, and other over-the-top, mostly Catholic kitsch. The house specialities are the intensely sweet Sangre de Cristo (Blood of Christ, made of granadine, sparkling rosé, and whisky) and Agua de Sevilla, (Seville Water, with sparkling white wine, orange juice, beaten egg white, vodka, and whisky).