Spain takes its name from Hispania, a colony ruled by the ancient Romans from the 3rd century BC to circa 400 AD. But that name itself comes from the Hispani, a term the Romans used (along with Hiberi), to refer to the tribal peoples who preceded them, whom they conquered and absorbed. Relatively little about them survives in the historic record – just a few bits and pieces including statues (most famously the charismatic, enigmatic Lady of Elx, top), coins, pottery, and other artifacts, along with a small handful of ruins. But the story of civilisation in Spain as well as Portugal essentially starts with them.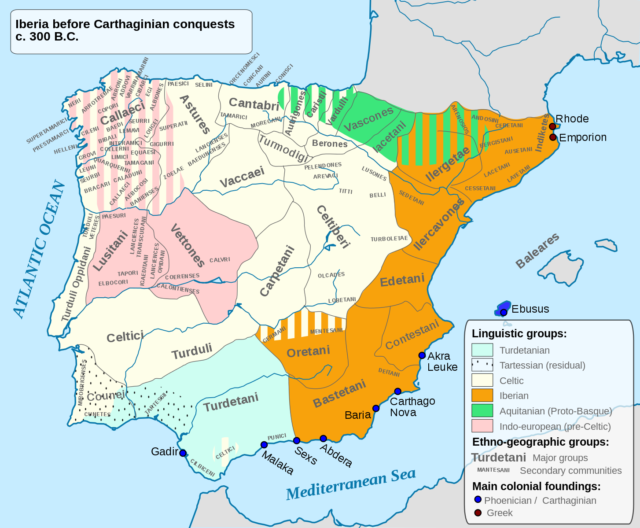 image | Alcides Pinto
Like the ancestors of the Basques, the Iberian tribes were non Indo-Europeans who spoke a language with elements in common with not only Basque but Etruscan in Italy and Minoan Linear A in Greece. The Iberian Peninsula came to be named after them because it was they whom the ancient Greeks and Romans first encountered. But although they tended to be more advanced and organised than the other peoples of the peninsula at the time, in fact they were part of a a complex ethnic patchwork, with Iberians living mostly in the east and south (modern-day Catalonia down to Málaga), while the center, north, and west were occupied by other peoples such as Celts (yes, they lived down here before migrating to Ireland and Scotland), Lusitanians, and proto-Basques. In a few places, too, they mixed with these other groups, producing hybrids like those who are termed Celtiberians.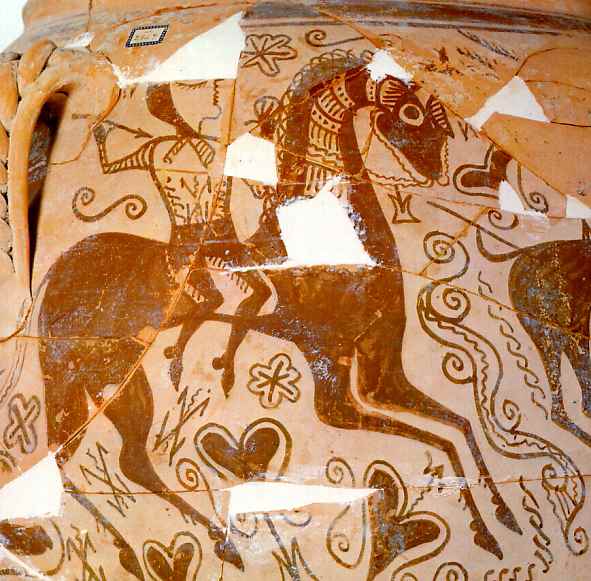 photo | Contestania.com
The presence of the Iberians has been documented to the 6th century BC but indications are that in fact it stretched many centuries even further back. They lived in villages and fortified settlements (they warred against each other quite a bit), with a few of these providing the nucleus for today's cities and towns including Laieta (Barcelona), Kese (Tarragona), Arse (Sagunt), and Salduie (Zaragoza). They did metalworking; had writing; and traded with other ancient peoples including Greeks, the Carthaginians of the North Africa coast, and the Phoenicians of the eastern Mediterranean. Their societies included chieftains, nobles, and slaves, and their religion was polytheistic with strong Greek and Phoenician influences; and included animal sacrifice and cremation of the dead.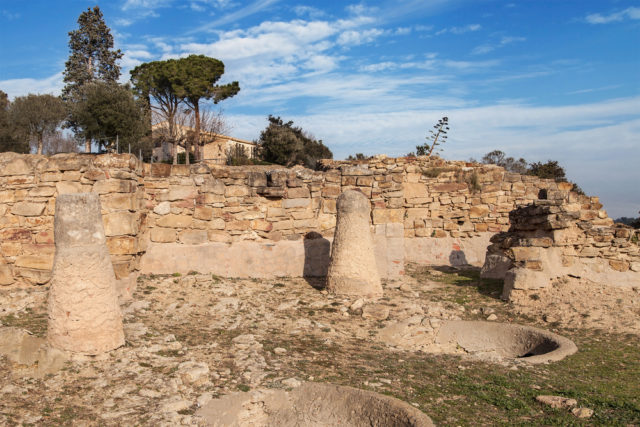 photo | Santi Rodriguez
In addition to occasional bits and pieces found in some of the cities above, you can visit several of the abovementioned ruins, perhaps the most important and extensive of which is what's now called Castellet de Banyoles in Tivissa, an hour and a half south of the city of Tarragona. At this 4,000-hectare (15-square-mile) fortified settlement so far excavations have unearthed dwelling walls and a couple of defensive wall towers; most of the artifacts found here – including the unique collection of silver religious artifacts known as the "Treasure of Tivissa" – are now on display at Barcelona's Museum of Archaeology of Catalonia. Another is the Puig de Sant Andreu near Ullastret, up on the Costa Brava about 45 minutes east of the city of Girona; the 11-ha (27-acre) site includes an interesting archaeology museum.
All told, the remains of the Iberians that you can see and visit in Spain are one of Europe's greatest legacies of pre-Roman history – truly catnip for history and archaeology buffs, and another fascinating layer of this country's long history.
Find more details on Iberian sites and culture at Spain.info.