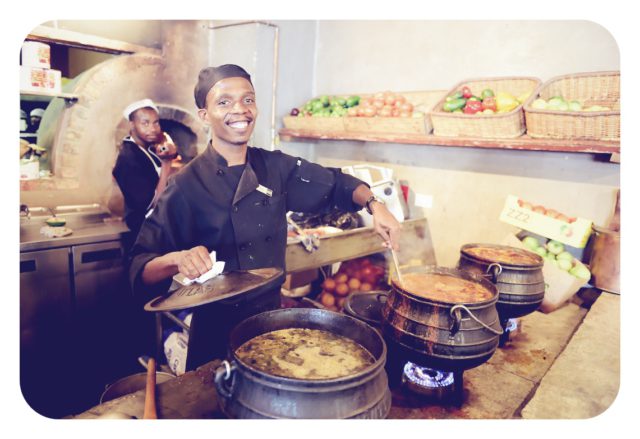 The "Mother City" of South Africa can, admittedly sometimes seem intimidating in some ways. But even as Johannesburg's streets and neighbourhoods recall a troubled, sometimes tragic past, they also stand for hope, opportunities, anticipation and a meeting point in a vibrant, creative city for adventurous travellers.
One area where the reborn creativity of "Jozi" truly shines is in the culinary. And at the forefront are some of Africa's coolest, most sophisticated restaurants, fusion spots like Urbanologi (1 Fox Street) in The Sheds and Chez Fong in Houghton.  
The first of these types of places opened in Maboneng, a trendy little district which started out as a food and crafts market called Arts on Main, housed in an old warehouse; then came a bevy of galleries, restaurants, cafés, libraries and designer shops. It's a good area where you can comfortably stay over and happily move around. Or visit here at night on the first Thursday of the month when most of its cultural venues open until late.
Highlights include the small, intimate, cosmopolitan POPArt Theatre (286 Fox St.) which schedules the latest plays at bargain prices around 100 rand (6 euros). It's without a doubt one of the most authentic things to do in Joburg.
All large and lively cities take pride in having their own independent cinema, and Jozi's is at 28 Fox Street. Behind the stained glass windows and vinyl records that serve as the entrance, Bioscope hosts concerts, workshops, festivals and culinary experiences that combine cinema with good food. Cool details include old salvaged car seats used as armchairs.
Open daily except Monday and charging no admission, the MOAD (Museum of African Design) at 281 Commissioner St. opened in 2013 to give voice to contemporary black art.
Another oasis for the creative arts – and in fact the soul of Johannesburg's cultural scene – is the district of Newton. But another area you must visit is just a little farther afield – a half hour from central Johannesburg. The gritty South Western Townships (better known as Soweto) encapsulates the real cultural essence of South Africa.
There's a lot to see and do out here, but there are two particular highlights, in my opinion. Vilakazi Street is the birthplace of two giants of post-apartheid South Africa, Nelson Mandela and Anglican archbishop Desmond Tutu. There's also a popular eatery at 6980 Vilakazi St., Sakhumzi Restaurant, always livened up by visitors and locals alike, attracted by the free buffet and WiFi among the large tables.
Also in Soweto, at Orlando Towers, the adventurous give free rein to their wildest side by bungee jumping off colourfully painted onetime power-station cooling towers right in the middle of the metropolis.
More to come…stay tuned!