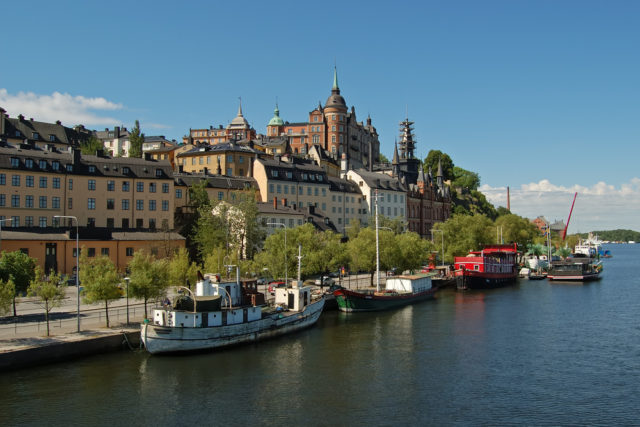 photo | Konstantin Menshikov
Sweden can be a bit eccentric, and its otherwise elegant capital Stockholm is of course also its capital of weirdness – a fact of which various movie directors have taken note over the years. In recent years, films like The American, Dogville, and of course The Girl With the Dragon Tattoo have been shot in places like Södermalm, Krokom, and Trollhättan.
Södermalm in particular is a cool bit of business, a neighbourhood on one of Stockholm's islands with charming, hilly streets that are both laid back and full of artistic vigour. Here you'll find goodlooking locals patronising designer boutiques, galleries, and trendy eateries such as Bistro Barbro (Hornstulls Strand 13), all avant-garde, laid-back minimalism with Sweden's first "movie bar" and a creative menu filled with small, Japanese-inspired plates. Another cool example is Bleck (Katarina Bangata 68) tucked away in a magical little park, Lilla Blecktornsparken, perfect for an organic weekend brunch – or any time of the week, really. And before you leave the neighbourhood, do stop for a splendid view at one of its overlooks, Fjällgatan and Monteliusvägen.
You can, by the way, do a self-guided tour of the area with a "Millennium Map" from the Stockholm City Museum, which has a permanent Dragon Tattoo exhibition. Guided walks are also offered on Saturdays, bookable through the City Museum or the tourist centre at Vasagatan 14. There's also a new Chasing Salander for smartphones, featuring key locations from the books and films.
Several hours outside the city, near Gothenburg on Sweden's northeast coast, Trollhättan (yes, it means "troll's hat" as well as "troll's mountain top") was the location for Dogville, an avant-garde 2003 movie by Danish director Lars Von Trier starring the likes of Nicole Kidman, Lauren Becall, Chloë Sevigny, Ben Gazzara, and James Caan. Known as "the city of waterfalls and locks", it's also known for its lovely natural surroundings, its interesting architecture, and its filmmaking.
The best place to see those falls is King Oskar's Bridge, and you can take a canal cruise through the locks, including the unused locks of Gamle Dal'n and end up in the Canal Museum – perhaps with a stop at one of the lovely local cafés. Another spot for lovely views over the city and its canals is the Kopparklinten overlook (Landbergsliden 461).
As for the film industry hereabouts, it's something of a big deal, being home to the Film i Väst studio – also dubbed Trollywood – Scandinavia's main moviemaking hub. Much of Dogville was shot here, as were Von Trier films Manderlay (2005) and Melancholia (2011). Among other things, the complex has its own walk of fame whose stars mark actors like Kidman who have worked here.
Then its time to head inland to the small town of Krokom, part of the south of Swedish Lapland in the authentic heartland of the country, which was the backdrop for the opening scenes of The American (2010), starring George Clooney as a hired assassin. In the vicinity you can see Tannforsen, with its famous waterfall, Sweden's largest. Also here, in wintertime, you'll find an ice church, and can explore the surrounding hills by sleigh.
"I please myself with images I film," Von Trier has said. You're guaranteed the same outcome in a visit to this scenic country, its cities and towns.