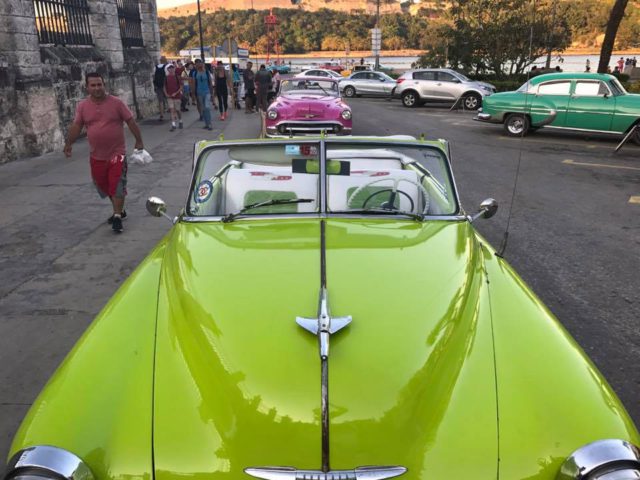 Thanks to the country's long isolation from most international trade, the United States' economic embargo since 1960, and a ban on Cubans buying new cars, one of the things most striking about Cuba has been that many if not most of the automobiles on the road even today are the same now-vintage cars that were plying them back in the 1950s, 1940s, and even in a few cases 1930s (estimated at some 60,000 in number).
Cubans – and my own Uncle Tito is an excellent example, whipping up mechanical fixes even for state-owned companies from his dinky little home workshop – are veritable geniuses at the art of what they term resolver, getting by by hook or by crook. And when it comes to keeping these old autos -called almendrones ("big almonds") and abuelos (granddads) – on the road, they learned to swap out engine and chassis parts from other sources, including the likes of farm tractors. This lack of original parts actually makes them not terribly coveted by collectors in the developed world except perhaps nostalgic Cuban exiles, but there's no denying that they lend an amazing "time warp" effect to the streets of Havana and elsewhere on the island.
A few of these colourful old General Motors and Ford models are kept in gleaming, mint-looking condition (if you don't look under the hood, at least), and serve as taxis and touring vehicles for tourists (convertibles are especially popular for this, like the 1956 Buick on Parque Central I toured in with friends on my most recent visit, top and last picture below, with me in the front seat). Most others are either private or used as taxis for Cubans; oftentimes some windows don't go down; door handles are missing; one of the doors doesn't open; and upholstery can be threadbare, springy and generally bum-challenging.  In other cases, though, owners will pimp out their interiors, adding air conditioning, electric windows, video players; and funky lighting (my favourite from the recent visit was one young guy who did an all-white leather interior makeover).
One drawback, of course, is that all these jalopies from the era before catalytic converters kick up quite the fumes, both on city streets and out on the busier intercity roads such as the one to and from José Martí Airport (I highly recommend a modern, air-conditioned taxi for that trip).
For info on renting antique automobiles to be driven around or to drive yourself (though frankly I would not recommend the latter), check out OldCarTours.com and ClassicCarsinCuba.com.
Following are some of the antique cars I came across on my most recent visit. Enjoy!