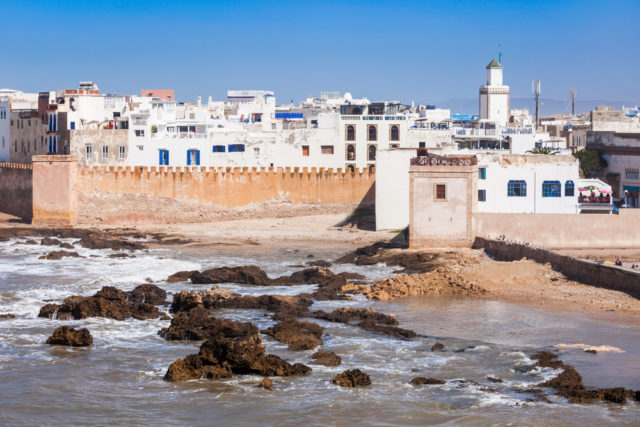 photo |  saiko3p
This North African country is packed full of exciting, exotic cities, but there's something unique about Essaouira (pop. 70,000) perched out on the Atlantic coast. Largely designed for a Morocco's sultan by European architects in the 18th century, on the site of the settlement of Mogador, founded by the Portuguese in 1506, it became the kingdom's principal seaport, connecting Europe and the caravan trade from Timbuktu. It was a cosmopolitan, charismatic place whose mix of international and Moroccan flavor with a bohemian vibe is still going strong today.
I've visited three times already and greatly looking forward to the next. I'm in pretty distinguished company; beginning in the mid-20th century, Essaouira started becoming popular with a mix of hippies, the smart set, and even celebrities (Orson Welles, Jimi Hendrix, and Jim Morrison spent stretches here. Its popularity has been further boosted in recent years by cultural festivals; a beach resort and surfing scene south of town; and most recently its role as Astapor, home of the Unsullied in Game of Thrones.
The road in from Marrakesh is pretty bumpy in spots (dubbed by my driver "the Moroccan massage"), but rewards me at the end with a view of an enormous beach with enormous waves crashing onto shore. It's easy to see why Essaouira is a top destination for board surfers and kiteboarders from all over the world – and there they are, in droves all year round thanks to the northern trade winds (it's hosted the Kiteboarding World Cup several times). But the beach which curves around the bay slopes softly into the water, so it's also ideal for the less adventurous.
After the the two-hour drive, we were hungry and thirsty and therefore headed straight to the picturesque port, where between the Portuguese seawall and Place Moulay Hassan within the medina dozens of shacks have set up shop for a seafood feast like no other.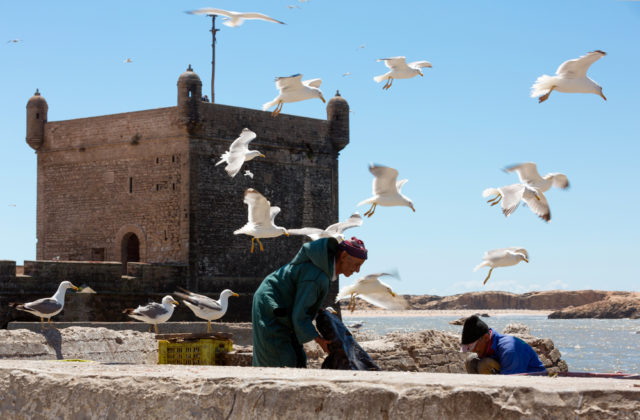 photo | posztos
From net to plate straight, that's the motto. Fishermen unload their latest catch, which is immediately bought by the stall owners, piled on ice for you to come over and take your pick. Then sit down at one of the blue painted somewhat rickety communal tables and benches, dig your toes into the sand; and wait for the waiter to bring your fish, bread salad, and drinks (and maybe a fork). For around €5, you not only get a great meal but also a great mix of diners, plus the "entertainment" of fishermen mending nets and painting boats, along with happy visitors dancing on the seawall getting soaked by the crashing waves.
Well fortified, it's time to explore Essaouira's medina, a UNESCO World Heritage Site still enclosed by a defensive wall. Remnants of Its late 1960s prominence as a hippie colony is still readily noticeable. The ponytails may be gray, the faces wrinkled, and the beads faded, but these folks – mostly Europeans and North Americans – are still very much around and their laid-back attitude to life rubs off on everybody meandering around the Skala Kasbah.
Once you're through one of several impressive gates, you'll find the tiny alleys of the medina full of art galleries, shops and hidden treasure like old, carved wooden doors. Unlike in the souk of Marrakesh, nobody hassles you here. The artists and shop owners sit placidly on their stools and allow you to browse in peace without constantly telling you that they and only they have the best, cheapest whatever. In fact, it isn't even that easy to get their attention at all should you want to buy something.
Look out especially for the wood carvers. It's an old art, carving figures and other objects out of the soft sandaraka tree, also known as thuya. These trinkets make very pretty and distinctive  souvenirs. In recent years, more young Moroccan designers and painters have rediscovered Essaouira, so you can also find chic clothes and exceptional, delightfully colourful paintings. Some of the buildings, especially the riads (townhouses) converted into boutique hotels, have been refurbished, while others still lean precariously towards each other, covered in peeling blue-and-white paint and with the odd window pane missing.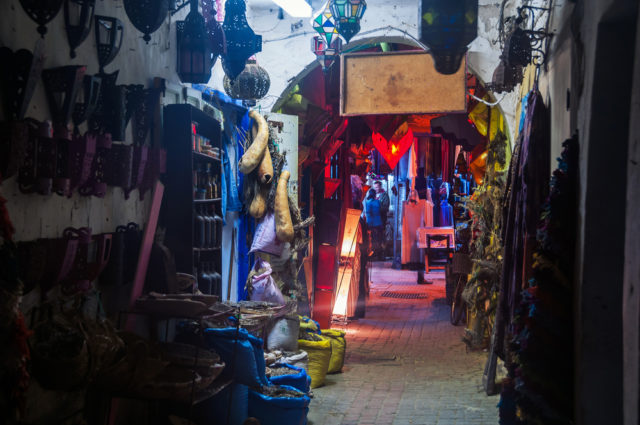 photo | M.V. Photography
For museum lovers, there is the Sidi Mohammed Ben Abdellah Museum on Rue Laalouj inside the medina. It's small,  located in an old riad and remarkable for the exhibits of jewelry, clothes, embroidery and a collection of wood carvings and local musical instruments.
Whilst you are walking around the medina you may wish to visit a mosque. There are about nine, but you can't miss the towering  minaret of the Ben Youssef mosque set into the wall. Enjoy the beautifully painted doors . Don't visit during prayer hours, don't forget to take off your shoes and to cover your head, no shorts, no sleeveless tops and above all, don't take pictures inside, especially not of people.
As you approach the port, you may also want to visit the citadel. A fun way to do so is to walk on top of the seawall to the entrance. There is not much to see in the inside, but the views over the sea and Morgador island are spectacular.
Thanks to the European influence in its design, the kasbah in its present shape has a rather "modern" layout of grid-like streets and alleys – which in turn means, you can't get lost even if you try. You'll always come back to the gates or the grandly named Avenue Mohammed VI, Essaouira's main street. Pay a visit to the statue of Orson Welles (with its nose missing), who filmed Othello here in the early 1950s, then rest your feet and enjoy a coffee or sweet mint tea in one of the several cafés. It won't take long before street musicians appear and entertain you with their three instruments and strident Moroccan tunes. I spotted water vendors with their tassled hats – but, strangely, not a single snake charmer.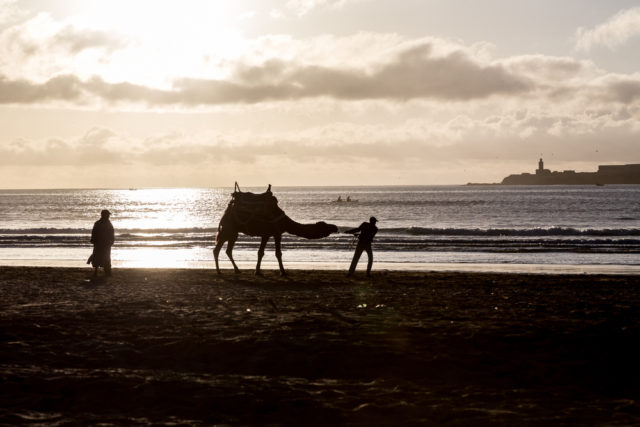 photo | dominika zarzycka
Speaking of tunes, at the end of June, Essaouira comes into the international spotlight thanks to its annual Gnaoua World Music Festival. With its roots in Arabic tradition of Berber gnaoua music, mixing Sufi Islamic themes with pre-Islamic African traditions, the festival also unites rock, pop, soul and other performers from all over the world. In addition there will be street performances, theatre pieces, jugglers, and much more. Four days full of music and colour which you shouldn't miss if you can make it (dates in 2017 are June 29 to July 2). Other top annual festivals include Les Alizés (classical music, April 27-30) and the new MOGA Festival of electronic music and digital arts (mid-October).
As for accommodation, besides the riads I mentioned above, options abound – hostels, hotels, along with a number of great beach resorts to the south. But wherever you stay and at whatever time of year, Essaouira will provide you with a very special Morocco experience.
More information: Essaouira.nu.
Inka Piegsa-Quischotte is an attorney turned travel writer/photographer, currently living in Alicante, whose works has appeared at GoNomad, GoWorldTravel, EuropeupClose, and BBC Travel. Her blog GlamourGrannyTravels.com is dedicated to female baby boomers who love to travel in style and comfort