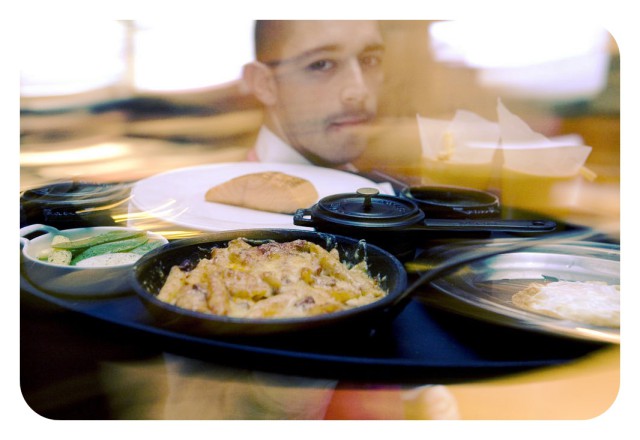 photo | Casa Paloma
Among all the many creative delights offered by Catalonia's capital, one of the ones that I (along with oh, so many others) love the most is its gastronomy –  defined by the Oxford English Dictionary as "the practice or art of choosing, cooking, and eating good food". Catalans have always had one of Spain's most illustrious gastronomic traditions, and the recent foodie renaissance has turned Barcelona into even more of a delight for the palate. Allow me to share several of my own favourite spots in a pair of city neighbourhoods.
A Sarrià-Sant Gervasi Sweet Spot
This tranquil, exclusive district (the city's number one in income) of Sarrià-Sant Gervasi, in the city's northwest at the foot of Tibidabo hill, is definitely off the beaten path for visitors, but worth going a bit out of your way for its village-like atmosphere; cool boutiques; fun vermouth bars such as El Canalla (Carrer Major de Sarrià 95); and restaurants like Casa Paloma (Carrer Casanova 209).
This brasserie-style locale, with roomy, attractive quarters and impeccable service, is run by 34-year-old chef Jordi Gotor, with impressive experience and pedigree (an alumnus of Catalonia's respected hospitality school Joviat and of Michelin-starred Martín Berasategui in San Sebastián). And in my opinion its one of BCN's best restaurants (along with a cool basement scene with comfy sofas, lovely craft cocktails, and goodlooking crowd); I particularly recommend Chef Gotor's steak tartare, accompanied by a marvelously robust red wine from 12 Lunas winery in Somontano, Aragón.
Revelling in Raval
Adjacent to the downtown action of Les Rambles and the Gothic old quarter, El Raval is also rather different from uptown Sarrià-Sant Gervasi in that it's edgier and somewhat more diverse and multicultural.
It also boasts several first-rate cultural attractions, starting with the Museu d´Art Contemporani de Barcelona on Plaça dels Àngels. An impressive piece of architecture by Richard Meier, its exhibitions showcase some of the latest and greatest in Spanish and international contemporary art. (And FYI, unlike other museums, it's closed Tuesdays instead of Mondays.)
Another Raval don't-miss is the Palau Güell (Carrer Nou de la Rambla 3), an early-career Modernist pile designed by the great Antoni Gaudí which was considered the most luxurious and innovative home in town when it was built in the late 1880s.
Down by the waterfront at the foot of the Rambles, the towering Columbus Monument does these days have its local detractors for symbolic reasons, but it does offer some sweeping views out over the city and sea. And in addition, it now also offers a space relating to tourism in Catalonia wine country.
For me the most exquisite of all, though, is the Gran Teatre del Liceu (La Rambla 51-59), the grand and elegant mid-19th-century opera house faithfully rebuilt after two fires (the second in the 1990s). It's full of history, emotions, super acoustics, and of course memories of prodigious voices (and on a personal note, site of a dream come true when I was privileged to witness a performance by the legendary tenor Plácido Domingo).
Down here my favourite haunt when hungry is probably Suculent (Rambla del Raval 43), a ten-minute stroll from the MACBA. Medium in size and splendid of menu, this old-timey tavern is a rustic oasis for a traditional crowd mixed with local hipsters.
Next stop is Trópico (Carrer del Marquès de Barberà 24), a fantastic multicultural eatery which is especially famous for its brunch but has also served as a brilliant nocturnal hangout for me on more than one occasion.