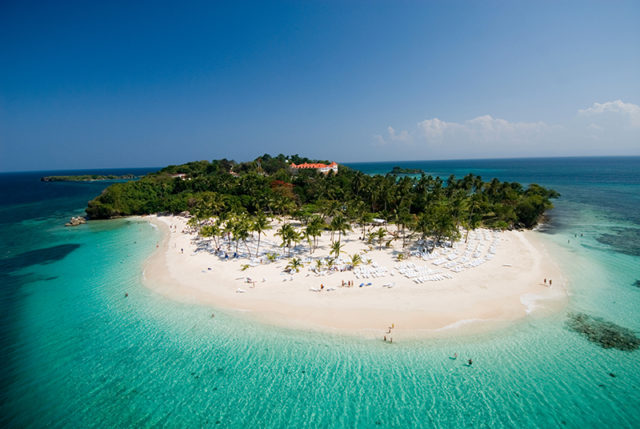 If you're in a northern clime and thinking about the months of chilly temperatures coming up, close your eyes and imagine yourself in a swimsuit amid tropical Caribbean breezes; warm, crystalline waters; and 25-degree (77 degrees Fahrenheit) temperature with a frosty cocktail in hand. Imagine yourself on the Dominican Republic's gorgeously unspoiled Samaná Peninsula. 
Located on the country's northeast coast, but less than two hours' drive from the DR's capital Santo Domingo, Samaná is known for being home to one of Latin America's richest ecosystems, full of lush foliage and forested hills, beaches, coves, waterfalls, and lagoons, all spectacular enough to seem like something out of a movie. Perfect for an unforgettable winter getaway offering a perfect mix of mixing laziness and action, with places and activities such as:
Whizzing Through the Jungle by Zipline 
Get a truly different perspective and truly breathtaking views while flying through the foliage at speeds sometimes over 60 kilometres (37 miles) per hour along from some of the cables strung throughout the peninsula – sometimes as high as a thousand feet over the ground
Paradisiacal Beaches
I'd have to say Samaná's most surperb sands are to be found in and around Las Terrenas, which while word has gotten out  in recent years still manages to hang on its old-time vibe as a charming, barefoot fishing village. Top beaches include Playa Portillo, Playa de Cosón, and the especially celebrated Playa Bonita, all with shining white sand, lush vegetation, romantic corners; and a great choice of water sports including surfing, diving, kitesurfing, and bodyboarding.
Roaming on Wheels or Horseback
Plenty of options here – not just giddy-upping atop a 500-kilo animal but also by bike and 4×4. One of my favourite routes up here is the one that ends at El Limón waterfall, not accessible by road; its water cascades 50 metres into natural pools that are lovely for bathing (don't forget your suit, this is an extraordinary experience right out in the middle of nature). No matter which mode of transport you choose, it will give you a sense of freedom and closeness with the natural environment.
Exploring Cool Local Caves
The DR is known for its cool caves, and this region is no exception, its caverns packed with dramatic stalactites, stalagmites, lagoons, and other formations tens and hundreds of thousands of years old. Plus there are several with fascinating pre-Columbian archaeological relics, such as Cueva de la Arena with its bas reliefs; Cueva Religiosa with its petroglyphs; and the largest of all, Cueva de San Gabriel, with some twenty cave paintings. The manmade and the natural, in one magical package.
Enjoying Typical Dominican Cuisine
A delicious mélange of Spanish, African, and Caribbean Indian flavours and influences, local cookery includes items such as tostones (flattened and fried plantains), mangú (mashed, boiled plantains, eaten at breakfast), asopao (TK), sancocho (TK), locrio (a pilaf- or paella-like dish of seasoned rice with meats such as chicken, sausage, and rabbit) and moros (rice and beans). Wash it down with great local beer and/or Vitamina R (a sly local way of referring to the excellent and ubiquitous Dominican rum).