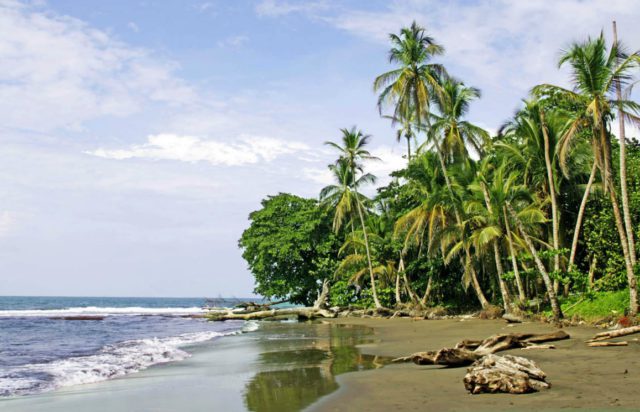 The Pacific beaches of Costa Rica have over the years become increasingly and deservedly well known as an international travel destination, but still less well known is that this small Central America country also boasts a lovely Caribbean coastline and beaches, beginning down south at the border with Panama.
Here the landscape is more lush and tropical, and the towns and villages not only have the delightful ramshackle charm of the unpaved, barefoot Caribbean of yore, but even the lilting English-accented culture brought over by jamaicanos (Afro-Caribbeans from Jamaica and similar Anglo islands) generations ago.
One of the cutest, funkiest, and most typical villages hereabouts is called Cahuita, with a population just over 8,000 and just north of Cahuita National Park, with edenic beaches fringed with palms, the air often sweet with the aroma of ripe mangos.
The English-speaking locals are descendants of indentured workers imported to the local banana plantations in the mid-19th century – then in the 20th their descendants working for the USA's United Fruit Company. And although there are these days also plenty of the Hispanic Ticos (Costa Ricans) who've moved in from elsewhere in the country, the jamaicano culture is still very much in evidence, from sodas (simple eateries) serving their own distinctive Caribbean cuisine to bars with a rasta/reggae/calypso vibe to the language you'll hear on the streets – both standard English and mekatelyu, a local patois of Jamaican English.
The town is extremely relaxed and laid-back, with colourfully painted houses and lots of folks biking around – both visitors and locals going about their business. And all just minutes away from Playa Negra, a pristine, volcanic-black-sand beach with palms growing right up to (in in some cases into) the water and which is uncrowded and perfect for swimming (also, by the way, a Blue Flag beach, internationally certified for its high quality, cleanliness, and environmental sustainability).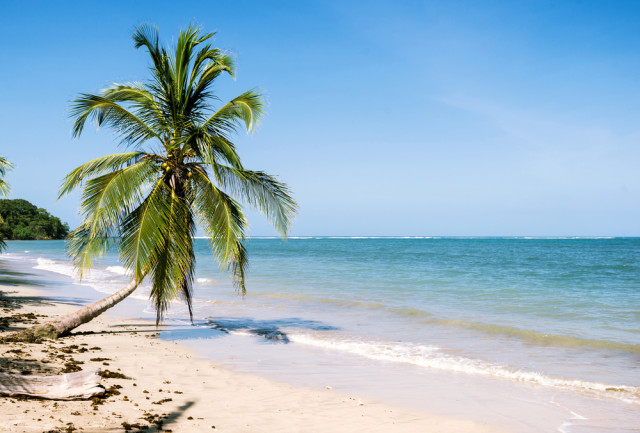 Just a little bit farther south at the entrance to the national park, the coconut-palm-shaded white sands and turquoise waters of Playa Blanca are also an unspoiled delight for sunning, swimming, and snorkeling.
Cahuita National Park is, in fact, one of Costa Rica's loveliest, with a wealth of tropical flora and fauna on both land and sea. The coral reef here is a particular beauty – in fact, the country's most elaborate, with spectacular opportunities for snorkeling and diving. Along with some 35 coral species, you'll spot the colourful likes of parrotfish and blue angelfish.
Of course, dry land around here is also packed with some amazing wildlife, including racoons, coatis, crabs, sloths, monkeys, and of course tons of exotic tropical birds and butterflies (plus during parts of the year you can also catch nesting and newborn sea turtles nearby at Gandoca Beach). And the best time to visit the area tends to be September and October, but whatever time of year you come, you'll find Caribbean Costa Rica to be lush, lovely, fascinating, and welcoming.