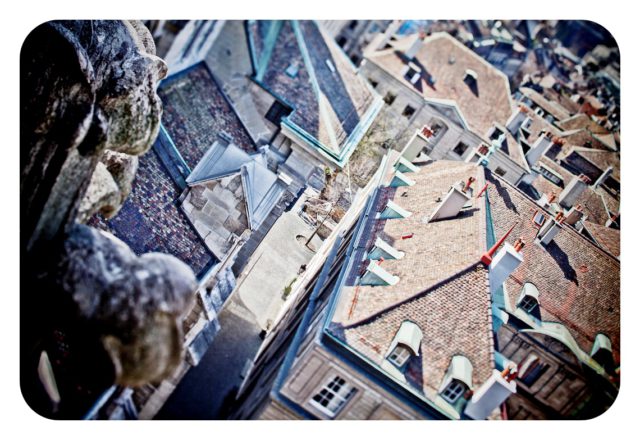 photo | Juanjo Carvajal
The elegant, cosmopolitan capital of French Switzerland is better known as an HQ and crossroads for business, diplomacy, and the world's highest concentration of international organisations than as a tourist destination – indeed, it doesn't make the list of the world's most visited cities. But I can tell you from personal experience that visiting Geneva with a holiday in mind can be a marvelous – and marvelously creative – experience indeed. 
Given that internationalist pedigree, what better place to start than the Palais des Nations, built between 1929 and 1938, with its rows of flags from every corner of the planet (guided tours available). Another icon of the city is its lake, including its dramatic Jet d'Eau, offshore 140 metres (460 feet) into the air offshore. 
Beyond these and other classics, Geneva continues to prove its creativity architecturally and artistically in myriad and often award-winning ways. Especially notable since the turn of this century is the rehabilitation of the Rhône River bank, which won the prestigious Wakker Prize in 2000.
Cool Quartier des Bains
These days, perhaps the city's most cosmopolitan area is the Quartier des Bains, a once warehousey, industrial zone (and onetime site of the city's public baths, hence the name) off the Plainpalais. Here you'll find the MAMCO (Modern Art Museum) and CAC (Contemporary Art Centre, Switzerland's largest museum), along with a dozen other art galleries and venues, as well as trendy dining and drinking spots. Top choices include café-bookstore Les Filles Indignes (10 Rue de l'Arquebuse); Le Réservoir (62-64 Boulevard Saint-Georges), a restaurant and wine bar with excellent service and fine traditional cuisine; and Café des Bains (Rue des Bains 26), a creative international bistro renovated by arquitect Charles Pictet. Last but certainly not least, the Café de la Paix (Blvd. Carl-Vogt 61) is an elegant local favourite which serves excellent French cuisine.
Furthermore, this quarter comes even more alive several times a years during three Nuits des Bains, pulling out the stops to celebrate the arts and welcome visitors; dates in 2017 are January 19, March 23rd, May 18th and September 14th. Mid-November also sees Geneva's Contemporary Art Weekend.
Art, Culture, Architecture
A half-hour stroll or 15 minutes by train from MAMCO you'll find the La Clarté building, one of the most impressive projects of the legendary Swiss architect Le Corbusier; also known as the "glass house", and located at Rue Adrien-Lachenal 5, this 1930s landmark photogenically gives an impression of simultaneously both solidity and fragility. Another very cool structure, over on Rue Louis-Favre in the lively Grottes neighbourhood, is Les Immeubles des Schtroumpfs (Smurf Buildings), a residential complex built in the mid-1980s inspired by the work of Catalan architect Antoni Gaudí as well as the then blue-hued abodes of the popular cartoon characters the Smurfs.
In short, the old and the new, the cutting edge and the traditional, are all combined in the elegant, increasingly livelyy urban package that is Geneva. A fun, eye-opening, and creative city break indeed…