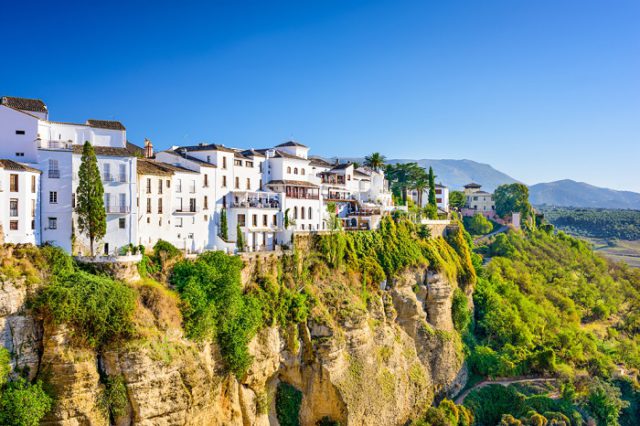 The dramatic clifftop city in Andalusia's Málaga province is full of history, spectacular sights and vistas – and of course delicious Spanish food – with local specialities which include a fusion of Castilian and Arabic, a legacy of the 700-year rule of the Moors in al-Andalus. Outstanding examples include the Genal Valley chestnut, chacina (cured beef, Serrano-ham style), oxtail, and masterfully prepared pork dishes. Game dishes are big here, as well, and are accompanied by one of Spain's fines wines, Vetas Petit Verdot, from a boutique winery very typical of this area. 
And now here's a Ronda tapas tour that will have you salivating!
Let's start our tasty tour at Lechuguita (Calle Virgen de los Remedios 35), a welcoming little hole in the wall whose cookery is homestyle Spanish comfort food. Rub shoulders with locals as you chow down on a delightful variety of tapas at very attractive prices.
Over at Tragatá (Calle Nueva 4) we find a much more contemporary feel and menu. I recommend the beef tenderloin, the duck tataki with spicy rice, and pork cheeks in chestnus sauce, with honourable mention to its papas bravas, crispy fried potato chunks with spicy sauce.
One particularly trendy spot is Tropicana (Avenida de Málaga at Calle Acinipo), a modest-size affair with an extensive and varied menu packed with high-quality fare and plates which are easily sharable, served with pleasant, polite service. Top stars include the Waygu beef burger and the crunchy oxtail.
Siempre Igual (Calle San José 2), also offers attentive service, along with great value for money (try the delicious, homely oxtail, washed down with an excellent red wine from Bodegas Schatz).
And to top off of these taste sensations, nothing better than stopping off at one of the counters shops which sell convent convections such as yemas de Ronda (egg yolks and sugar) and dulces de las monjas ("sweets of the nuns", a variety of pastries, biscuits, and such).