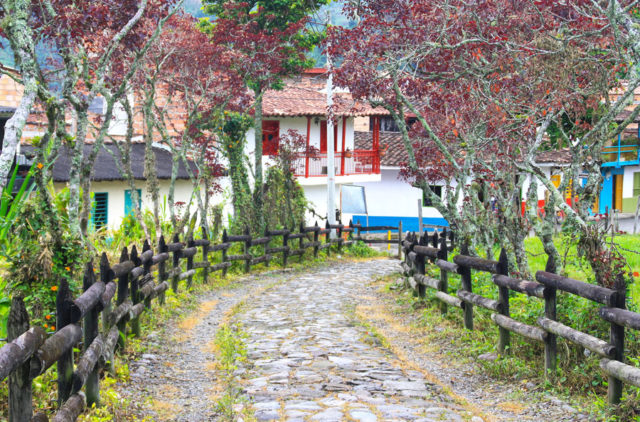 Three hours south of Medellín in northwest Colombia's Antioquia state, set against the backdrop of the jagged, intensely verdant Cordillera Occidental mountains of the Andes, the town of Jardín has made something of a name for itself among Colombians – and indeed is officially designated one of the country's "patrimony" towns thanks to its preserved 19th-century architecture (much of it colonial-style, though built after independence from Spain), spectacular setting, and colourful gardens (indeed, the name itself means "garden").
The origin of the name, history tells us, is fairly straightforward – when the first settlers came upon this area in the early 1860s found the landscape indeed gardenlike. And in the generations since, this town of just over 14,000 has done its utmost to live up to its moniker. Here the wooden balconies and windows are painted in vivid colours and adorned with plants in hanging pots.
The houses sport colourful doors and red-tile roofs, while the streets (many cobblestone) are plied by red moto-taxis and horsedrawn tourist carriages, as well as the occasional jeep taking visitors up to the coffee plantation tours in the surrounding hills. And of course there are the distinctive local chivas, brightly painted buses mounted on Chevrolet trucks.
To get the best sense of it all, take the cable car – ideally in time for sunset – across the adjacent canyon up to the Mirador de Cristo Rey, an overlook where you can sit at a little bar and watch the setting sun cast its magic over the green valley.
And to experience the friendliness and hospitality of the local antioqueños, head to the town's main park, Parque del Libertador, have a cup of coffee at the colourful tables and chairs of its cafés, amid locals in farm hats, many perched on tipped-back chairs.
The local cuisine, too, is a treat. In particular, you must not miss the various trout dishes, the bounty of many trout ponds in the surrounding fields and hills. There's a sweet side, too; check out Dulces del Jardín, a family-run enterprise which has been making typical local sweets for years, such as marmelades of basil and rose petals, as well as 22 types of arequipes (based on dulce de leche, the creamy caramel spread that's such a Latin American favourite).