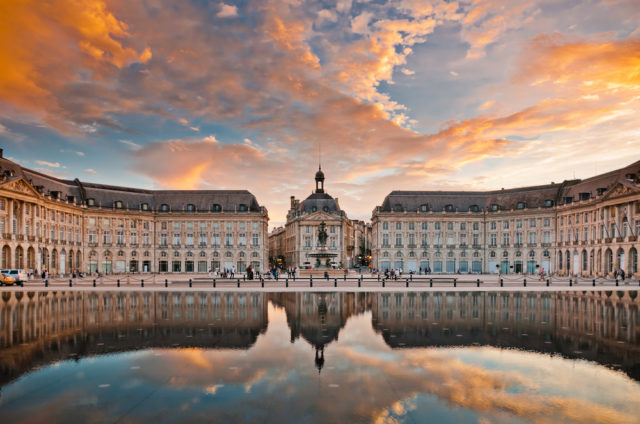 photo | Alexander Demyanenko
Though its name is synonymous with distinguished French wine, in fact for a long time, the southwestern France city of Bordeaux had a reputation as being grimy and run down. More than 300 historical buildings of the 17th and 18th centuries – only Paris has more – had disappeared behind layers of dirt and pollution. People moved away to more pleasant places, tourists who came for the wine fled to the surrounding areas of Médoc, Aquitaine or to the Atlantic Coast and lovely Arcachon.
Then Alain Juppe, mayor in 1995-2004 as well as 2006 to the present, woke the "sleeping beauty", as the city was nicknamed and, literally, had a blast. The façades were given a breath of fresh air, sandblasted and restored to their former beauty. The historic city center is now on the UNESCO World Heritage list.
Any tour guide worth his salt, and the hilarious Bruno Beurrier, who likes to be addressed as Mr. Butterdish, is certainly one of those, will lead you to one of the few remaining black walls. Then, with a dramatic flourish, he'll turn around, say "voilà" and you're facing the entrance to the 18th-century Grand Théâtre. All clean and shiny, inside and out. Even the seats of the auditorium have been restored to the original royal blue as we were able to see because, thanks to Bruno, we got a sneak peek inside where rehearsals to a very modern version of The Tempest were under way.
Opposite, the cleaned up Grand Hôtel beckons with a restaurant run by Gordon Ramsay in the basement. We were at the lower end of Rue Sainte-Cathérine, at 1.2 kilometres (3/4 mile) one of Europe's longest pedestrian shopping streets, running from Place de la Victoire to Place de la Comédie. It abounds with interesting shops – for example, book lovers should stop at Librairie Mollat, celebrating 120 years since its opening with a huge section of books on – you guessed it – wine. It also seems that the French are fond of spectacles (during the two-hour tour, Bruno changed his four times), so if you like them too, you can browse scores of the chicest frames at the street's many opticians. And even if you don't have a sweet tooth, you must try the local pastry specialty: caneles. They are little pieces of dough, crunchy on the outside, soft on the inside and generously flavored with rum. The best, according to Bruno, are made at Caneles Baillardran. They also make a nice and original gift.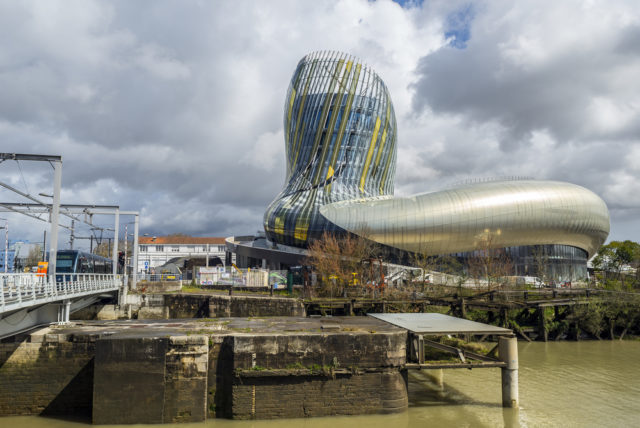 photo | Alvaro German Vilela
The Garonne River divides Bordeaux into a left bank and a right bank. Where the merchant fleet once docked and warehouses lined the river bank, today even cruise ships can cast anchor. You can walk along the river or take a cruise on one of the many pleasure boats and admire the sights of Bordeaux from the water. If you're lucky, you can watch the Pont Jacques Chaban-Delmas open. It's Europe's longest-span vertical-lift bridge inaugurated in 2013, large enough for the cruise ships to pass through.
The highlights of the more than 300 historic buildings including the cathedral, churches and palais, are no doubt those forming the semicircle of the Place de la Bourse (top). Built between 1730 and 1755 by architect Ange-Jacque Gabriel, they now house the Customs building and other offices. Wait until nightfall though, because then you can appreciate the magic of Miroir d'Eau. The square opens towards the river and the world's biggest water mirror, with a surface of 3,450 square metres (nearly an acre) glitters in front. The illuminated buildings are reflected in the shallow waters, a sight not to be missed.
Modern architecture has also made an impact in Bordeaux. I can't think of any other city where a modern courthouse is actually a tourist attraction. This is the case of the Tribunal de Grande Instance by Richard Rogers, built in 1998. Cone-shaped sections rise high into the air, the courtrooms are housed in pods and stairs and escalators link the different levels. I wonder if legal business is a bit easier conducted in a work of art?
Finally we turned to Bordeaux's latest attraction, dedicated to what is the essence of the city: wine. La Cité du Vin (above) opened this year alongside the Garonne – a combination of wine museum and amusement park in a decanter-shaped, 55-m-high (180-ft.) tower which dominates the skyline of Porte de la Lune, the Bordeaux waterfront. Anything and everything you want to know about the history of wine from antiquity to modern times can be found on the many levels inside. Exhibits alternate with interactive screens, games, diagrams and much more. Follow the arrows to the top where you're offered a free glass of wine, then walk down again and buy your wine supply in one of the shops at ground level.
The complex can be reached by tram, which is a Bordeaux attraction all by itself. The city's three tram lines are the first in Europe to use a French-developed system which avoids ugly cables and wires which disturb the beauty of the buildings. It makes also for a nearly sound-free run, so watch out when walking because you don't hear an approaching tram. Another thing to be wary of as a pedestrian is bikes. They are used everywhere, but the biking paths are not clearly marked and they tend to whizz past rather speedily.
If you plan to stay more than one day, you may want to go farther afield. One popular destinations are Arcachon on the Atlantic Coast, featuring the Dune du Pilat, at 110 m (360 ft.) Europe's highest sand dune. Another, in the opposite directions, is Bouliac, a tiny village in the vineyards feauring a church, a town hall, a boulangeries, and the a luxury hotel which among other things grows its own Merlot grapes, producing no more than 600 bottles of wine a year. You can also take part in a cooking class, and wine tastings in a redesigned farmhouse.
Let yourself be surprised by a rejuvenated Bordeaux, imposing historic and modern architecture, parks, sculpture – and of course more choices of wine than you can possibly drink in a lifetime.
More information: Bordeaux-Tourism.co.uk.