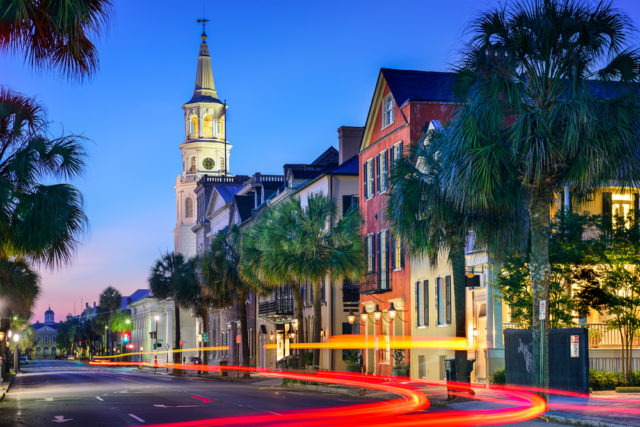 photo | Sean Pavone

Several (but by no means all) of the 13 British colonies which eventually became the United States of America boast cities with historic old quarters that feel like time capsules of their colonial origins – Philadelphia and to some extent Boston come particularly to mind. In America's South, however, the foremost example is South Carolina's second largest city, Charleston, halfway down the coast of this southern state.
Founded as Charles Towne in 1670, this city of 120,000 (metro area 133,000) survived the U.S. Civil War and the usual fires and other depredations of history to boasts these days one of the country's best preserved historic districts, where the historic, gracious architecture (such as early colonial, Georgian, Federal, Greek Revival, neo-Renaissance Italianate, Beaux-Arts, and Victorian) is minimally interrupted by modern structures. There are plenty of historic sites and museums – not to mention exceptional restaurants. But for me (and many others), a large part of Charleston's charm is strolling the cobblestone streets or horsedrawn-carriage riding amid the elegant townhouses, many white-steepled churches, and magnolia gardens, flanked by palm trees and Spanish-moss-draped live oaks.
With a strict building code that prevents skyscrapers and such, the historic district is centred on the peninsula formed by the Ashley and Cooper Rivers, where the city was founded, and includes districts like the French Quarter. Some of the top sites not to miss include a pair of forts, 19th-century Sumter (where the Civil War famously started) and 18th-century Moultrie, both on islands in the harbour; the Battery park and White Point Gardens; the City Market, a long, multi-building affair which is these days home to restaurants and souvenirs/handicrafts shops; and a slew of temples of worship including the 17th-century French Huguenot Church, the also 17th-century First Baptist Church (considered the "mother church" of the USA's Southern Baptist denomination), and 18th-century Kahal Kadosh Beth Elohim, the world's oldest surviving Reform Jewish synagogue. Then a few minutes' drive north of downtown, Charles Towne Landing preserves the site where the original English settlers first set up shop, and includes gardens, a 17th-century replica sailing ship, a zoo, and a historic plantation house.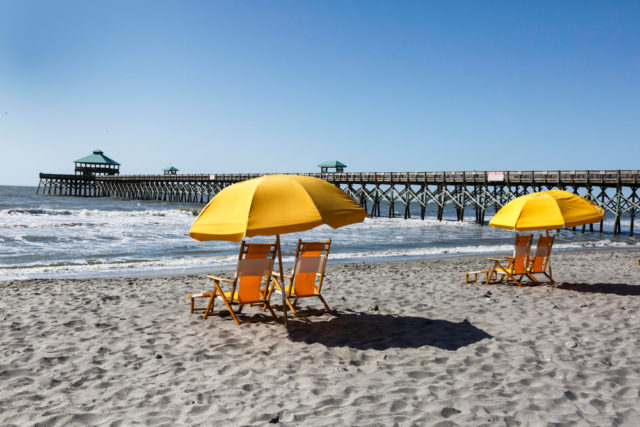 photo | Cvandyke
As for museums, start with the Charleston Museum in the old quarter, which does a fine job of multi-media curation of city history and also operates a pair of historic houses, one from 1772 and the other from 1803, that show the life and times of the wealthy elite of the day. Art mavens should head to the Gibbes Museum of Art, with more than 10,000 works (mostly U.S. artists, and those with some kind of connection to Charleston, South Carolina, or the South) displayed in a gracious Beaux-Arts building. And just across the harbour, Patriots Point is a naval and maritime museums whose star attractions include retired ships (such as the aircraft carrier USS Yorktown) and aircraft.
And if you're up for some beach time, head out to the barrier islands flanking Charleston Harbour, such as Kiawah, Folly Beach (above), Isle of Palms, Seabrook Island, and Sullivan's Island (which is also the site of the abovementioned Fort Moultrie).
More information: CharlestonCVB.com.