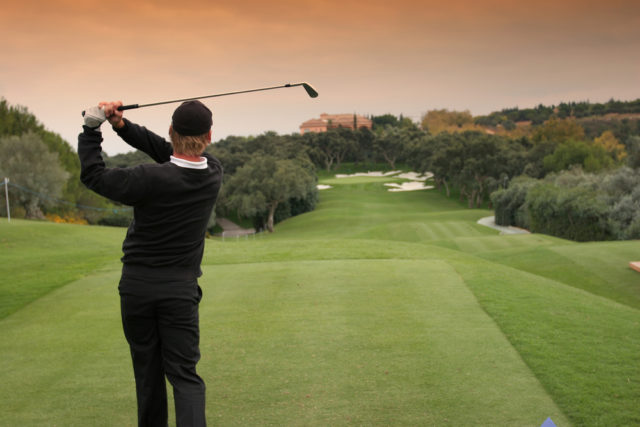 photo | photogolfer
With more than 300 golf courses, sunny Spain can boast some of the world's best and most pleasingly sited. And though summer may be high season, hitting the links is in many ways an even lovelier experience in autumn and winter, when temperatures are still pleasant and the crowds fewer. Many of these are of course concentrated in popular resort areas such as the Mediterranean coast and the islands. But while I could fill a book with descriptions of all the country's marvelous courses, here's just a taste – a half dozen of the most awesome 18-holers, spread geographically.
Andalusia
Real Club Valderrama   There are plenty of superb courses in the huge area that comprises southern Spain, but gorgeously landscaped amid trees and lakes in Cádiz province several kilometres in from the Costa del Sol (and Gibraltar), the Valderrama is still considered one of the finest greens in Europe – indeed, the world. Designed by Robert Trent Jones Sr. in 1974, its signature holes are the fourth, La Cascada, a par-5 with a pond to the right of a double-tiered green, and the 17th, featuring strategically placed bunkers and reputed to be all but unplayable.
Balearic Islands
Golf Son Gual Mallorca   Out amid vineyards and ancient olive trees in the rolling hills out near Majorca's airport and not far from capital Palma de Mallorca, the 453-square-kilometre (175-acre) work of German golf architect Thomas Himmel, opened in 2007, is widely considered the jewel in the island's 20-layout crown, with a lovely serious of lakes and bunkers. The signature 18th hole is particularly dramatic, a par-five which crosses water twice.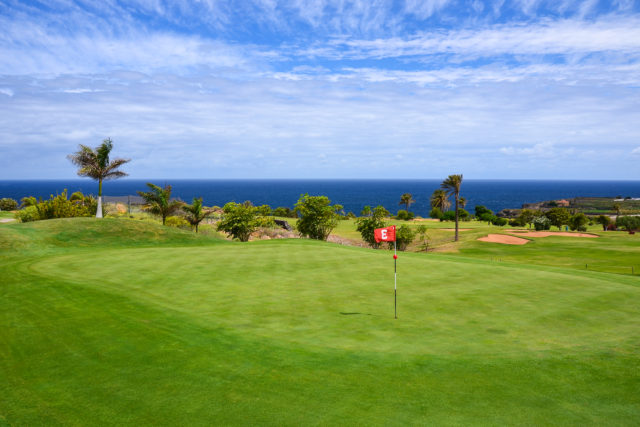 photo | Pawel Kazmierczak
Canary Islands
Buenavista Golf   Spain's seven sun-drenched isles off the African coast are one of Europe's top playgrounds, and golf of course plays a big role for many holidaymakers. There are many fine courses, but this par-72 seaside charmer (above) is the pick of the lot for many, sitting between dramatic hills (including Spain's highest mountain, Teide) and the dramatic Atlantic in the northwest corner of Tenerife. Designed by Spanish golf great Severiano Ballesteros and opened in 2003, it includes cool features such as the ninth and 18th holes connected by a waterfall.
Catalonia
PGA Catalunya Resort    Consistently rated top among Catalonia's 48 links, this 300-hectare (741-acre) spread in the hills 15 minutes outside the historic city of Girona (and about an hour north of Barcelona) is also considered one of the best tournament layouts in all of Europe. The Stadium Course here is laid out amid rolling hills and pine groves, with the par-4 13th hole its signature, offering gorgeous mountain views. Alongside is another, marginally easier 18-hole layout called the Tour Course, as well as a five-star hotel.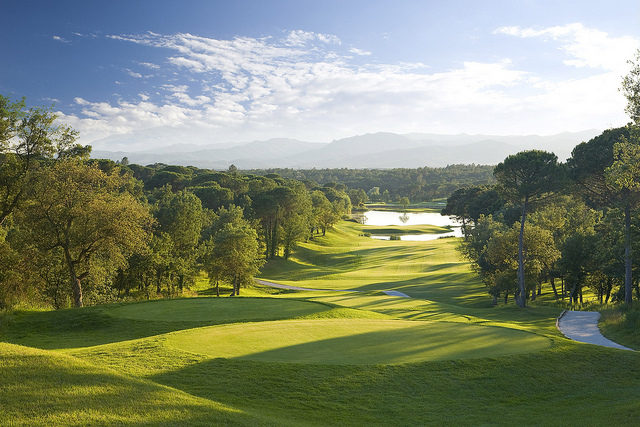 photo | Traveloscopy
Green North Spain
Real Sociedad de Golf de Neguri    Navarre, the Basque Country, Asturias, and Galicia can claim some of Spain's most attractive scenery and rolling landscapes (as well as some of its best known golf stars, such as Ballesteros and José Maria Olazábal). Many feel one of the most venerable courses up here, par-72 Neguri, is still the best of the bunch. Founded in 1911 and moved to its current location in 1961 overlooking the Bay of Biscay coast a 20-minute drive out of Bilbao, it's open to visitors on weekdays and offers a comfortable game with fantastic views.
Madrid Region
Real Sociedad Hípica Española Club de Campo   The region surrounding Spain's capital offers more than 30 fine links, and this impeccable, more than 200-hectare (494-acre) spread, at age 115 even more venerable than Neguri, still comes out on top for many golfers, especially since the 1990s updating of its two courses by Robert von Hagge. Out in the town of San Sebastián de los Reyes, a half hour northeast of downtown Madrid by car, the terrain is rolling, even hilly, punctuated by a pair of large lakes as well as a stream running through the fairway of the 13th hole.