What's it like to be in the presence of the world's largest waterfalls system? Well, in three words: wet, wild, and wonderful. These wonders of nature formed as the Iguazú River hurtles off the Paraná Plateau in the form of hundreds of waterfalls, at a rate of 1,500 square metres (gallons) per second, mark the local border between Argentina's Misiones state and Brazil's Paraná state (with Paraguay's Ciudad del Este right nearby, as well). And let me tell you, these pictures don't even do them justice – Iguazú Falls are totally a UNESCO World Heritage bucket-lister if ever there was one.
Their name taken from the language of the Guaraní peoples who lived here for centuries (meaning "large water"), and discovered by Spanish conquistadores in 1452, this string of falls stretches for 2/7 kilometres (more than 1½ miles). The main drop, known as Garganta del Diablo (Devil's Throat), is 80 m (ft) high, with a perpetual rainbow (if viewed from the Brazil side) from all the water spray perpetually suspended in the air.
That rainbow points out the fact not only that this is a very wet place, and you should bring a raincoat or mac if you want to minimise its drenching affects, but also that there are several differences between experiencing the falls on the Argentine vs. the Brazilian side. There's a local saying that "from Brazil you see the falls, while from Argentina, you live them." If you have time to do both sides, why, that would be grand. But if not, here's a quick comparison.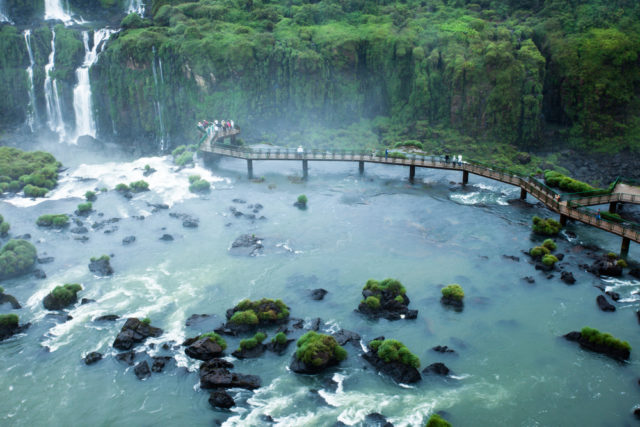 photo | Curioso
Brazil vs. Argentina Side
Brazil may be significantly larger than Argentina, but it can only claim 20 percent of the Cataratas do Iguaçu, as they're called here, and visiting them in the national park here is a matter of a couple of hours or so at most. The panoramic view is unobstructed and of course suitably spectacular, but the trails and infrastructure allowing visitors to get close to the falls are fewer and less elaborate, mostly consisting of a number of overlooks. The nearest city is the Foç do Iguaçu (population about 264,000), 45 minutes away, which makes an interesting base, while the closest accommodation is Tropical das Cataratas Hotel and Resort, 11 kilometres (6½ miles) from the park.
One potential snag for some visitors is that whilst Brazil imposes no entry visa for Europeans, Latin Americans, and South Africans crossing over from the Argentina side, citizens of the USA, Canada, Australia, and much of Asia and Africa must apply for a visa (which can be pricey – $120 for U.S. citizens, for example and is a bureaucratic hassle) in the Argentine city of Puerto Iguazú, 17 km (11 mi.) away. It's been reported that enforcement at the border isn't necessarily strict – but do you want to go all that way and take the chance that it might be that particular day?
Speaking of the Argentine sector, the Parque Nacional Iguazú, a 90-minute flight or nearly 24-hour drive from Buenos Aires, is home to 80 percent of them, and the consensus is that over here you really most fully live the adventure of the falls.
Once you arrive at the park, you'll find two metal walkways the Paseo Superior (upper) and Paseo Inferior (lower, pictured above), which take you right up to some of the most glorious sights, such as Garganta del Diablo, deafening (you can hear these falls for kilometres around), and altogether spell-binding. At the end of the lower walkway you can catch a launch to San Martín Island, with more amazing views of the various falls. Hotels in the park notably include the Sheraton Iguazú Resort & Spa (for a wider range of offerings and amenities, the nearby city of Puerto Iguazú, pop 82,000, can .
And its 672 square kilometres (260 sq. mi.) of jungle offer wildlife-spotting opportunities, as as well, with birds including toucans, parrots, and harpy eagles, as well as mammals like capuchin monkeys, tapirs, ocelots, anteaters, and cute little coatis (watch out, though, these last will pinch your food!). Oh, and butterflies – so many lovely, lovely butterflies.
Yes, the proverbial experience of a lifetime….