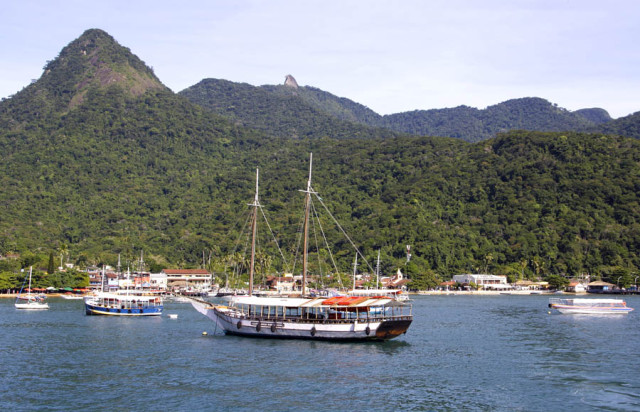 Brazil has no Caribbean coast – all TK kilometres (miles) of it is pure Atlantic – but it does boast several islands that are veritable ringers for Caribbean paradise – and foremost among them is Ilha Grande (Big Island), some four hours south of Rio de Janeiro.
After the lovely, 2 1/2 hour drive down to the town of Angora dos Reis, then an hour and a half by ferry out to the island, as you approach you'll see on the horizon a green mass that looks like its all riotous rain rain forest, fringed by blinding white sands and crowned by a tall pointy peak, the Pico do Papagaio.
Once you disembark at the simple dock in Vila do Abraão, you find yourself in a laid-back little village with dirt streets and no traffic, hugging the jungle like a barefoot tropical paradise. You really feel like you're in another world, an oasis of peace and beauty far, so far from the everyday and the mundane.
During the 19th century, this 193-square kilometre (75 sq.-mile) island was home to a quarantine centre for immigrants before their arrival in Rio, then converted to a prison, which gave the island a notorious repoutation until it was finally demolished in 1994. The ruins of the old prison are still here, but all but buried by jungle.
Beaches of course are the single biggest attraction out here – though the one many consider its best, Praia Lopes Mendes, is reachable only via a 20-minute hike through the jungle (what price paradise?). But there are plenty of others, as well, including Praia do Aventureiro, Praia Parnaioca, Praia Recifes, and Praia Dois Rios – all great for diving and snorkeling in absolutely crystalline waters, and some more easily reached by boat then by land.
For the hiking-minded, the island is riddled with trilhas (trails) of varying degrees of difficulty – leading to the beaches, to a lovely waterfall near the village – and the most ambitious of all, up to the 982-metre (3,220-foot) Papagaio Peak – which of course rewards with some tremendous island and sea views.
There is plenty of lodging and dining out here at various price points (not surprisingly, fresh seafood a speciality), and nightlife in Vila do Abraão is lowkey but congenial – as you would expect for a barefoot island getaway. If you're in the market for an idyllic add-on to big-city Rio, this could be just the thing.