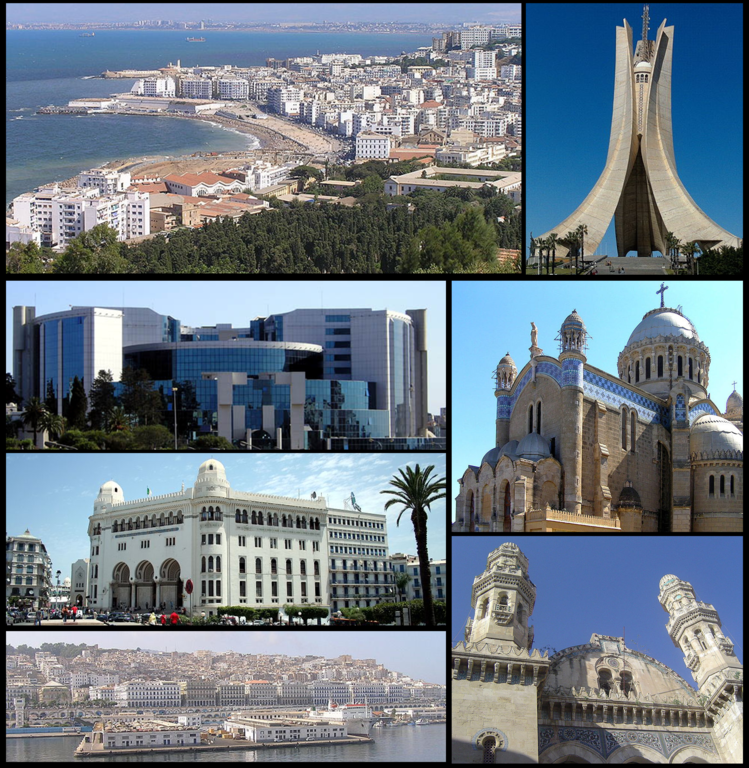 image | Wikipedia
Quick, what's Africa's largest country? If you said Congo, Libya, or South Africa, well, yes, they're certainly up there, but the answer is Libya's (plus Morocco's and Tunisia's) next-door neighbour Algeria – bigger than Alaska plus California put together, or nearly three times the size of the British Isles. It shares many allures in common with Morocco and Tunisia, but although it has been a major trading partner for Europe (especially in petrol and natural gas), touristically it has flown very low under the radar for decades because of years of civil strife as well as shortsightedly putting all its eggs in the energy basket) – and to this day remains still largely a business rather than leisure destination.  
But thanks to the drop in petrol prices, the régime is finally becoming more interested in encouraging tourism, and at least these days, things are calmer overall, though several parts of the country farthest from the capital, Algiers, are still largely no-go (including some of the iconic Sahara landscapes of the far south, for example around Tamanrasset). That still leaves a tremendous amount – the capital, the country's other major cities, and their surrounding areas – as visitable and fascinating (for regions to avoid, see below), as long as you employ common-sense precautions and stay away from dark and/or isolated spots at night.
Seaside "Algiers the White" (pop. 3.5 million, metro 5 million, pronounced Al-Jaza'ir in Arabic and Alger in French) is a cosmopolitan mix of French colonial and the ancient hillside casbah (aka medina), as well as more modern architecture both creative (especially that built in more recent years) and graceless (stark Socialist-style eyesores of the immediate post-colonial period).
Just west of the Place des Martyrs, the casbah – a UNESCO World Heritage Site – is of course the place to start. Its maze of narrow, sloping streets are lined with sites including the early-17th-century Ketchaoua Mosque and 11th-century El-Kebir, as well as grand Ottoman palaces such as the next-door Dar Hassan Pasha. Shops, cafés, and restaurants, too, where you can stop for grilled lamb, couscous, tajines, spicy merguez sausages, and a variety of honeyed pastries down along with strong coffee or sweet mint tea (Algerians are the world's second biggest honey consumers!). There's also a museum up here devoted to popular arts and traditions, and housed in a townhouse called the Dar Khedaoudj el-Amia.
Out along the waterfront near the casbah, don't miss the mostly 18th-century Palais des Raïs of the Ottoman ruler Mustafa Pasha, which in addition to its original décor hosts some interesting exhibitions, and a few minutes east along the coast, a lovely botanical garden, the 58-hectare (143-acre) Jardin d'Essai du Hamma.
Other highlights include the neo-Byzantine Notre Dame d'Afrique Catholic cathedral built in the 1870s on a cliff overlooking the sea, and the titanic, concrete, vertically swooping Maqam Echahid (Martyrs Monument), finished on a hilltop in the eastern outskirts in 1982 to commemorate Algeria's war of independence against France (1954-62); there's a museum devoted to that same struggle, the Musée National du Moudjahid.
There are a pair of other significant museums worth your time, as well, depending on your interests. The Musée Public National des Beaux-Arts covers mostly works from the 1960s onward, while the Musée National d'Antiquités draws upon this land's history and heritage reaching back to mediaeval Islamic, Roman, and even ancient Egyptian times.
Out on the coast, day trips and overnighters include a number of lovely Mediterranean beaches. Some 30 kilometres (18 miles) east of the city, the so-called "Turquoise Coast" on the Sidi Ferruch Peninsula, while a four-hour drive west brings you to Oran, Algeria's second most imporant city (and curiously enough, birthplace of Yves St. Laurent along with the North African folk music called raï)), whose name became known in the West by Albert Camus' novel The Plague. Today it's home to lovely beaches such as Plage de Madagh, Cap Blanc, and Plage Bomo, as well as its own atmospheric ancient casbah.
Finally, reliable tour operators can facilitate safe forays into the mighty Sahara Desert, to oasis towns such as Ghardia and Timimoun; the prehistoric rock art in the Hoggar Mountains and Tassili N'Ajjer National Park; and ancient Roman ruins on or near the coast in Djemila, Tipaza, and Timgad. Be sure to research the situation well before departure.
More information: ONT.dz, AlgerianTourism.com (both in French)
Best fares to Algiers from the USA, from Spain.
*At press time, the following advice from the U.K. Foreign and Commonwealth Office (FCO) was still in effect:
The FCO advise against all travel to areas within:
450 km of the Mali and Niger borders, with the exception of Tindouf town and Tamanrasset city
100 km of the Mauritania border
100 km of the Libya and Tunisia borders south of the town of Souk Ahras, with the exception of In Amenas
The FCO advise against all but essential travel to:
Tamanrasset city
In Amenas
Tindouf town
the provinces of Boumerdès, Bouira and Tizi Ouzou east of Algiers (the area known as the Kabylie)
For updates, click here.