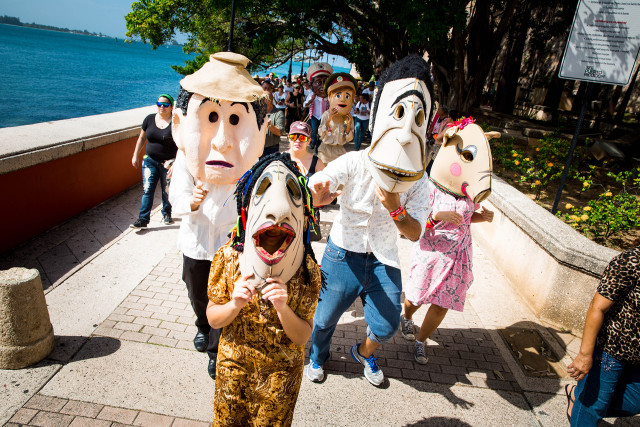 photos | Puerto Rico Tourism Company
Sure, San Juan is always fun and lively. But there are certain times of year when Puerto Rico's seaside capital pulls out all the stops to showcase its roots, folklore, and culture. If this interests you, perhaps the one you won't want to miss happens in the third week in January. So if you're looking for a subtropical break mixed with some Caribbean culture and partying, come check out the Fiestas de la Calle San Sebastián, held Jan. 19-22, 2017 for the 63rd year.
Now, while many Latin countries finish Christmas season on January 6, here it's these fiestas that are considered to bring Yuletide to an end ("on the 27th day of Christmas, my true love gave to me…!"). The locally dubbed "Fiestas de la SanSe" aren't exactly an ancient tradition – having been started just in 1954 – but they have become beloved, filling various corners of Old San Juan with colours, music, and dancing which start early in the morning and stretch each day till early the next morning.
In fact, many consider this party among the Caribbean's highest-profile events, welcoming hundreds of thousand each year, and inviting comparisons to Carnaval in Trinidad, the Dominican Republic, and New Orleans.
Kicked off by a solemn mass in San José Church in honour of St. Sebastian (for whom Calle San Sebastián, one of Old San Juan's main streets, is named), the next four days are just the opposite of solumn. Drumming, drinking (public ban lifted for the occasion!), music, and general carousing ensue throughout a series of events whose highlight is a parade where in addition to watching from the sidewalks and gaily decked-out balconies, spectactors can mix with marchers, who include colourful cabezudos (people wearing cartoonish, satyrical papier-mâché heads).
Another notable feature is the thousands of locals dancing and singing what's essentially the Fiestas' theme song, Voy Subiendo, Voy Bajando ("I'm Going Up and Down"), which a frenetic, key summing-up event of the festivities which goes onlong into the night.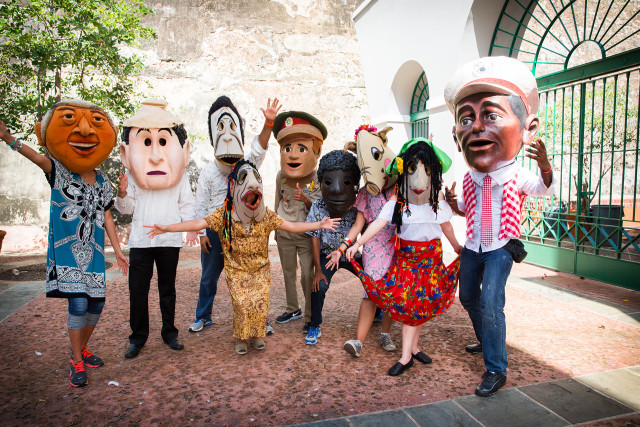 The music doesn't stop there, far from it. There are live performances at stages set up in key spots like Plaza de Armas, 500th Centenary Plaza, and Plaza Colón, featuring top DJs and musical acts from across the Caribbean, with sounds including salsa, pop, electronica, rock, and of course traditional Puerto Rican. There are even special shows geared toward kids and families.
Local artisans also play an important role in the celebration, set up at stands throughout Old San Juan. This is an especially great chance to see the range of handicrafts produced by this islands, including objects fired in porcelain and carved from wood (check out especially the santos, the Catholic saint carvings, and traditional toys); to items of traditional folk clothing; jewelry both traditional and modern;  natural soaps; fine-art paintings and sculptures.
So, yes, this winter, get a little sun and sand in your life – but also some infectious fun that showcases the culture of one of the Caribbean's most notable destinations!
More information: SeePuertoRico.com.
Best fares to San Juan from the UK, from Spain.