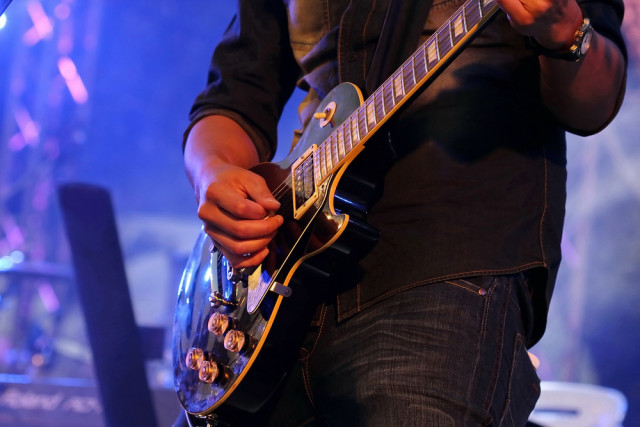 photo | aodaodaodaod

Glorious old Granada, Andalusia is on the small side as Spanish cities go (pop. 238,000), and its city coat of arms declares it to be "noble, loyal, renowned, great, celebrated, and heroic". I'd also add to that lovely, artistic, and with even with a touch of mystery to it – and if that weren't enough, some sunsets to die for (that was former U.S. president Bill Clinton's feeling after taking in the view from the famous hillside San Nicolás Overlook).
There's plenty more, of course. One of the great (and last) capitals of Moorish al-Andalus boasts fabulous gardens, fountains, and palaces such as the mythic Alhambra. In winter, the nearby Sierra Nevada mountains are a treat for lovers of winter sports. It's not wonder Granada is one of Spain's most popular tourism destinations. But I bet you didn't know that Granada really rocks – in fact, this city also famous for its locally crafted guitars considered by aficionados to have a special place in Spanish pop music as the country's premier indie-rock-music scene. Think of it as kinda like Spain's Seattle.
So in the context of Granada rock, if someone were to mention "planets", it may have nothing to do with astronomy or astrology, but rather the group Los Planetas, fronted by Jota (né Juan Ramón Rodríguez Cervilla), and their classic '90s record Super 8 (a prominent track of which is "Qué Puedo Hacer"/"What Can I Do", above). Here Niños Mutantes aren't genetically screwed-up kids, but instead one of city's top rock groups (below, "No Puedo Más Contigo" / "I Can't Deal With You Anymore"). Lori Meyers ain't no downy-cheeked expat English teacher, but a veteran quintet originally out of the provincial town of Loja – most recently noted especially for "Hombre a Tierra" ("Man on Earth"), a song composed for the international version of the soundtrack of The Hunger Games: Catching Fire (below). And if you hear of a certain "Alligator Nick", it's no cause for alarm, it's just another well known local band of long standing, named after the iconic song Lagartija Nick, by the short-lived 1980s English Goth-rock band Bauhaus (represented here by "El Signo de los Tiempos"/"Sign of the Times).
The place to catch these acts and many more is the historic Albayzín, a labyrinth of lanes and modest dwellings which in addition to being Granada's most authentically local neighbourhood is also the most indie – back in the day it was flamenco, now it's also rock music, these days home to lots of musicians. Here you can munch on the typical local tomato toast as well as browse shops that sell (gasp) actual vinyl records, such as Discos Marcapasos on Calle Duquesa or Discos Bora-Bora, on Plaza de la Universidad (yep, it's the youngsters that pretty much keep it in business – Pandora, Spotify, and MP3s notwithstanding). While your at it, check out the alt clothing shops in the area surrounding the famous 16th-century cathedral.
Keep in mind, too, that perhaps even more than elsewhere in Spain, in this town the tapas also rock. In particular, I'd recommend heading to Calle Navas, where at the Granada classic Los Diamantes the thing is to order a draught beer and fried shrimp, or El Peruano on Calle Severo Ochoa for the best carne en salsa (beef in Granada-style garlic-almond sauce) in town. Or go international with the tapas at Bar Poe on Calle Verónica de la Magdalena.
Finally, after dark, do make a point of popping into El Bar de Eric (Calle Escuelas 8), owned by a musician who's played in both Los Planetas and Lagartija Nick. Then as the night wears on, check out Ruido Rosa ("Pink Noise", Calle Sol 18) another of the top indie music venues of Granada.