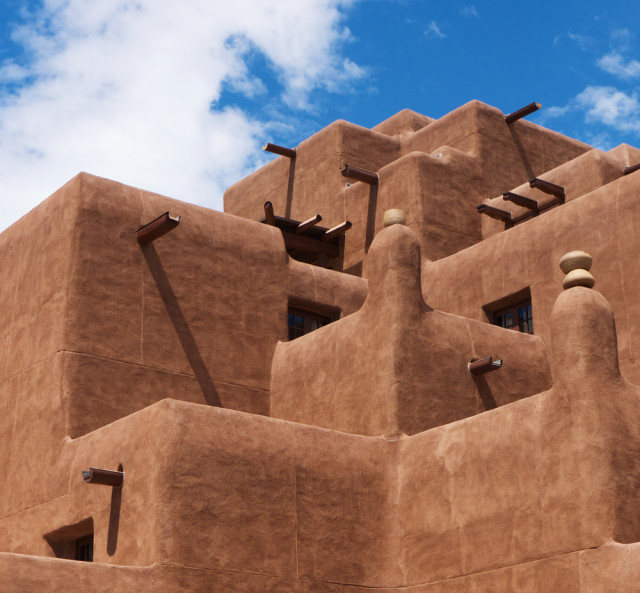 photo | David Kay
The United States can claim a number of marvelous destinations that offer a unique sense of place, attractions, and traditions: Key West, South Miami Beach, New Orleans – and New Mexico's petite capital, Santa Fe (pop. 68,000, metro 144,000). Founded by Spanish colonists in 1610 in an area settled by Pueblo tribes as early as the 11th century, La Villa Real de la Santa Fe de San Francisco de Asís (The Royal Town of the Holy Faith of Saint Francis of Assisi), was conquered by the USA in the 1846 Mexican-American War. With such a rich history, today Santa Fe delivers a fascinating mix of colonial, pre-colonial, and Old West ambiance.
This is thanks also in no small part to the city leaders' decision in 1912, when New Mexico became a U.S. state, to encourage tourism by enforcing a building code in the historic, very walkable downtown in what was called Spanish Pueblo Revival style, with use of adobe or stucco, wood beams, and terracotta tiles (and later expanded to include all pre-statehood architecture).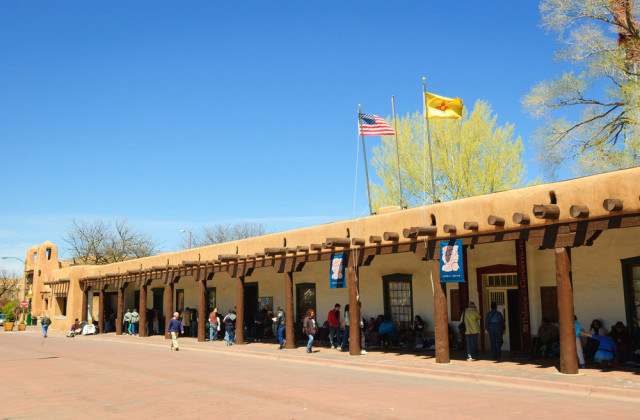 photo | Zack Frank
The result has undeniably been a distinctive hit, even as Santa Fe has evolved into a progressive icon of the new Southwest, with an artsy, sometimes New-Age vibe and progressive politics (current city leader Javier Gonzales, for example, is the city's first openly gay mayor). The arts also have a long pedigree here, going back to the early 20th century, when the city got a big boost from renowned painter Georgia O'Keeffe, who starting in 1929 visited often, and then largely lived in or around Santa Fe from 1940 until her death in 1986. Her use of Southwestern iconography made it fashionable throughout the USA and even beyond; the Georgia O'Keeffe Museum just north of downtown is home to some of this seminal work.
Apart from the many art galleries to be found throughout the city, allures include key historic buildings such as the adobe-and-beam Palace of the Governors (above) on Santa Fe Plaza, dating back to 1610 and thus the USA's oldest continuously occupied public building, now housing a museum about the palace; right behind it is the New Mexico History Museum. For First Nations art and crafts, check out the portico facing the plaza (current politically correct U.S. usage is "Native American", but since no one was ever really "native" to North America, the Canadian term seems to me clearly more accurate).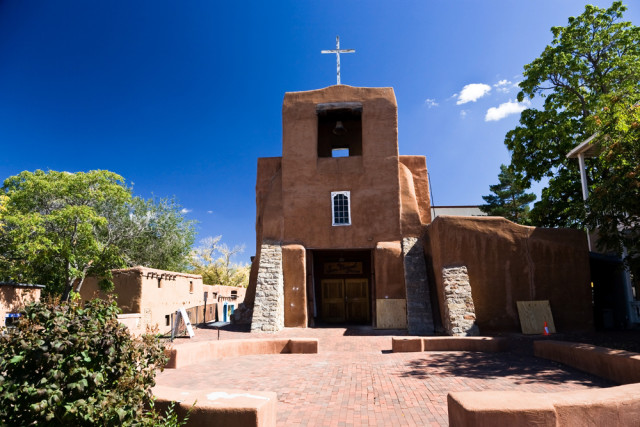 photo | pmphoto
Historic churches worth a look include downtown's Romanesque Revival Cathedral Basilica of St. Francis of Assisi, built in the 1880s, and the 1781 Sanctuary of Our Lady of Guadalupe, notable especially for its Mexican and Italian Baroque paintings as well as carved saints. Over on Old Santa Fe Trail, the neo-Gothic Loretto Chapel,  built in the 1870s, is especially famous for its lovely and "miraculous" spiral staircase, built in secret, legend has it, by a mysterious carpenter who the chapel's nuns at the time believed must be St. Joseph himself.  Nearby, the simple adobe San Miguel Mission (above) was built between 1610 and 1626, making it the USA's oldest still operating church.
Various museums, especially several on Camino Lejo/Museum Hill, can fill you in on various aspects of local history and ethnography. Front and centre are the large, state-run Museum of Indian Arts and Culture; the also highly respected Wheelwright Museum of the American Indian (co-founded in 1937 by Navajo medicine man Hastlin Klah along with the eponymous anthropologist Mary Cabot Wheelwright); and the Institute of American Indian Arts Museum, with some 7,500 works representing more than 70 North American tribes.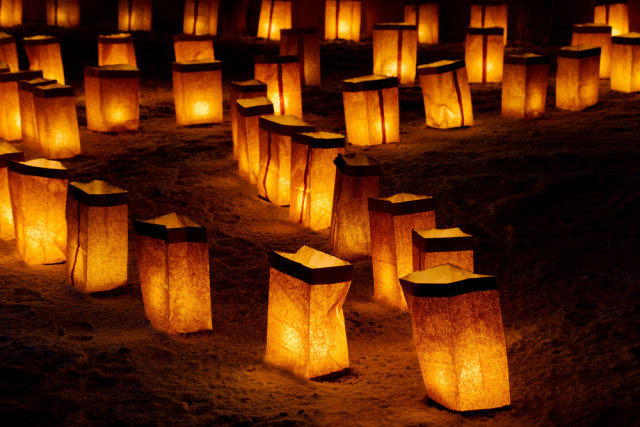 photo | sumikophoto
Spain also gets its due, with the Museum of Spanish Colonial Art (the USA's only such museum), and a bit away the historic centre, Rancho de las Golondrinas, a "living history" museum with reconstructions of colonial buildings manned by docents in period costume; all manner of historical and other special events are held here, from Renaissance fairs to Mexican heritage days to Civil War re-enactments.
Speaking of special events, there are festivals galore throughout the year, but one of my favourites is in mid-September, when Santafeans throw themselves a huge Santa Fe Fiesta the weekend after Labor Day (in 2017, September 9-10), involving among many other events a procession of a statue of the Virgin Mary and the burning of a huge figure of the Zozobra (aka Old Man Gloom) to banish the cares of the year. The city is also well known for Las Posadas (above) in mid-December, a ritual, candlelit recreation of Virgin Mary and St. Joseph seeking shelter – an event popular with families and locals in general.
More information: SantaFe.org.