photo | Dieter Mueller

When I started visiting one of Cuba's earliest settlements (founded in 1514), down in the central south coast some five or so hours from Havana, in the late 1990s, Trinidad was a sleepy little colonial gem in the rough – as in, fairly shabby like most other Cuban towns, seemingly trapped in amber, even smaller feeling than its population of a little over 70,000.
The colonial quarter was all about cobblestone streets lined with those retro old U.S. cars parked in front of low-slung, late-colonial homes and shops (cigars, art and tourist kitsch especially prominent) with red-terracotta-tile roofs, some also with façades in pastel colours adorned with wrought-iron or wooden window grilles. Many other Cuban towns and cities have no shortage of similarly charming archictecture, but here it felt more like a "time capsule" from its early-19th-century heyday than any place outside Old Havana – so perfectly preserved it's long been a UNESCO World Heritage Site.

And of course, at that time tourism infrastructure was still minimal and basic – some 20 minutes out along the coast at Playa Ancón (below, pictured today) there was a trio of somewhat dated, low-rent beach resorts dating back to the very early years of the Castro revolution, but in the old quarter there were just a limited handful of casas particulares (private rooms and flats for rent) of, shall we say, highly varying standards.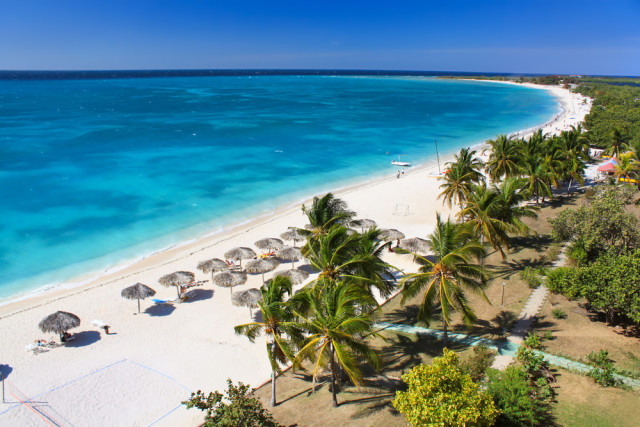 photo | Aleksandar Todorovic
Fast-forward 17 years, and today Trinidad is one of the country's most popular destinations outside Havana – both as a day trip from the capital (though it makes for a ruddy long day), via tour operator, taxi, or more cheaply a bus company like ViaAzul. But it's truly worth at least one or two nights, to be able to fully absorb the charm of the now far livelier and spruced up historic centre, with a raft of shops, hotels, restaurants, bars, and music venues catering to the tourist trade – not to mention several interesting sites right outside town.
Said historic centre has as its focal point the Plaza Mayor (top), a curious bit of business unlike most others I've seen because it's divided by white wrought-iron fences into mini gardens. The neoclassical Church of the Holy Trinity is the main building, the current incarnation finished in 1892, housing a prized wood statue of Christ (the "Lord of the True Cross") dating from the 18th century. Alongside, yellow with white balustrades, is the 18th-to-early-19th-century Palacio Brunet, now housing the Museo Romántico, which showcases period furnishings and and art. Elsewhere on the square sits the 18th-century manse of the Sánchez Iznaga family of sugar barons, now a museum of architecture of the period, and the also neoclassical Palacio Cantero, housing the Museo Histórico Municipal (great view over the old town from the roof here, too).
Other museums include the onetime church and convent of San Francisco on Calle Echerri, now devoted to the "National Museum of the Struggle Against Bandits", documenting the 1960s fight against anti-Castro guerrillas who held out in the rugged nearby Escambray Mountains for several years (if you take the partisan bias with a few grains of salt, it's still a fascinating look back at that tumultuous period), and the Casa de Aldeman Ortiz on the Plaza Mayor, displaying (and selling) very good-quality contemporary Cuban art.
Furthermore, these days, as in Old Havana, the cobblestones of Trinidad ring with the sound of música – both bands playing in bars and restaurants, and music and dancing venues offering a range of tropical sounds, from classic boleros, trova, and son to salsa and reggatetón, as the open-air Casa de la Musica, just off the Plaza Mayor, and also nearby on Calle Cristo, the Casa de la Trova. Of course, once you get away from this lively historic centre, much of the rest of old Trinidad remains rather shabby, run-down, and poor, but that in itself makes for some interesting – and don't worry, safe – strolling.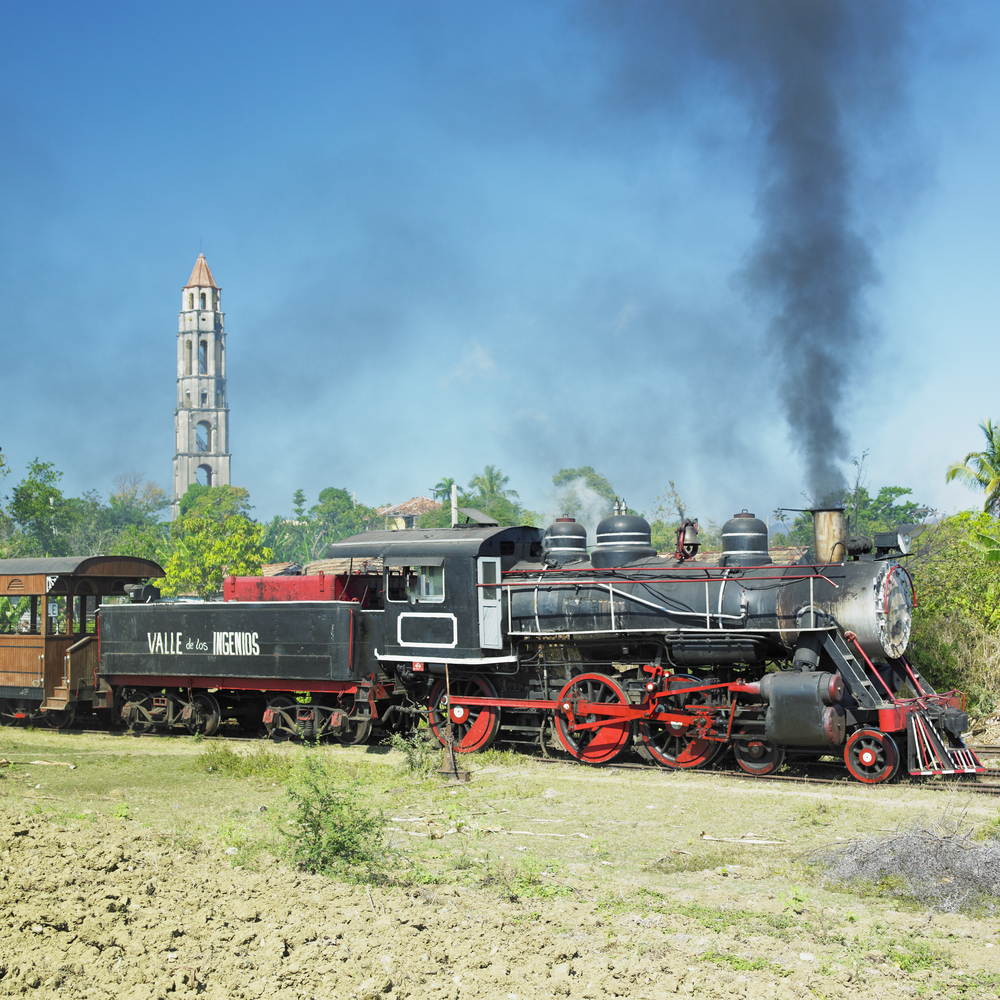 photo | PHB.cz (Richard Semik)
Outside of town, if sun, sand, and surf are your thing, lovely Playa Ancón is absolutely worth a visit (and here's a thought for our U.S. readers: current U.S. government rules on travel to Cuba allow it for cultural and other learning purposes, but not for frolics on the beach, so Trinidad actually offers a brilliant option for having your cake and eating it, too).
Meanwhile, while some 20 to 30 minutes inland you'll find the other component of the UNESCO World Heritage site: a three-valley region collectively called the Valle de los Ingenios (Valley of the Sugar Mills), where among the ruins of 70-some sugar mills you can get a sense of what plantation life was like at select sites such as Guachinango, where the casona ("great house") is mostly intact, and especially Manaca Iznaga, where in addition to the casona you can see some slave quarters and climb the iconic Torre Iznaga (above), an actually rather fetching, 45-metre (147-foot) masonry tower, built in 1816 and once Cuba's highest structure, from which overseers could keep a better eye on the slaves going about their business below. They've also in the years since my first visit added a restored steam train to boost the tourist trade.
Chattel slavery was a horrifically brutal business, to be sure, but as with so much else in this world, it made Trinidad what it is today.
Best fares to Havana from the UK, from Spain.