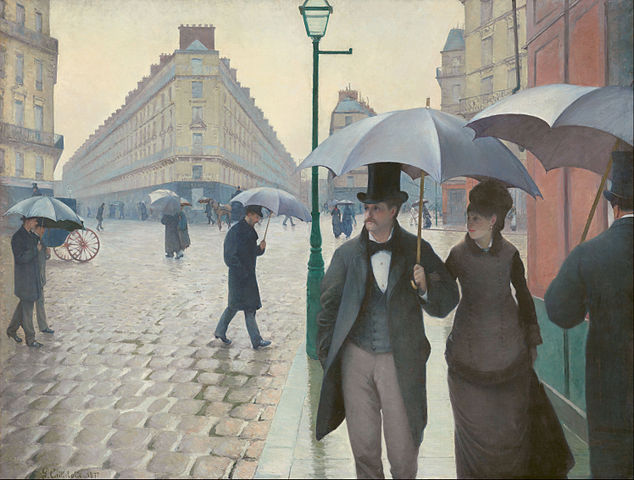 Unless you're a dedicated aficionado of French Impressionism and/or 19th-century art history, you'd be excused for not being familiar with the name of Monsieur Gustave Caillebotte (1848-1894) – even though you may very well recognise a work or two of his, such as 1877's Paris Street, Rainy Weather, above, in the collection of the Art Institute of Chicago.
This native Parisian dedicated to painting as well as collecting and organising of exhibitions was a contemporary of Edouard Degas, and his métier was portraiture and scenes of everyday and domestic life, rendered with realism – although at various times influences can be noted of other more impressionistic Impressionists such as Auguste Renoir, Claude Monet, and Camille Pisarro (for example, in Caillebotte's 1894 Tree-Lined Lane, below), even the Pointillist Georges Seurat. Unlike these colleagues, however, Caillebotte's work was not more fully appreciated until after his death.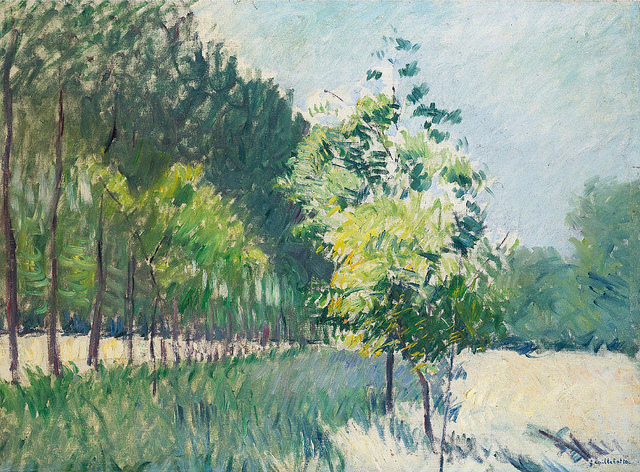 Art lovers who will be in Madrid between now and the 30th of October will have a chance to learn more about this exceptional artist thanks to Madrid's Thyssen Bornemizsa Museum, whose current exhibition Caillebotte, Painter and Gardener, includes 65 canvasses on loan from private collections as well as various museums. The show is divided into four main periods:
Haussmann´s Paris, World of Stone
Sojourns in Yerres
The Seine and the Exploration of Normandy
The Garden at Petit Gennevilliers
The expert curation of Marina Ferretti, of the Musée des Impressionismes Giverny in Normandy, France, provides excellent life-and-times context, as well as the relationships and influences running back and forth between Caillebotte and the signature artists of 19th-century French Impressionism. Highly recommended as an eye-opening look at an undersung but significant figure of our world artistic heritage.