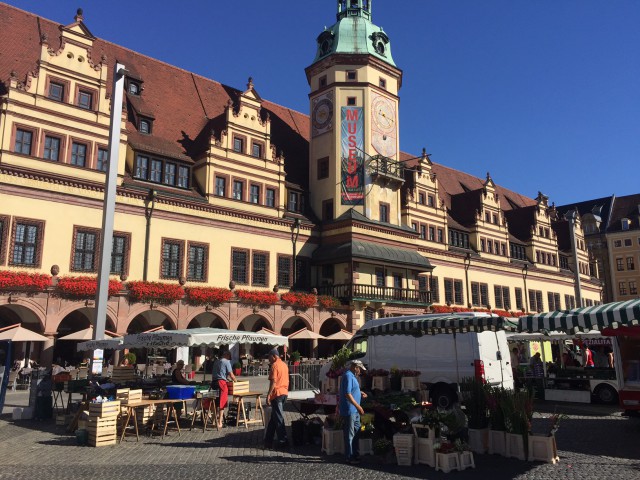 photos | David Paul Appell
For much of the latter half of the 20th century, many of us never heard or thought much of Germany's 14th-largest city (pop. 570,000, metro area 1 million), largely because it remained sequestered behind the so-called Iron Curtain, captive of a Soviet bloc whose lesser members rarely made much news of major import unless perhaps it was occasionally rebelling against their Communist régimes.
And so it was in autumn 1989, as I watched on TV from my New York City flat, day after day, as Leipzig became the key stage for the final and successful rebellion, the so-called Friedliche (Peaceful) Revolution, which finally brought down the Berlin Wall, reunified Germany in August 1990, and in so doing decisively changed Europe and the world.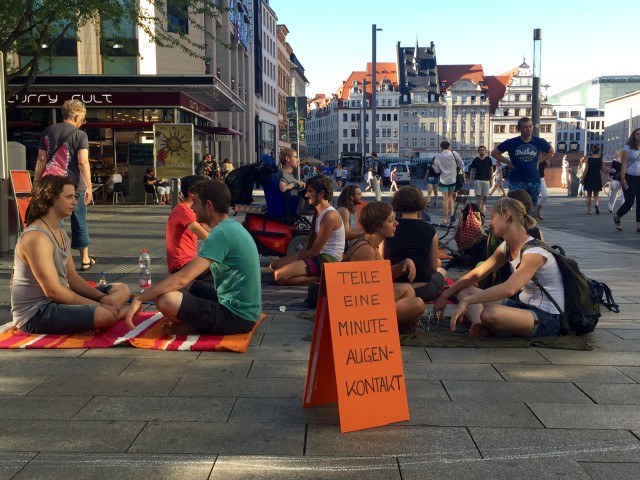 In the more than quarter century since, this Saxony city, two hours south of Berlin, has been on the move, doing proud its pre-Communist and pre-Nazi heritage of industry and culture – reaching back to at least the 11th century – to rebuild itself into "Germany's boomtown" and what is by many measures the country's most "liveable" city, even overshadowing in some ways Saxony's more conservative capital Dresden. On a recent visit, I was truly transfixed by the dynamic mix of old and new – which, indeed, has attracted a multinational expatriate community, startups, and even hip Berliners, all of whom have become no small part of the new, open Leipzig (in fact, some have gone so far as to dub the city "the better Berlin").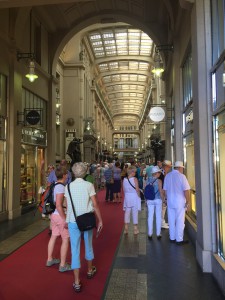 Young and hip rep nothwithstanding, we must still of course begin in the Altstadt (Old Town), masterfully rebuilt from the extensive destruction of World War II, which while pleasingly compact is packed with fascinating sites and experiences. Front and centre is Marktplatz, dominated by the sprawling, 16th-century Renaissance Altes Rathaus (old town hall, now a museum, top), definitely worth a visit to check out both its august halls and its historical exhibits. Especially cool (though admittedly a bit stuffy temperature-wise) is the upper floor's modern, multimedia retrospective (in English as well as German) of Leipzig history from the 19th century onward – including a very illuminating look indeed at the Nazi, Communist, and post-Communist periods.
Right nearby, you'll then want to duck into the Mädlerpassage (above right), perhaps the most distinguished of a notable Leipzig phenomenon: elaborate roofed streets dating back to the 19th and early 20th centuries lined with fancy shops, bars, and restaurants. In this particular passage, the most famous establishment is the subterranean Auerbachs Keller (below), already known as a wine bar in the 16th century and very much linked to the tale of Doctor Faustus, he of the legendary pact with the Devil; Germany's greatest writer, Johann Wolfgang von Goethe, set part of his version of the story here (the traditional Saxon cuisine served here is also pretty darn tasty!).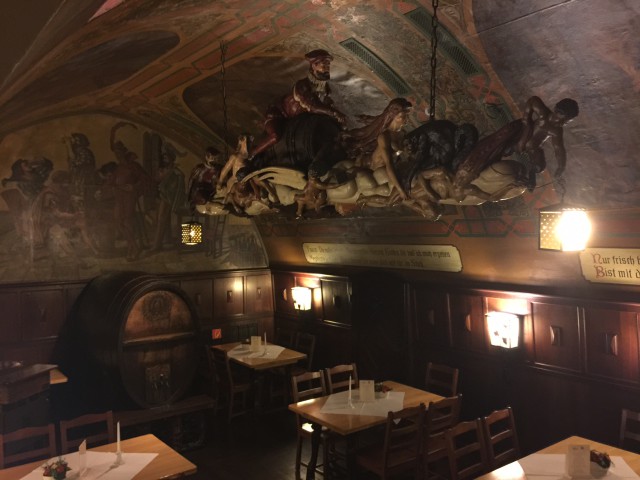 Churches not to miss include the largely Gothic Nikolaikirche (St. Nicholas), built from the 12th through 17th centuries and home to a soaring, graceful Renaissance interior. In 1989, it arguably became for a time one of the world's most important churches as the meeting and organising place for the anti-régime revolution – largely because the then-pastor of the other main historic church, the Thomaskirche (St. Thomas, below, the current version of which dates to 1496), closed its doors to the protesters. That shameful moment notwithstanding, this church is better known for its ethereal boys' choir and its 18th-century choir master, some dude named Johann Sebastian Bach.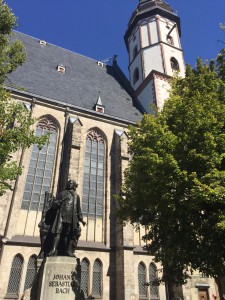 Along with writers Goethe and Friedrich Schiller (who lived here in 1785 in a cosy farmhouse now run as a museum in the outlying district of Gohlis), J.S. Bach is a particularly prestigious part of Leipzig's legacy as a hotbed of culture, as he lived and raised a large family of Bachlets here quite a long time, from 1723 to 1750; across from the Thomaskirche and near the church school building where the Bach family actually lived, the Bach Museum is a modern, interactive look at the composer's life, times, and oevre. Not far off, the Felix Mendelssohn House Museum showcases the Romantic-era composer's last address, where he and his family lived in the mid-19th century. Other composers who lived and worked here include Wagner, Telemann, Mahler, and the Schumanns – part of the musical history related by Leipzig University's gorgeous musical instruments museum, boasting more than 10,000 instruments and other items.
And jumping briefly back to religion, Leipzig also played a key role in the Protestant Reformation – whose 500th anniversary Germany will celebrate throughout 2017. In addition to its publishing industry helping to spread the writings of Martin Luther and other reformers, Luther himself visited the city on some 17 occasions – one of which included the seminal 1519 Leipzig Disputation (aka the Leipzig Debate) with a well known Catholic theologian. It was this event that led to his condemnation and eventual excommunication by the pope – essentially launching Protestantism in Europe as a rival and highly successful faith.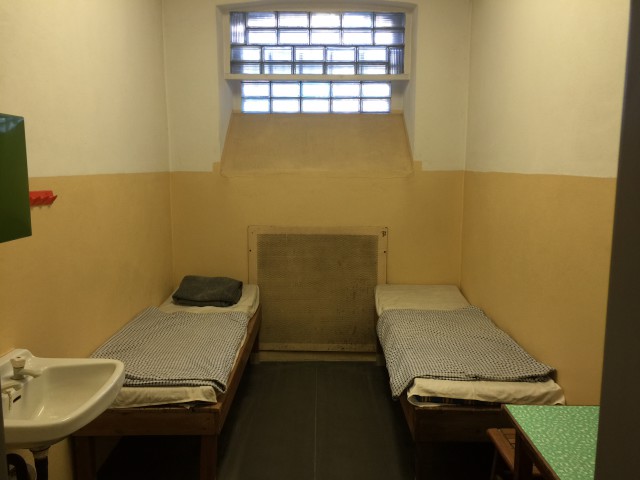 Other spots particularly worth visiting here in town include good museums – particularly of fine arts and of world cultures (part of the Grassi Museum shared with the musical instruments collection). But perhaps most fascinating for me are the institutions devoted to Soviet East Germany. The Zeitgeschichtliches Forum has interactive permanent and rotating exhibits on all aspects of life in the GDR as well as German reunification. On the edge of the city centre, the Runde Ecke is a gracious pile that housed the sinister Stasi secret police and has been preserved as a museum, including holding cells (above), offices, and more exhibits on GDR life (audio tour available in English). Testament, indeed, to the proverbial banality of evil.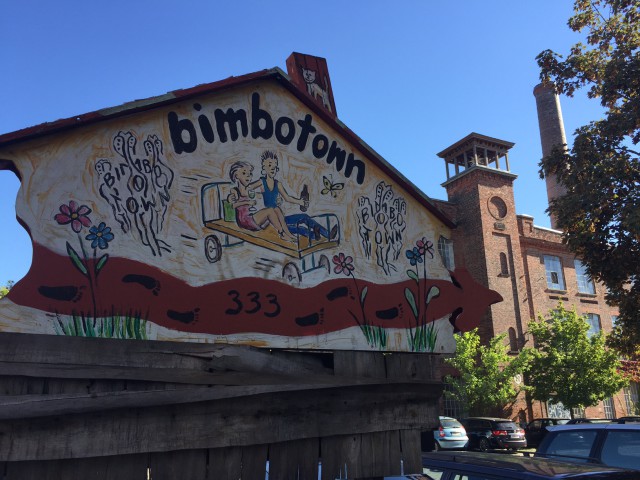 It's not all about the past, of course. Especially in some outlying neighbourhoods such as Lindenau and Südvorstadt, youth culture and the contemporary arts are booming to such an extent that as I mentioned above, even Berlin artists and assorted hipsters have been lured to Lepizig. Excellent examples: Moritzbastei, a cultural centre next to the university that's popular with students; the funky shops, eateries, and drinkeries along Karl-Liebknecht-Strasse (aka "the KarLi"); and the Baumwolle Spinnerei (above), once Europe's largest cotton mill and now an industrial-chic village of artists, designers, architects, and sundry other creatives. After a good dose of the past over in the Altstadt, all this provides a super-cool glimpse of the future. Which in Leipzig will unquestionably be bright.
More information: Leipzig.travel, Sachsen-Tourismus.de.
Best fares to Berlin from the US, from Spain.