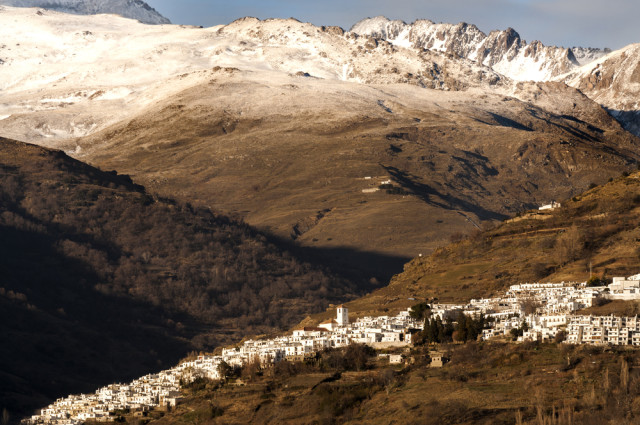 photo | Javier Garcia
Some 1,220 metres (4,000 feet) up on the southern flank of the dramatic Sierra Nevada range sprawling across Granada and Almería, in recent years visitors have become increasingly enamoured of Las Alpujarras (aka La Alpujarra), a region of valleys, deep gorges, streams and pastures (in fact, the name is Arabic meaning something like "sierra of pastures").
There are also about 50 white washed tiny mountain villages up here that especially bear witness to the Moorish past. During the 500 years of Arab rule in Spain, Berbers from North Africa settled and built houses just as they were used to in Morocco's Rif Mountains: square cubes, white walls, round chimney pots and flat roofs. After the reconquest of Granada in 1492, the last of the Moors were expelled from Spain, and Christians from other regions as far away as Galicia were relocated to the Alpujarras along with elsewhere in Andalusia.
Rural tourism came late to the area, which is why you can still walk along some of the many hiking trails for kilometres without meeting another soul – just surrounded by pine woods, hundreds of years old olive trees and the occasional sheep and horses. One particularly nice and not too strenuous hike is the "Walk of the Ruined Mills and Arab Baths", which starts and ends in the village of Ferreirola. And if you're into camping, it's a lovely place to pack a tent, sleeping bags, etc., and go for it for days (just remember the altitude and cold nights even, in the height of summer).
Other places worth visiting up here are the green Poqueira Valley with the villages of Bubión, Capileira, and Trevélez (the highest in Spain), famous for its springs and top-notch cured ham.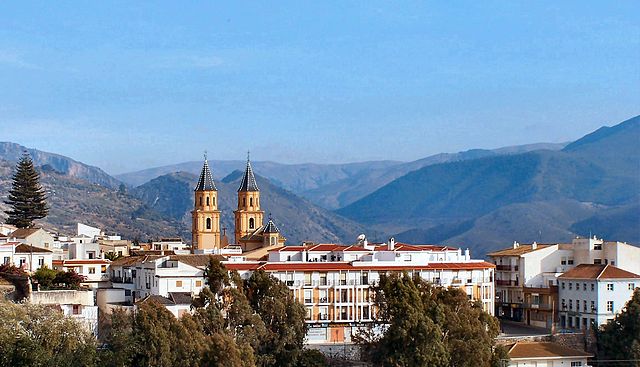 photo | GrahamColm
New Agey Órgiva 
I however, must admit I'm not all that much into hiking, and came to the Alpujarras for another reason. Whilst the landscape is very special in Spain, the cultural scene in its administrative centre, Órgiva is even more so. Dominated by its twin-spired church, the attractive town has all of 6,000 inhabitants – yet believe it or not, this includes 68 nationalities and in addition to the traditional locals, three distinctive communities who have come in from outside to make this one of the most culturally distinct small towns in all of Spain.
Rather than drive the narrow and winding mountain roads myself, I took the bus the 1½ hours from Granada – Sierra Nevada on the left, valleys and gorges on the right, and passing Lanjarón with its healing mineral springs and a very nice spa which I plan to visit at a later date. The driver most kindly dropped me right in front of my lovely hotel, the Mirasol, whose friendly owner gave me all the info and directions I needed for my very personal culture trip.
One of the three aforementioned communities is made up of about 35 Spanish families now following the mystical part Naqshbandi order of Sufism, with a community center and mosque tucked away among olive groves, going about their business and practicing their faith in peace. Thus, it seems, does Islam finally return to these craggy, forested hills.
My first port of call was Baraka, a tearoom and restaurant run by Qasim, formerly Pedro, a restauranteur from Bilbao (below). Naturally, he doesn't serve alcohol or pork, but does dish up some fabulous vegetarian dishes, as well as Moroccan-style beef and chicken tagines (not to mention my favorite, a date and cinnamon cake with homemade whipped cream). Sit long enough on the terrace here and you'll be joined by people with dreadlocks, the occasional Buddhist monk in an orange robe, and women speaking several languages but all wearing headscarves.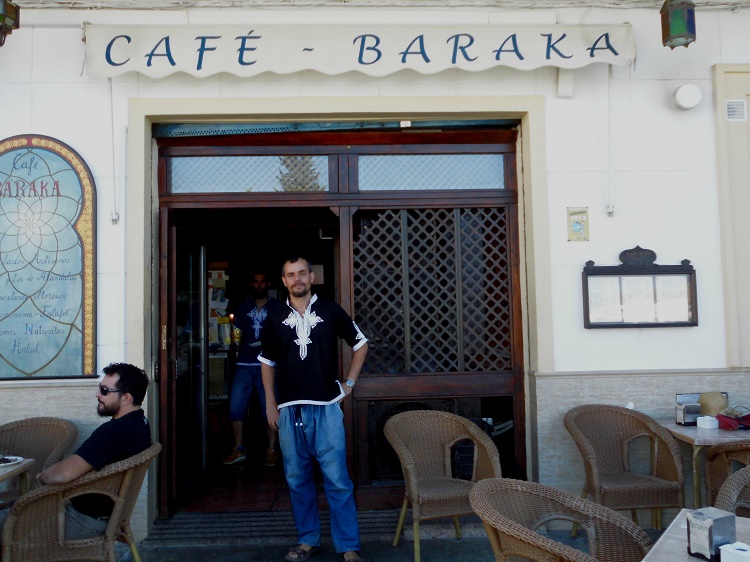 photo | Inka Piegsa-Quischotte
Apart from the Sufis, Qasim explained, also local are the Rainbow People of the Beneficio tent camp, a sort of commune in the next valley. It's technically illegal, and every now and then they're evicted – but then other New-Age seekers arrive and pitch their tents.
Finally, a few miles further up the mountain you find the O.Sel.Ling Retreat Centre, Spain's oldest Buddhist institutions. Back in 1985 it made headlines as the birthplace of a boy who was officially recognised by the Dalai Lama as the reincarnation of the centre's founder Lama Thubten Yeshe, who had died a year earlier.
What has become very popular recently, said Qasim, is what's called halal tourism, with Muslims from other countries coming to visit their centre; in fact, a French- and Arabic- speaking group took up a table next to me, making the assembled cultural mix even more colourful.
Artists, in particular writers, have long found the Alpujarras an inspiring environment. The best known are Chris Stewart, ex-drummer of Oasis who bought a farm here and wrote the widely acclaimed Driving Over Lemons. Well before him came Gerald Brenan, who belonged to the early-20th-century's Bloomsbury Group of writers in London and documented life in the Alpujarras in his book South from Granada.
But I didn't forget the actual longtime locals, and asked Antonio, the owner of a small grocery shop, what he thought of all the butterflies in their midst at that moment. With the typical enthusiasm of a true Andalusian, he spread his arms and said: "They are not trouble. Also, we are poor here and they bring money. Of course they are welcome".
Whatever your interests are – breathing in nature, physical exercise, mediation, or improving your health in the spa of Lanjarón, you'll find plenty of things to enchant you in the Alpujarras, with colourful Órgiva as your starting point and/or base.
More information: Alpujarras.eu.
Best fares to Granada from the UK, from the US.
Inka Piegsa-Quischotte is an attorney turned travel writer/photographer, currently living in Alicante, whose works has appeared at GoNomad, GoWorldTravel, EuropeupClose, and BBC Travel. Her blog GlamourGrannyTravels.com is dedicated to female baby boomers who love to travel in style and comfort.