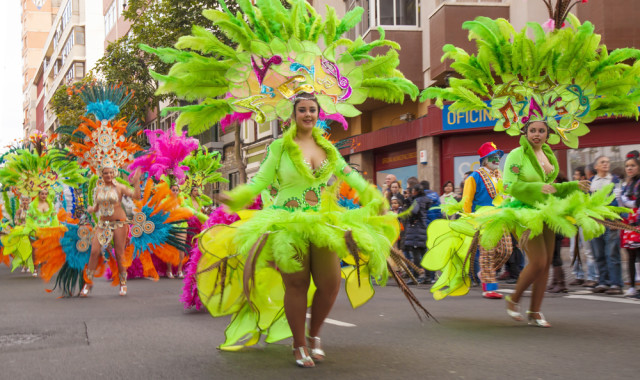 photo | Tamara Kulikova
Well, we ask for it and we definitely get it: Broiling in the August sun and packed together like sardines in tins rather than the ones swimming free in the nearby Atlantic Ocean, we the sweaty crowd plead as one: "Agua, agüita, la rama está sequita!" (Water, water, the branch is dry!). And the watching Agaete residents oblige by dousing us with bottle after bottle from their balconies… (below)
In this northwest Gran Canaria town, about a half-hour drive from capital Las Palmas de Gran Canaria, the Bajada de la Rama takes place every 4th August. This fiesta sees pine branches carried down from Tamadaba forest, 914 metres (3,000 feet) above sea level in a procession that winds through the coffee-growing Agaete Valley and the whitewashed municipal capital, accompanied by the Agaete Municipal Band, then onward to Puerto de las Nieves, a picturesque port that's turned into something of a beach resort too.
Arriving there in the afternoon, the pine branches are roundly and soundly thrashed in the sea. This is an ancient canarii (pre-Spanish) ritual to ensure there will be adequate rain for next season's crops. Festivalgoers jump into the ocean to further cool themselves down.
The Bajada's one of Gran Canaria's biggest as well as oldest "indigenous" fiestas. But the island's most famous is of course Carnaval (top), which lasts for near enough a month in winter (in 2017, 10 February-5 March), and envelops Las Palmas in a sea of of pantomime costumes, satirical clowns, and drag queens (to catch its culmination, come the final weekend for the Entierro de la Sardina, a mock funeral for a sardine with theatrically weeping widows and fireworks galore). (One caveat: it's held during rainy season, so be prepared for showers.)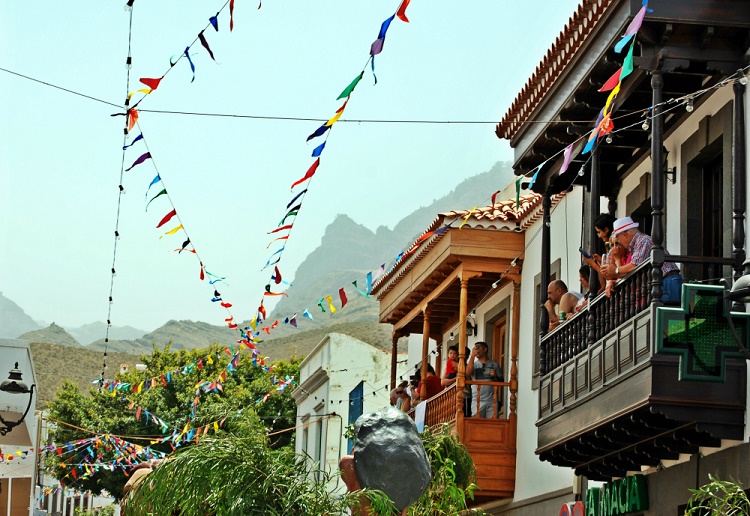 photo | Matthew Hirtes
Five other of my favourite fests coming up on the calendar include:
Fiesta del Charco, 11th September
Out in the "wild west" of the island, and south of Tamadaba, at La Aldea de San Nicolás an otherwise frankly unremarkable lagoon is the scene of a wild party where revellers try to catch fish with their bare hands (having first sedated these mullets, pre-Spanish canarii-style, by adding cardoon – aka artichoke thistle – and extract of balsam to the water).
Día de Santa Lucia, 13th December
A charming joining of traditions of locals and expatriate/visiting Scandinavians, as Santa Lucía de Tirajana in the southeast celebrates its patron saint in part by choosing two girls – one from Gran Canaria and the other from Sweden – to represent St. Lucy. Have a swig of the mejunje (a potent rum-based brew served in a bowl made from a hollowed-out pumpkin), if you dare.
Fiestas del Almendro en Flor, February
Spring has truly arrived on Gran Canaria when the almond trees blossom (below). To celebrate this momentous occasion, islanders in various towns dress up in traditional costumes to perform Canarian folk music – and where there's song and dance on Gran Canaria, there's always food and drink. The most famous of the fiestas takes place in Tejeda, in the heart of the island, but there are also popular events in eastern Valsequillo and south-central's Tunte.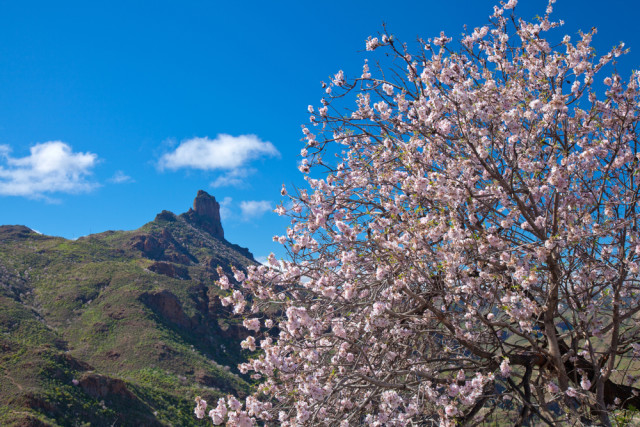 photo |  Tamara Kulikova
Fiesta del Queso, April-May
Blessed are the cheesemakers… The northwest municipality of Santa María de Guía (more commonly known simply as Guía) is famous for its queso de flor (flower cheese), which is handed out for free in street parties in the last week of April and first week of May. (Keep in mind, though, that these tend to start and end early.)
Traída del Barro, First Saturday of July
A fairly recent addition to the Gran Canaria party calendar (celebrating its 25th anniversary this coming year) is the "Bringing of the Mud" in La Atalaya, a Santa Brígida hamlet (not to be confused with its coastal cousin), whose youngsters wanted to celebrate the area's connection with earthenware (it's the island's pottery capital), and got the fire brigade to each year transform a local field into a mud bath with their hoses – creating the island's messiest party, but undeniably fun (not to mention good for the skin?)!
These are just a very few examples – some town somewhere on the island is quite likely to be having a fiesta when you're planning to visit. Learn more at GranCanaria.com.
Best fares to Las Palmas from the UK, from the USA.
Matthew Hirtes is the only broadsheet journalist living on Gran Canaria. He's covered the Canary Islands and beyond for the likes of The Huffington Post and the Telegraph Travel section. His Going Local in Gran Canaria is as much relocation manual as travel guide.