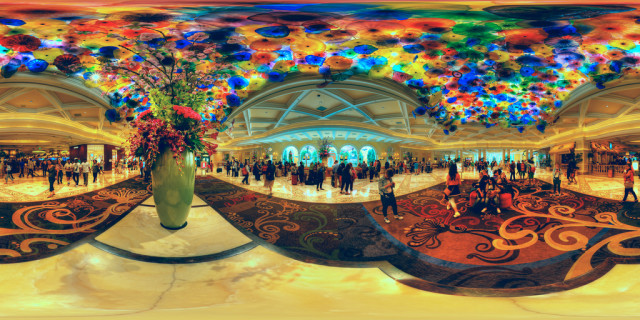 photo | Bob Dass

Corporate art collections have been with us for generations, but in recent years, an increasing number of hotels – both indies and entire chains – have been focussing on art as both a guest perk and a point of prestige (and some have even been theming themselves completely with art – I fondly recall staying in Berlin as far back as the early 1990s at the Art Hotel Sorat). If you're an art lover, there are an increasing number of options across the world; here are five personal favourites of mine:

A number of the elaborate casino hotels of Vegas have been tarting themselves up with art, but this 3,950-room Leading Hotels of the World member, named for and inspired by the Belle-Époque grandeur of the eponymous town on Italy's Lake Como, pioneered by taking art as its central theme, from the Dale Chihuly glass flowers run riot in the lobby to a gallery with rotating exhibits hosting the ilk of Van Gogh, Hockney, Picasso, Monet, and many more.
With 175 rooms in the hills above the city, one of Europe's most distinguished grande dames is nonetheless cutting-edge in décor, amenities, and art in the lobby (below) and beyond – and can boast works on premises by the likes of Fernando Botero, Salvador Dalí, Keith Haring, Damien Hirst, Joan Miró, Henry Moore, Haruki Murakami, and Camile Pissarro.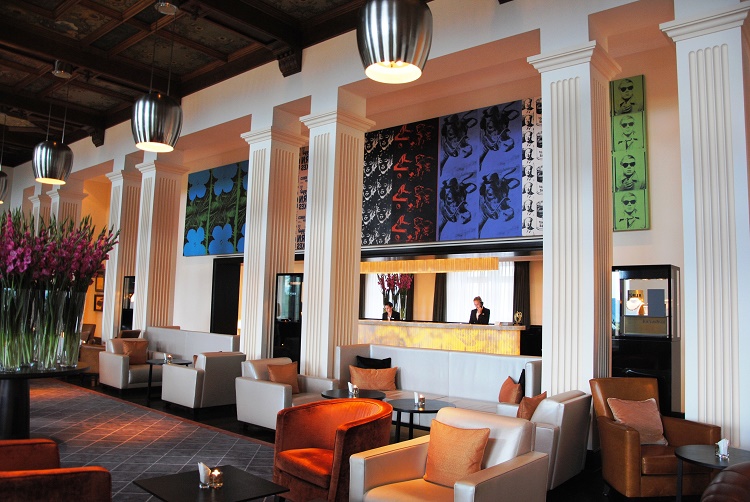 photo | Dolder Grand Hotel
Technically located north of Tel Aviv on the coast in the Haifa town of Zichron Ya'akov, this 60-unit boutique hotel overlooking the Mediterranean mixes modern architecture with works by 20th-century masters like Picasso and Braque as well as contemporary artists such as Jim Dine. Israeli artists are also heavily represented, of course.
In Manhattan's genteel Gramercy Park neighbourhood, this 1920s Deco gem (below) has been a hipster boutique for a decade now, with acclaimed destination dining and nightlife along with a Julian-Schabel-designed lobby packed with a rotating collection including icons like Basquiat, Botero, Hirst, and Warhol, but also provocative lesser known artists like Sean Landers and Enoc Perez.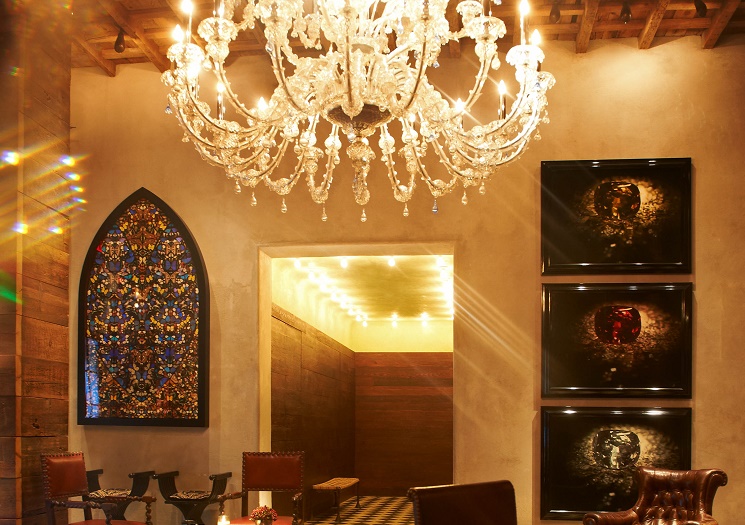 photo | Grammercy Park Hotel
Another 1920s Manhattan boutique charmer, but farther north on the Upper East Side, NYC's only Relaix & Château boutique boasts the Michelin-starred Café Boloud and a lovely roof garden, but more to our point here, a $30-million collection with standouts like Cecily Brown, Jenny Holzer, Clase Oldenburg, and Richard Serra (and of course don't miss Chuck Close's floor-to-ceiling tapestry of Kate Moss). In early September, a temporary exhibition here, called "Fashioning Art", will launch during New York Fashion Week and run till the end of the year.