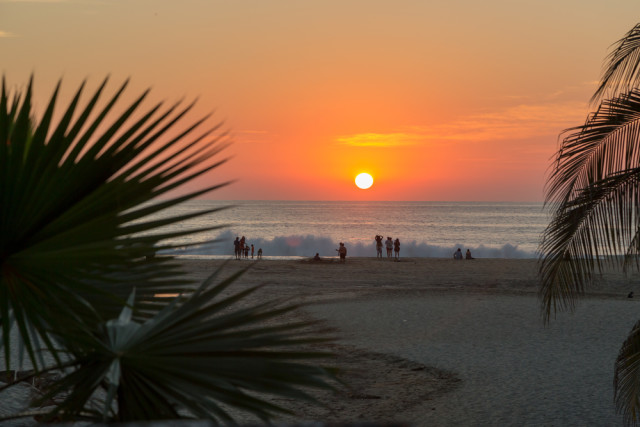 photo | LMspencer
Think Mexico beaches and what naturally comes to mind is the likes of Cancún and the Riviera Maya on the Caribbean, and over on the Pacific, Los Cabos, Puerto Vallarta, Acapulco, and maybe Mazatlán. But if you want to hit sands that are truly spectacular yet more off the beaten path, head south to Pacific coast of Oaxaca state.
The eponymous state capital is a colonial, cultural, and culinary gem, but several hours' drive south takes you to a lovely coast (to which you can also fly directly) that appeals to all sorts of sunseekers – families,  swinging singles, modest to nudist, laid back to adrenaline junkie, and more.
The two main resort centres along the Oaxaca coast are Puerto Escondido – traditionally popular with families and surfers – and Huatulco – which has been around for decades but has been blossoming anew in recent years with a young and alternative crowd. Here are some of the top spots in each.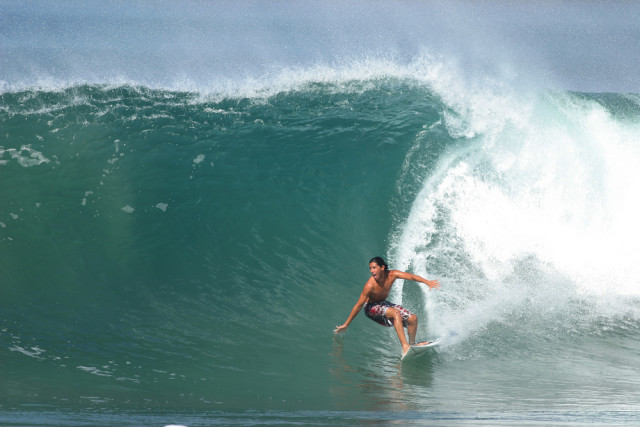 photo | LMspencer
Puerto Escondido
Zicatela
Thanks to warm temperatures and spectacular waves (often topping five metres/16 feet), PE's best known beach is the perfect spot for hanging ten – and sure enough, it hosts plenty of major international surfing competitions. Plus at three km (nearly two miles) long, Zicatela's also great for long, sandy strolls. There are plenty of great places to stay, eat, drink, and party, both while the sun's shining and after it goes down.
Lagunas de Chacahua
If you're into getting away from it all amid lovely natural landscapes, head about 100 km (67 miles) north of the main Puerto Escondido area to this national park, centred around lagoons hosting a valuable tropical ecosystem of mangroves, an amazing diversity of birds, and of course, sumptuous beaches. Besides their castaway appeal, another cool thing about them is the nighttime bioluminescence here – thanks to plankton and other micro-organisms – which turning the waters into a glowing blue-and-white extravaganza.
Puerto Angelito
Smaller and with gentler waters, PE's family favourite is perfect for your little angel (angelito) for a day or a week at the shore. Besides effortless swimming and splashing about, take a fun motorboat ride and enjoy authentic Mexican meals and entertainment, all with exquisite panoramic views.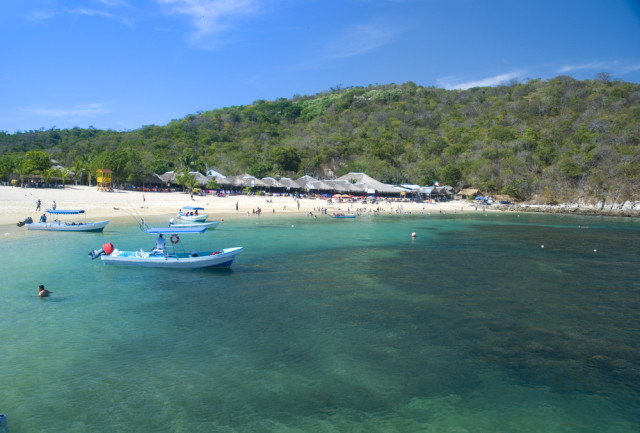 photo | tose
Huatulco
Bahías de Huatulco
Closest to the local airport, an amazing variety of landscapes characterises this area, with rugged crags, spectacular waterfalls, dense vegetation, and of course dozens of beaches to die for along nine bahias (bays), each with its own personality and appeal for all types of beachgoers. Great hiking hereabouts, too, and its sunsets are some of the most memorable on the planet.
Mazunte
This nearly pristine stretch of sand and warm, relatively calm turquoise waters is the place for a great combination of active and laid back – and especially if you're into diving and snorkelling. You'll also find the Centro Mexicano de la Tortuga, devoted to care and study of marine turtles; a famous natural cosmetics factory; and in November a well known international jazz festival. Other superb nearby beaches include San Agustinillo and Mermejita.
Zipolite
Here in Zipolite you get to wear zip – it's the iconic nude beach of Oaxaca (rather, as they say, "clothing optional", if you want to keep your tan lines). Golden sand pairs with kicky waves to also attract surfers in addition to couples. It's also known for intimate accommodations beautifully integrated into the local natural landscapes, and top-notch eateries both along the ocean and in the middle of a town which still has an alternative, even hippie-ish vibe that's like a groovy blast from the past.