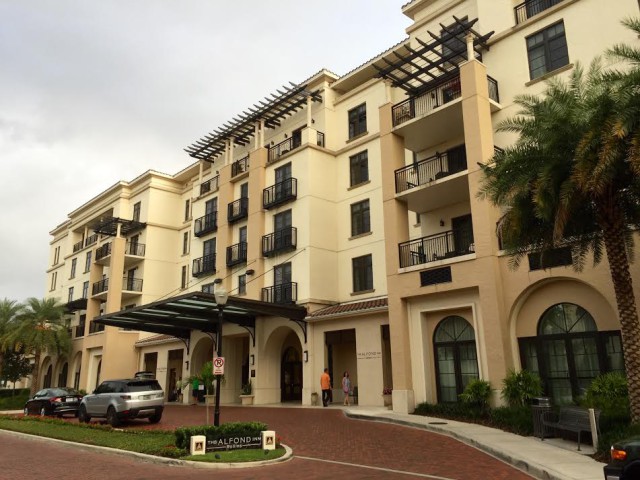 photo | David Paul Appell
Ah, Orlando. From mostly farmland and swampland as little as 50 years ago, this broad swath of Central Florida has become by many measures the most popular destination in the United States. And so of course it has one of the biggest hotel-room pools in the entire country – more than 120,000. As you drive around the area, though, you see that with the notable exception of theme hotels run by the theme parks, most of the rest tend to be cookie-cutter and sometimes downright soulless chain hotels.
But just as recent years have seen a foodie/gourmet dining movement take hold amid the mediocre chain eateries and fast food joints, boutique hostelries with personality, style, and soul – even a touch of quirkiness – have started to pop up hither and yon. So if you're coming down here for the myriad attractions and fun this area has to offer, here are several of the best places to stay in unique style.

On a recent visit, I was particularly impressed by one called the Alfond Inn, an independent located on the red-brick streets of the genteel, leafy downtown of Winter Park, a city of just over 29,000, about 15 minutes north of downtown Orlando and a half hour from International Drive, Disney World, and Universal Studios/Islands of Adventure.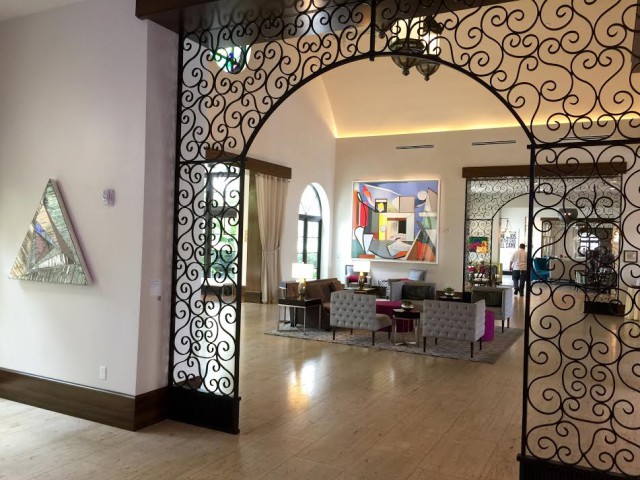 photo | David Paul Appell
The five-storey, 112-room Alfond opened three years ago with a fresh, contemporary feel and an extensive menu of services, from a rooftop pool and next-door fitness centre to a fantastic (and very fairly priced) destination restaurant called Hamilton's Kitchen, with chef Jason Klingensmith's farm-to-table menu of nouvel Southern U.S.-meets-international goodies (don't miss the double-cut pork chops in cidre sauce with creamy grits, collard greens, and apple-celery salad). Right alongside it is a roomy bar area with a South Beach feel and pretty cool live evening entertainment (below right).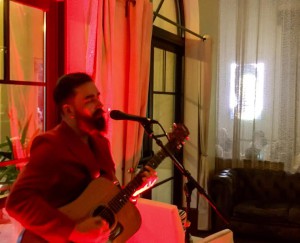 And it's all in easy strolling distance of an absolutely lovely, upmarket downtown, with not only charming shops and cafés, but also a trio of remarkable sites that will appeal to art lovers. The Morse Museum of American Art exhibits 19th- and early-20th-century art and decorative objects including the world's most comprehensive collection of Louis Comfort Tiffany glass works. There's also a home-turned-museum dedicated to 20th-century Czech-American sculptor Albin Polasek. And third is the Cornell Fine Arts Museum, a distinguished collection of American, European, and contemporary fine art on the campus of Rollins College.
This circles back to the Alfond Inn because the hotel is actually a nonprofit owned by Rollins, with proceeds going toward scholarships; furthermore, the hotel's public areas and rooms are graced by more than 200 contemporary paintings and sculptures from the Cornell, making the premises even more chic, cool, and visually compelling.
In addition to the Alfond, several other Greater Orlando boutique hotels to consider include: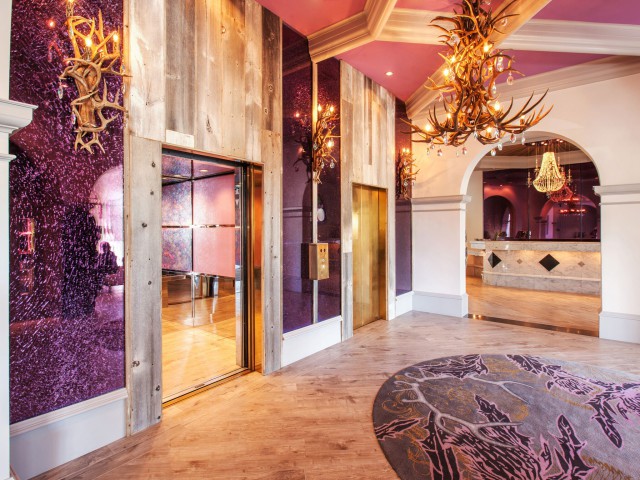 photo | Castle Hotel
Yes, this is one of a chain, called the Autograph Collection (and now owned by Marriott, no less), but one dedicated to a cool, boutique sensibility and style, and a strong sense of local, individual identity for each property. And the 214-room Castle, awash in opulent, ornate, eclectic, and colourful décor, is centrally located, right on International Drive. Amenities include an outdoor pool, hot tub, fitness centre, spa, a bar/lounge, and bistro.
Don't ask me about that little squiggle over the õ. Occupying a funkily restored 1930s building, the pioneer of boutique in Greater Orlando is a much more intimate (17 rooms) inn, located in the hip Thornton Park neighbourhood (great dining, shops, and bars) and within strolling distance of downtown Orlando. There's a rooftop spa, jacuzzi, and sundeck, but otherwise, amenities outside the rooms are fairly limited. It's near quite a lot of restaurants and such, so for some it's more than worth it for the cosy mid-century-meets-contemporary vibe.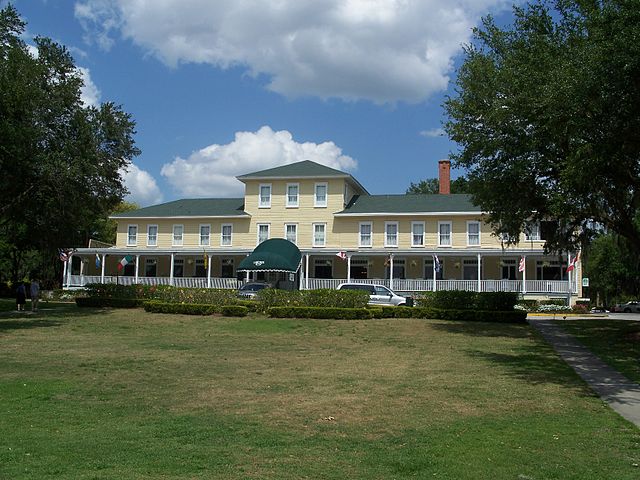 photo | Ebyabe
Much more old-fashioned than any of the above – indeed, downright historic as Florida's oldest continuously operated hotel, the 1883 yellow clapboard is, yes, on a lake in the town of Mount Dora – which is a little farther than the rest from the parks and I-Drive, but worth it for many not just because of the charm of the property itself but of the town as a whole, known for its Victorian architecture and antiques shops. Unsurprisingly, the premises and 90 rooms have a homespun, bed-and-breakfast kind of feel. There are three dining venues, a pool, and a poolside bar, as well.
Like Lakeside Inn very classic-feeling (albeit in a more Old-World, clubby kind of way), like Alfond Inn located in downtown Winter Park (and even more centrally, right on Park Avenue), and like Eõ Inn more intimate-feeling (with just 28 rooms and fairly limited amenities in public spaces), the Park Plaza is a gracious, low-key charmer dating back to 1922 (and adults only, by the way). There is a lovely little restaurant attached.
More information on Orlando accommodation: VisitOrlando.com.
Best fares to Orlando from the UK, from Spain.